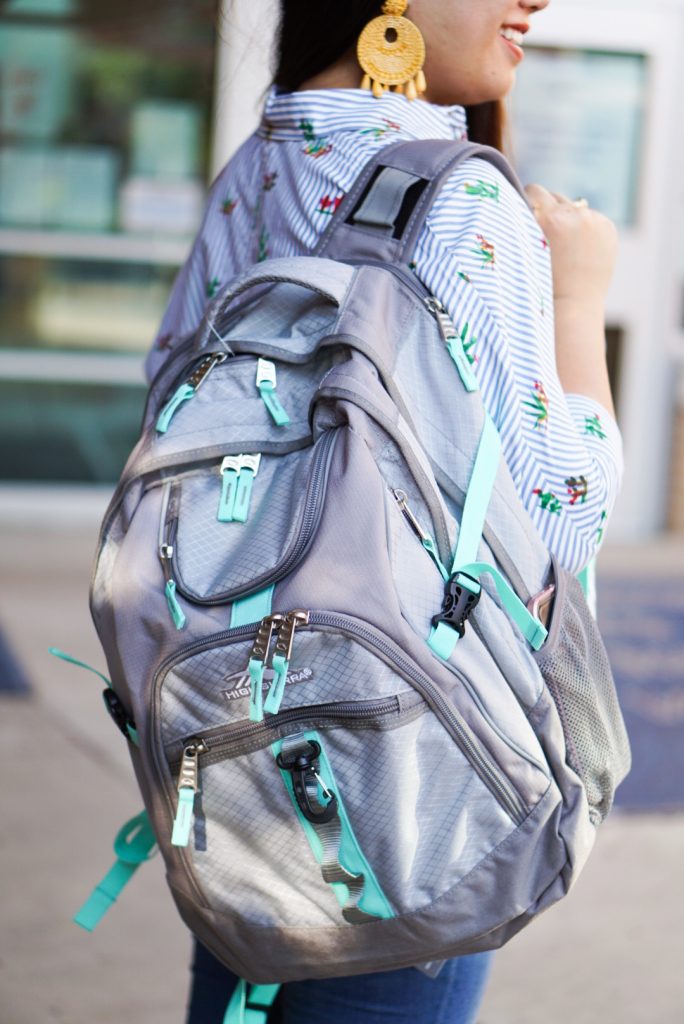 This post is sponsored by High Sierra & Her Campus Media. All opinions are my own. Thank you from the bottom of my heart for supporting the brands that make WLS possible!
Happy Friday, chickees!! Hope you all had a wonderful & productive week- after being out of town last weekend, I'll most likely be spending this coming weekend playing catch up and doing boring house chores. BUT, thankfully I have this fun post for an exciting end of week pick-me-up! Today I'm teaming up with High Sierra to show y'all what all I keep in my backpack for class. I'm so excited to share with y'all this backpack that they so graciously gifted to me, and it's the perfect backpack for my last semester of school EVER. Such a scary thought to think I'm about to be a real grown-up in less than 6 months… but at least I have this cute backpack to conquer senior year with. 🙂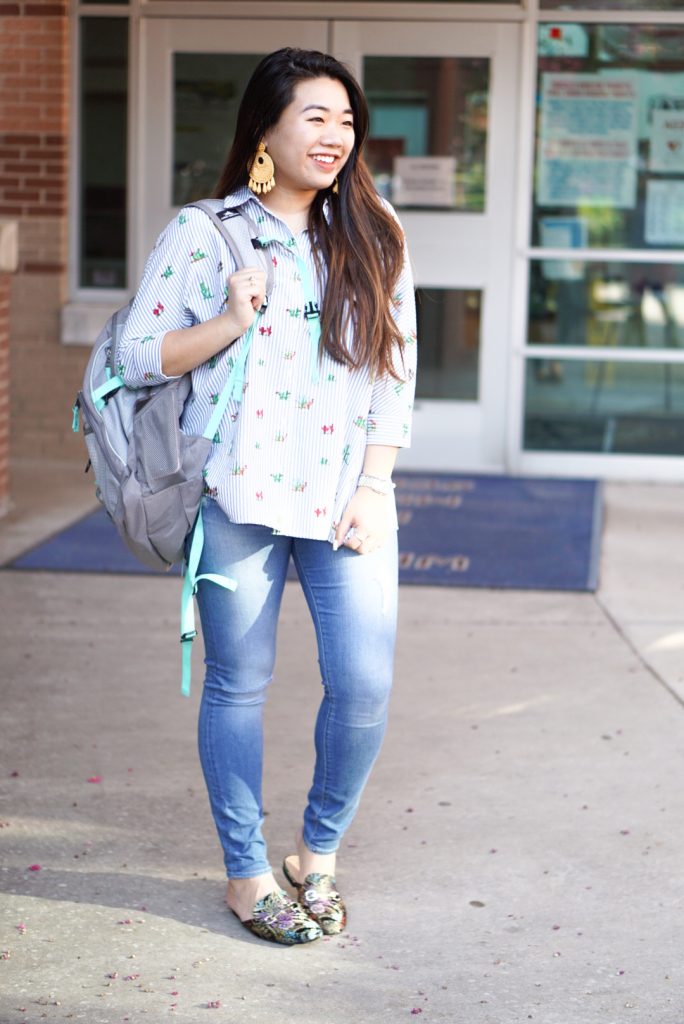 I don't know about y'all, but I'm a HUGE nerd when it comes to back to school time. I always have been, and I'm actually a tiny bit sad that this is my last semester of school & won't get to have that back to school shopping rush again. Buying a new backpack is always a hard task for me, because I get so stressed out on having the perfect one. I keep basically my entire life with me in my backpack, so I need to have a pocket for everything! This High Sierra backpack is the best because it allows me to keep every item organized and in its place. Need a water bottle pocket? High Sierra's got you covered! If you're like me and bring your laptop to class every day, there's also a super functional padded backpack slot too!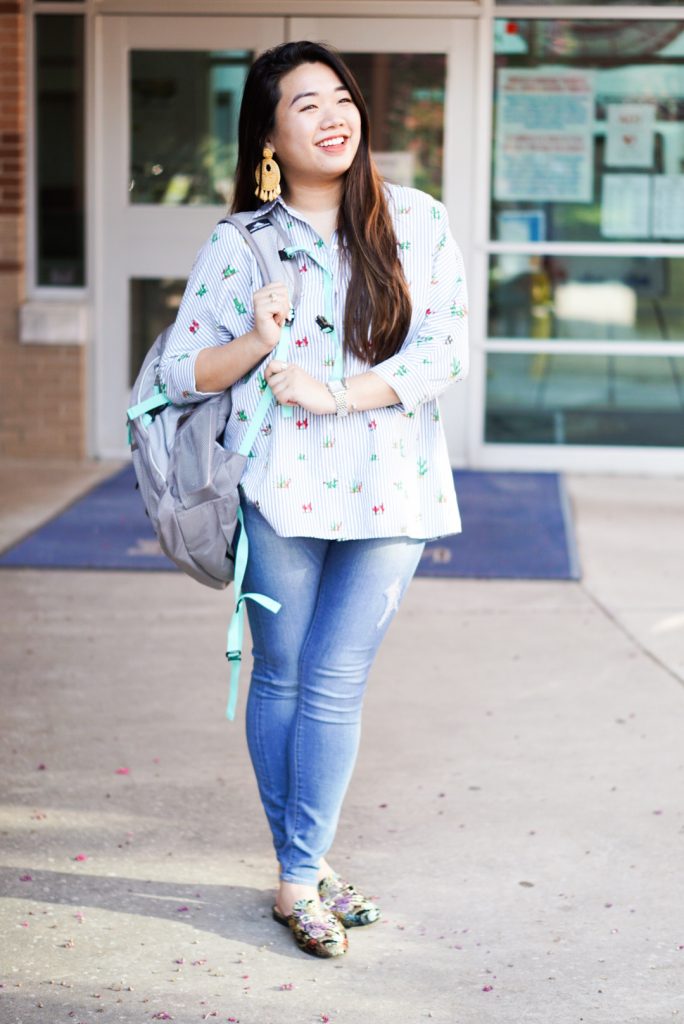 So without further ado, let's get into my must-have backpack essentials!
Planner
I'm slowly but surely switching into digital calendars, but there's just something special about writing down all my engagements and to-do lists. I personally like writing everything I need to finish down, so I can have the satisfaction of crossing them all off one by one. Is anyone else the same?
Emergency Kit
Band-aids, tampons, earring backs, you name it. I always like to be extra prepared, so I make myself a little emergency kit to keep in my backpack everywhere I go. You can totally buy one pre-made if you want, but I find it easier and more convenient for me to just create my own from a little pouch I already have. Then you can customize it with things you want to keep on hand!
Pencil Bag
As a grade school kid, buying my pencil bag was always my favorite part of school shopping! The one I'm using right now is from a Bath & Body Works holiday gift set, but there are some super cute makeup bags on the market that could totally double as pencil bags.
Makeup Bag
I personally don't wear makeup to school every day, but sometimes it's nice to keep a little makeup bag with all your essentials in it, should you need it. I always stock mine with extra lip balms, and an eyelash curler + mascara in case of emergencies.
Laptop + Laptop Bag
As y'all know, I'm a college student, and at my school pretty much everyone carries their laptops to class everyday for notes (and for occasional Netflix as needed.) I get asked ALL the time which laptop I use- it's the 15 inch Macbook Pro with the touch bar. If y'all are curious about how I like it, feel free to shoot me an e-mail- I know a lot of people are interested in it but want to hear reviews before purchasing, so I'm more than happy to answer your questions. I also keep it in a laptop sleeve for extra protection, which also stores my charger and SD cards that I keep with me.
Glasses
I'm blind as a bat, so I always need glasses with me wherever I go! This one's a pretty boring one.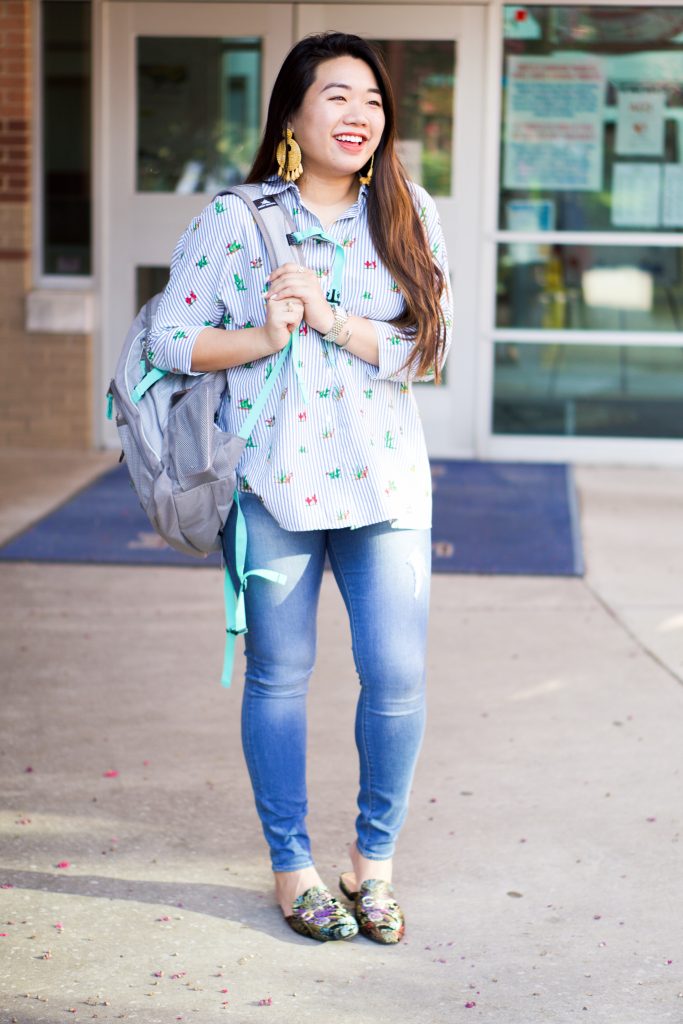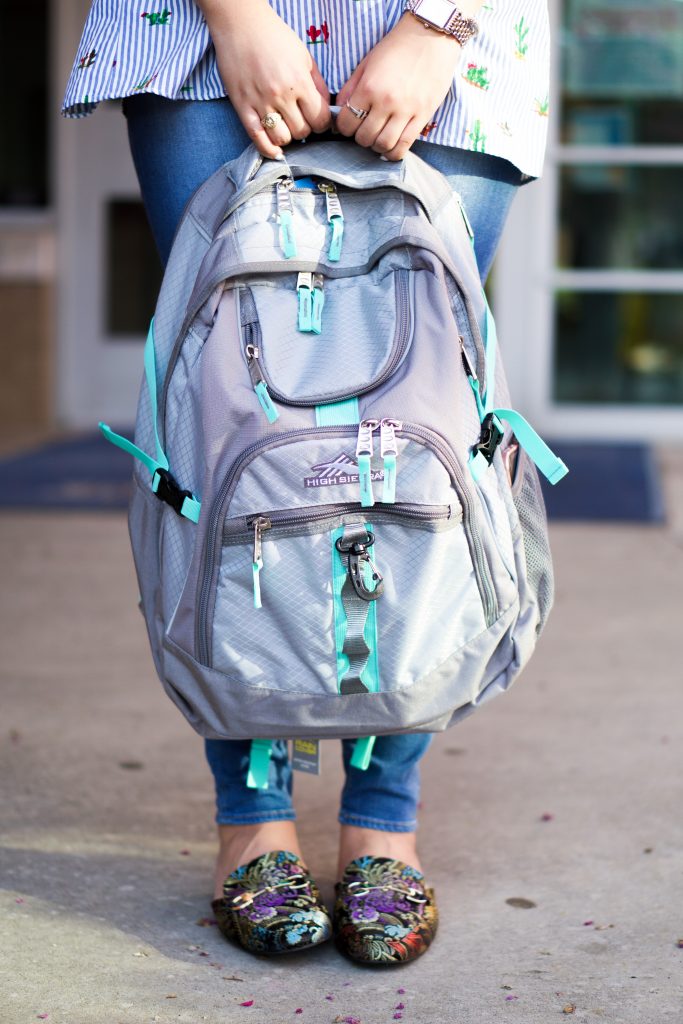 What all do you keep in your backpack? I'd love to read all your comments! Be sure to check out the new High Sierra backpacks for back to school! For anyone interested, my specific backpack is linked here– the Access in Ash, Charcoal, & Aquamarine.