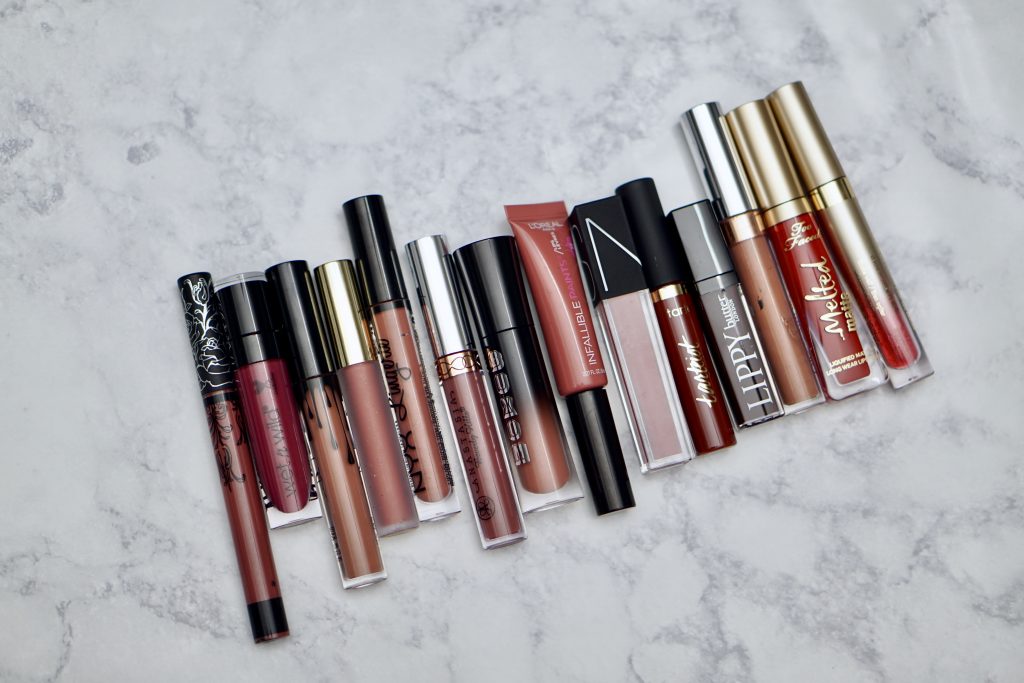 For those of you who don't already know, I'm a lip product hoarder. I may or may not have a borderline addiction, but you know what? I'm choosing to embrace it… haha! When liquid lipsticks started becoming a big trend a little over a year ago, I couldn't help but to try them all (but at least now you guys don't have to!) I've pretty much tried everything under the sun- high end, drugstore, somewhere in between- I've tested them all!
Today I'm sharing my absolute favorites and my not-so-favorites! I have all of these in a few different colors, but for blog purposes, I thought it would be easiest just to show y'all my favorites of each! Brace yourself, this one's a long one…
Stila Stay All Day Liquid Lipstick: 7/10
Starting this post off with a bang! This formula is one of my favorites. They have a huge color selection, and the formula itself is great. The only issue I have with it is that it can be a tad drying, and some of the shades have glitter. I'm not a huge glitter fan, but if you are, these would be a great option!
Gerard Cosmetics Hydra-Matte Liquid Lipstick: 2/10
Sorry, Gerard Cosmetics! I absolutely hate this formula. I know Gerard has a little bit of a cult following, but I'm really just not a fan. The formula is super drying, isn't long lasting, and peels off super easily. The first time I tried these, I thought that I just got a dud- but after making a second order with a few more shades for variety, I realized it's just the natural formula of the product. Two thumbs down from me!
Kat Von D Everlasting Liquid Lipstick: 7.5/10
I'm a big fan of this one! I know they can be a little too drying for some people, but it works really well for me. The only thing I wish they had more of is color selection for nudes!
Kylie Cosmetics Lip Kit: 8/10
To be very blunt, I thought that Kylie Cosmetics was going to suck when I first heard about the launch of the line. But… surprisingly, they're actually pretty freaking great. These are one of my favorite formulas, and I wear Dolce alllll the time. Reign is another one of my faves! The only thing that sucks about buying from Kylie is shipping costs, but now she offers free shipping with a $40+ purchase. Definitely worth a try if you've been reluctant!
Wet 'n Wild MegaLast Liquid Catsuit: 6/10
For a drugstore line, this liquid lippie is bomb. You can barely even tell that it's not high end. The formula's great, the packaging's awesome, and best of all- the price seriously cannot be beat! The only thing I have to say about this one is to watch out for the shade Video Vixen- this one applies super patchy, and isn't transfer proof. All of the other colors, though- two thumbs up!
L'Oreal Infallible Lip Paint: 4/10
First things first, this product has a little bit of a weird smell. I'm not a huge fan of this one, but it does what it needs to, and is good for the price. I would say that if maybe for some reason you don't have access to Wet 'n Wild, go for the L'Oreal. Otherwise, the Wet 'n wild would be a much better option!
NYX Lip Lingerie Liquid Lipstick: 5/10
This one is pretty good too! It applies as more of a cream, but I love it because it's not super drying. You can find it at virtually any drug store, but I always grab mine from Ulta since they always have coupons.
Colourpop Liquid Lippie: 4/10
I've heard that Colourpop has revamped their formula, but I haven't tried their "new and improved" version yet. As for the ones that I tried, I'm really not a fan. They're extremely thin, and so drying. But if you need something to last long, this one's awesome for that!
Too Faced Melted Matte Liquified Longwear Liquid Lip: 8/10
I actually really love this one!! Does everything a liquid lip should do, and feels super comfortable. Love!!
Tarte Tarteist Lip Paint: 3/10
In my opinion, I'm not even sure whether or not to include this one. It feels a lot more like a cream than a liquid lipstick, but they're advertised as a liquid lip. Definitely not smudge-proof.
Buxom Wildly Whipped Liquid Lip: 2/10
Same as the Tarte one- it's not smudge-proof, and it transfers like crazy. I also had to put on multiple layers for a good smooth finish.
NARS Velvet Lip Guide: 4/10
This one applies like a cream, but comes off as a matte finish liquid lip. It's actually pretty good in my opinion, but for the price I would expect something above and beyond.
Anastasia Beverly Hills Liquid Lipstick: 9/10
Ahhh, one of the OG liquid lippies! I loooove the Anastasia formula, and it's a good price too. Not too dry, long-lasting, and a super wide color selection. What more can a girl ask for?
Butter London Lippy: 6/10
I like this one a lot, but it definitely doesn't compare to some of my other faves. I'd say that if there's a unique color you see and have to have, go for it, but otherwise, stick to some of the surefire ones. I have a few colors of these, and they're inconsistent- some colors are great, and others are not-so-great.
Sephora Collection Cream Lip Stain: 8/10
This one is one of my favorites!! I forgot to shoot this one, but it's definitely a banger. They're super inexpensive, easily-accessible, and has an awesome formula. Definitely try it out if you haven't already!!
Whew- we made it to the end, YAY!!! If you're still here, leave me a comment!! Let me know if I've left any of your favorite liquid lipsticks out, I'd love to try some new ones that I haven't already!