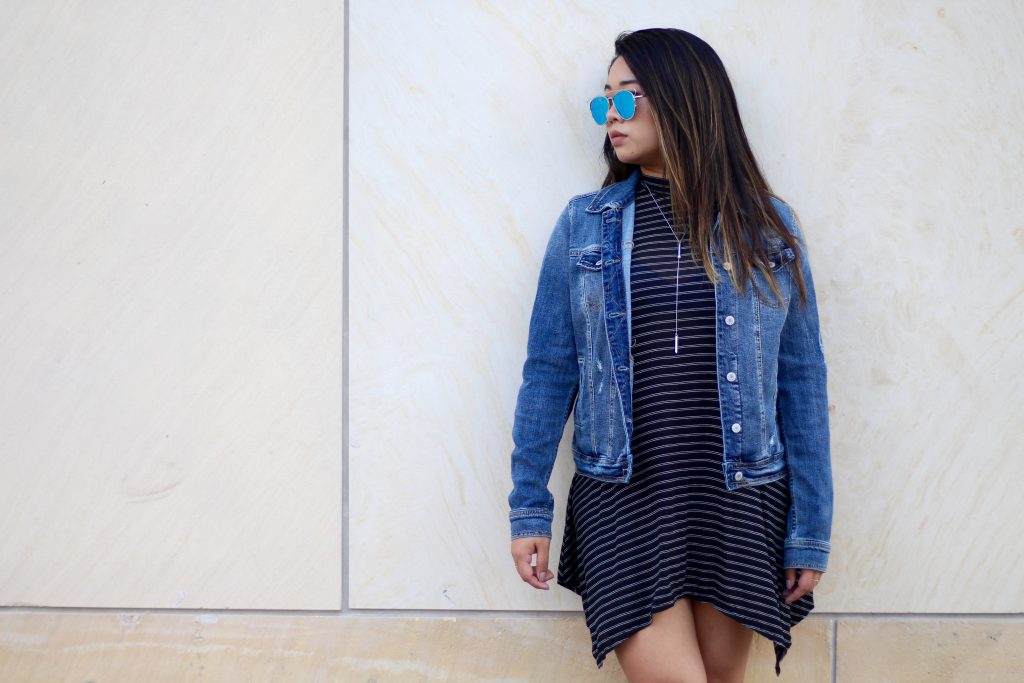 I hate Mondays just as much as you do, trust me, but hopefully this blog post makes your day a little better!
In case you haven't been able to tell, I've been really enjoying creating outfit posts for y'all. My style tends to consist of pulling together simple pieces to make an outfit. This one is no exception! I'm a big fan of playing with basics, and one that I think every girl should have is a denim jacket. They're so easy to play around with, and the best part is- they're so comfy!
I personally love how easy they are to dress up or dress down, and they can really help to pull an outfit together too. Have a dress that's a little too dressy for the occasion? Throw on a denim jacket. Have a date night coming up & evenings are getting chilly where you're at? Throw on a denim jacket. Rocking a simple graphic tee and leggings? Throw on a denim jacket. Easy, right?
If you don't already have one, I recommend finding one that's more on the medium-dark wash side. It all depends on your style, but I tend to prefer medium wash over dark or light, just because it acts almost like a neutral, which helps to pull everything together.
Fit is key!! because you don't want anything too fitting or too loose (frumpy is not cute.) I have a few variations, but the one I find myself wearing the most is the one that cuts off right above my hips. Not too long, not too short. I find that this way it goes really well if you want to wear it with pants or thrown over a dress.
With this outfit, I tried to keep it simple. I love the edgy hem of the striped dress, and how it's not a typical A-line dress. The denim jacket gives the outfit a little more personality and color, plus gives a little extra warmth too, now that the weather's starting to get cooler. The reflective sunglasses give the whole outfit a little more "oomph," too. I dialed it back with the jewelry and kept to this simple silver necklace, which adds a nice touch without being too distracting.
Hope this helps! Happy denim jacket-shopping, & let's kill this week!!! 🙂 P.S. Next week may or may not consist of a fair-food-filled blog post… you definitely don't want to miss it! Be sure to check back + subscribe to my blog so you can get notifications when I post new content. Sending love from College Station!!!