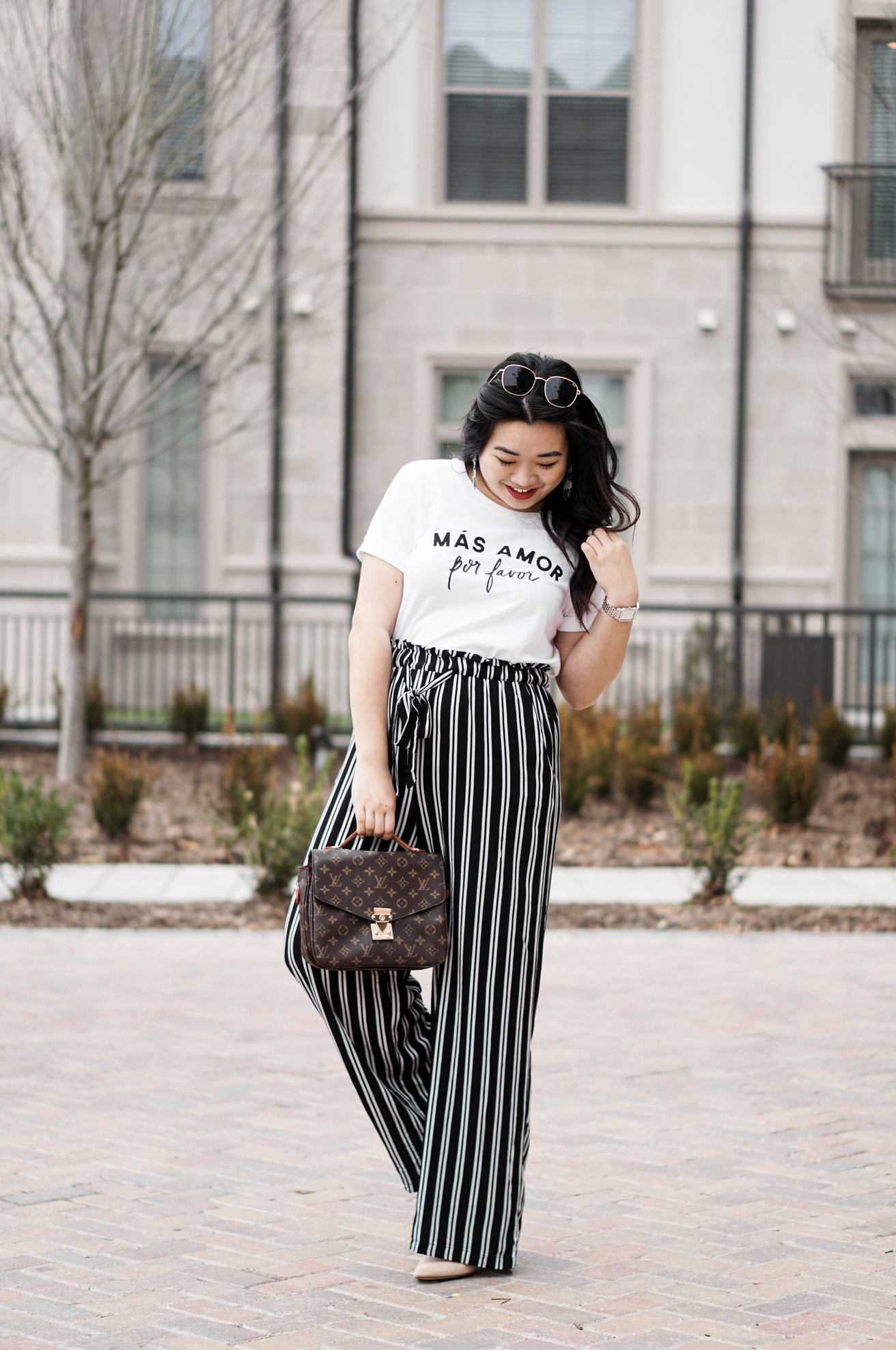 Ahh, every girl's ultimate dream… to have mile-long legs! Unfortunately, not all of us are blessed with long model-like legs. But fake it 'til you make it, am I right ladies? Today I'm sharing a few hacks to make your legs look 10x longer, even if that means you need to fake long legs!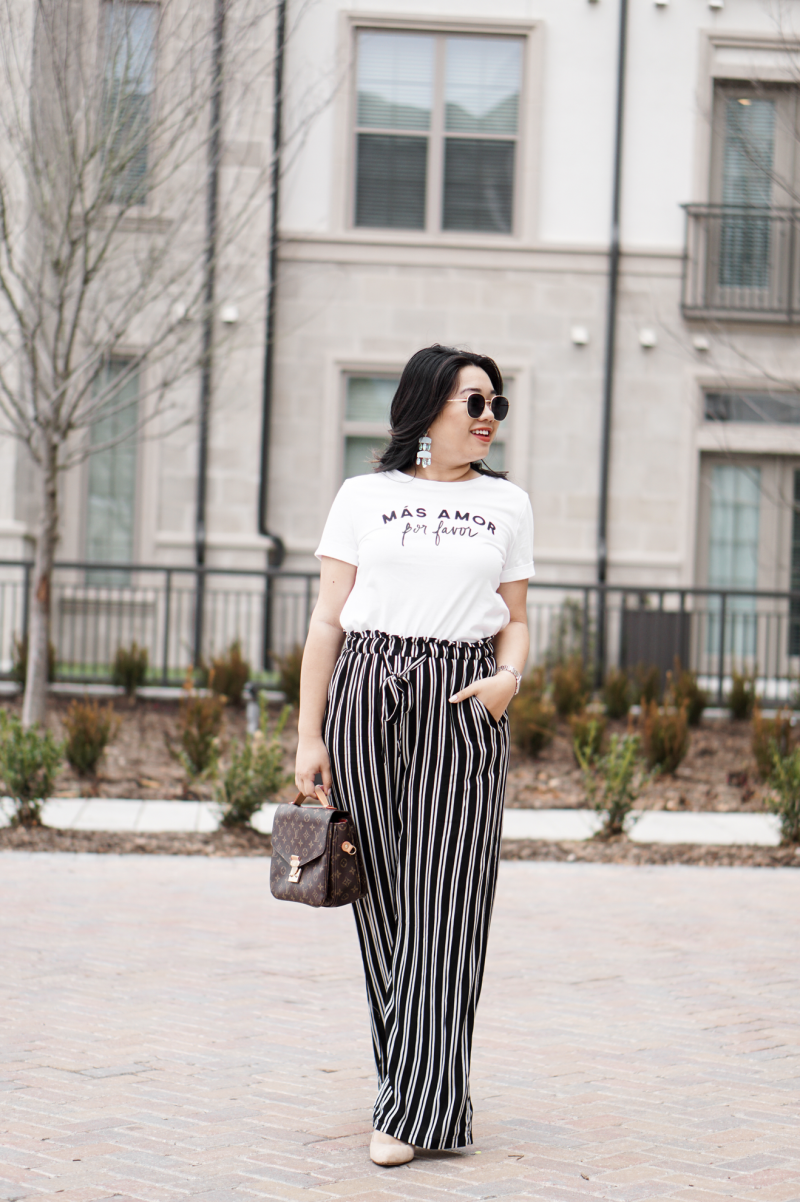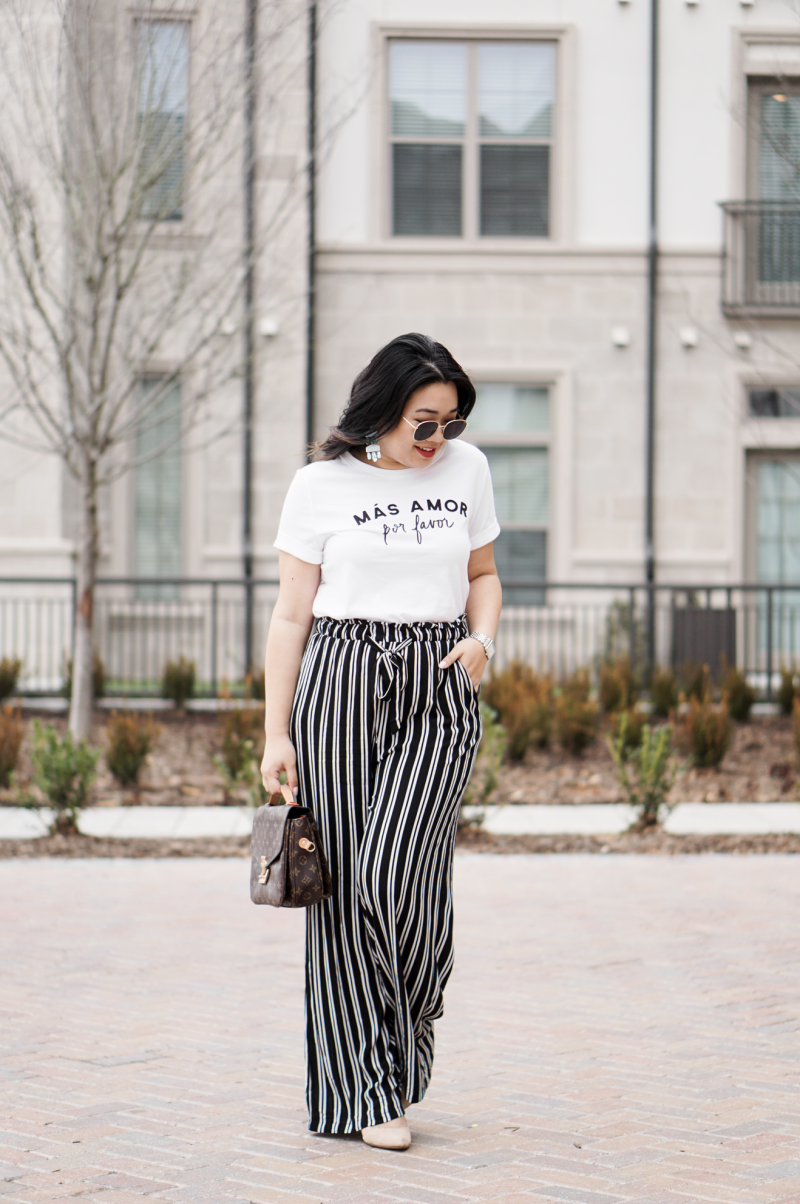 First off, let's talk all about high-waisted pants! This is trick that I learned very recently. Palazzo pants, also known as elephant pants, are all the rage right now. The trick to pulling these off is to find a pair that fits your body type well. I've tried on so many different styles, and finally found what works best for my body type. Since I'm on the curvier side, my shape works best in high-waisted pants, that slightly come in at the knee and cinch at the waist. The key to making long legs is to find the most flattering silhouette for your body.
Side note: the pants I'm wearing in these photos are only $20!!! Unfortunately I think they're new so they're not on Target's website just yet, but as soon as they are I will update this post with the link. If you're wanting to snag them now check your local Target in the Xhilaration section! For now, I've linked a few similar faves.
I definitely recommend trying on a few before buying, just to make sure they're perfect for your leg shape. You can easily pair your favorite high-waisted, loose pants with a graphic tee tucked in (like mine here!) or even just a simple tank and some pretty jewelry. The best part about this outfit is that it can be recreated in so many different ways. You can switch out the top, the shoes, and the bag for a different look every time! FYI this top I'm wearing here is only $10!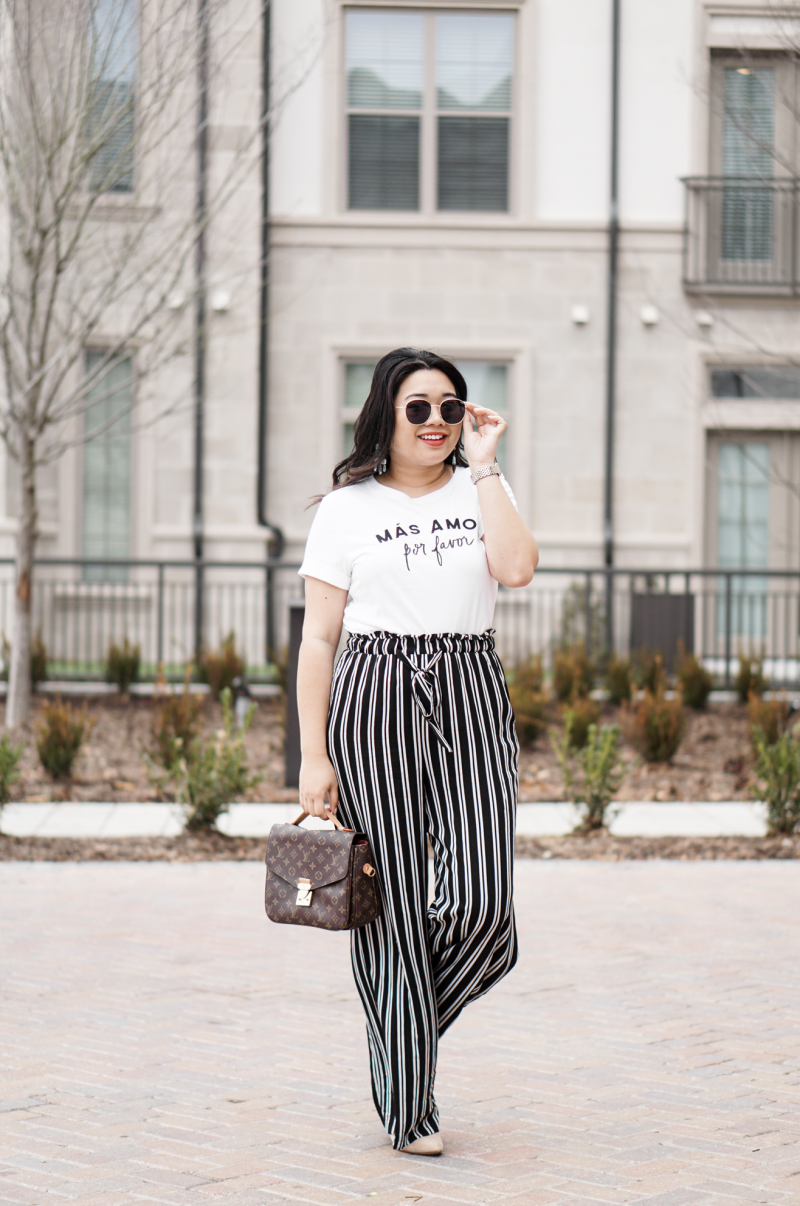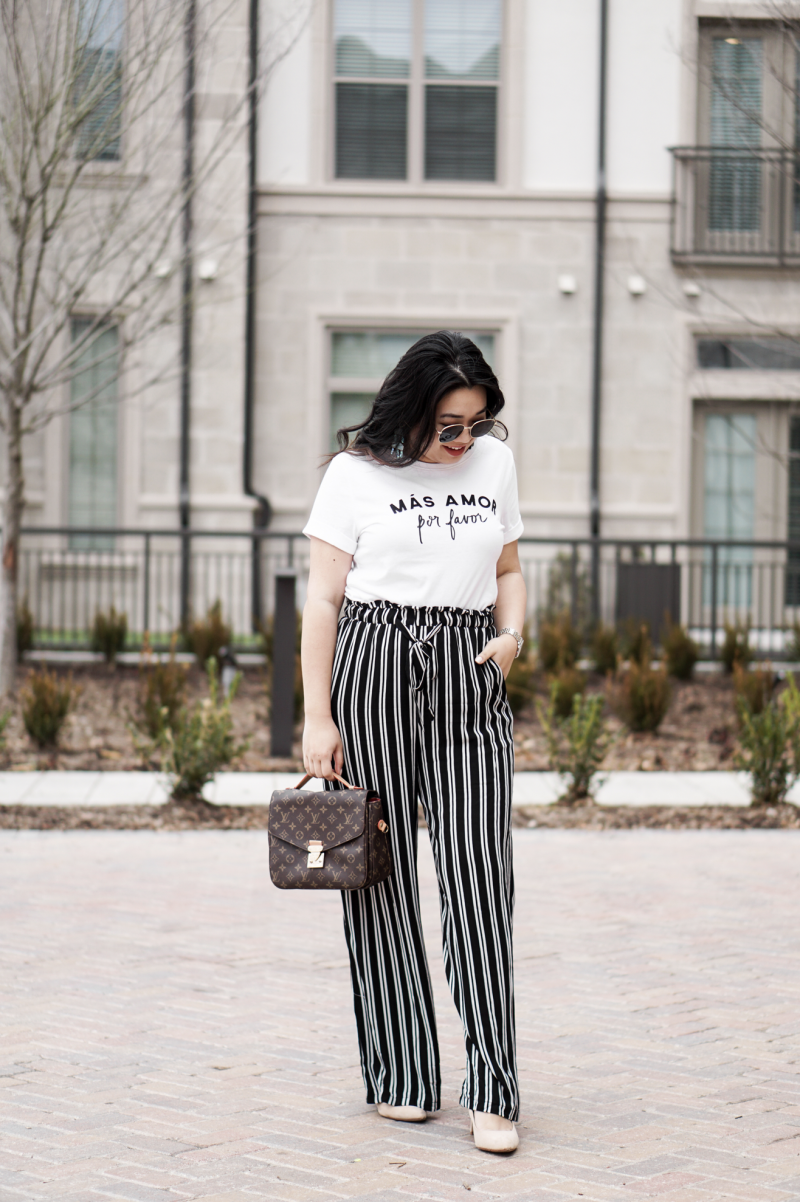 Vertical stripes are the key!!! Horizontal stripes are notorious for stretching you out (if not worn correctly!) but vertical stripes have the opposite effect. I also love mixing prints- this doesn't really relate at all to longer looking legs, but mixing patterns makes the look just a tad more chic.
When pairing the high-waisted pants, look for something with a higher cut. Whether than means tucking your top in for a longer leg effect, or just going with a crop top- playing with top/bottom proportions is the way to achieve the look!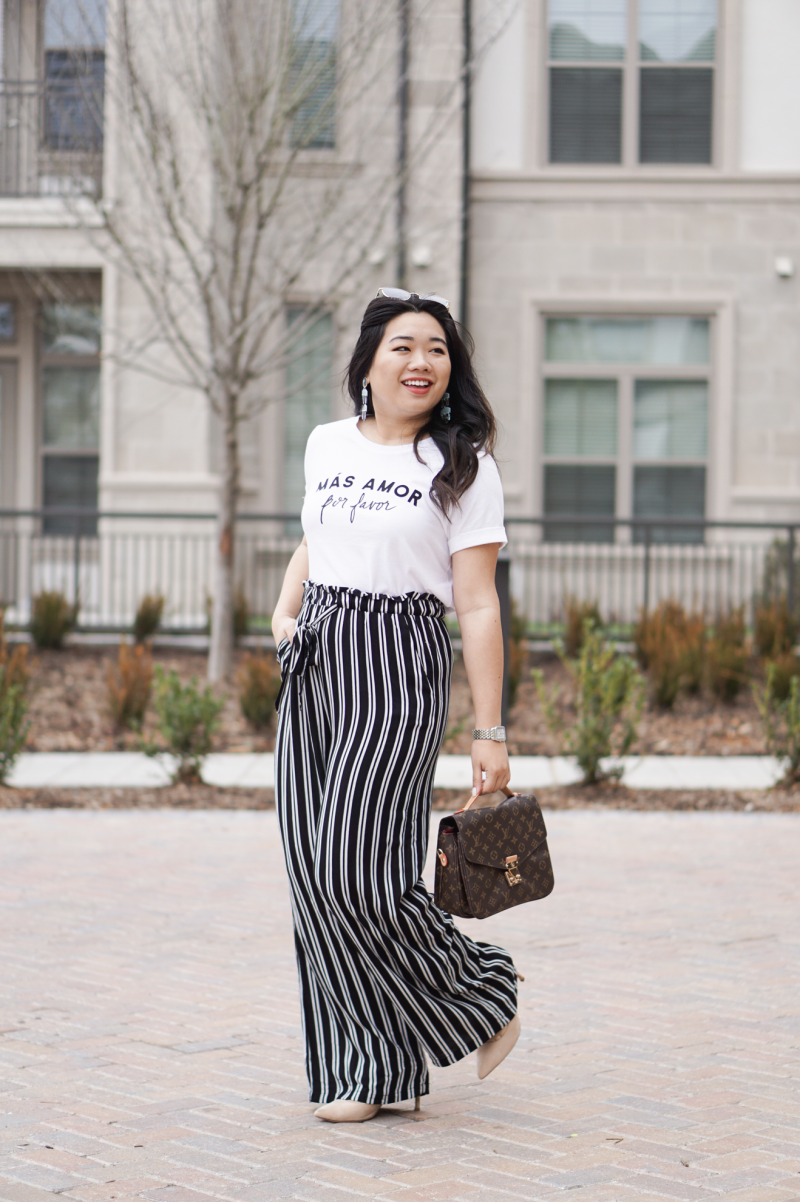 Last but not least, I recommend secretly adding a few inches by wearing nude heels. Whether you're wearing pants that cover the heels or not, nude heels add a few inches onto your legs. The "secret" trick here is letting the pants cover the heels, so you look naturally leggy and a few inches taller.
And voila! The last thing I want to share about this look is these accessories. I'm so obsessed with these sunnies & these earrings too! These earrings are part of Kendra Scott's spring 2018 collection, and they look just like sea glass. You guys know I love my pop of color, so these are right up my alley.
For anyone who struggles with finding round sunglasses that don't look ridiculous on larger, rounder faces, these are the absolute best! I've been wearing them nonstop, and find that they're the perfect accessory for any look. These sunnies are also under $60!
Shop any of item from our outfit here!