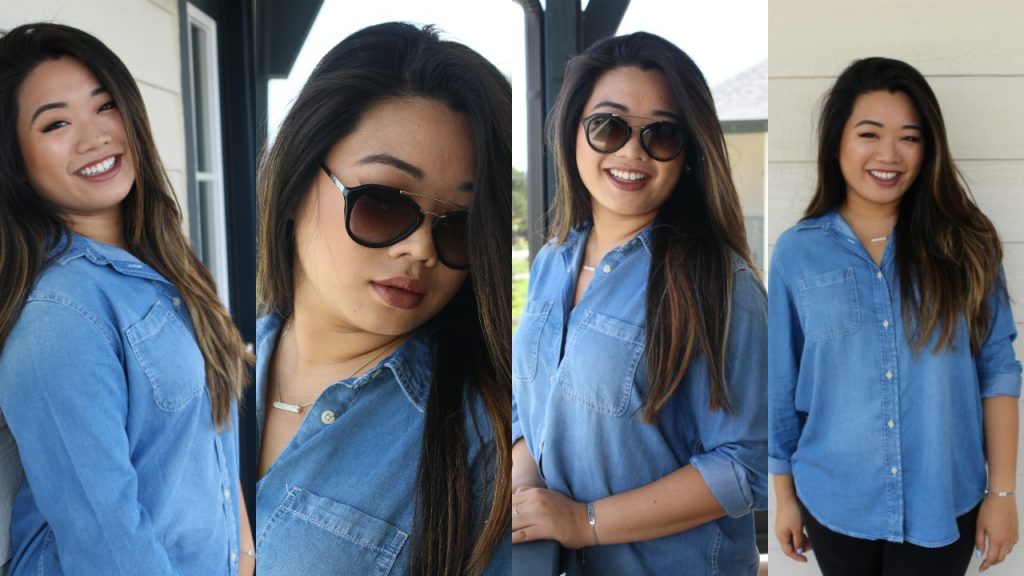 Hello everyone!!
As the leaves finally start changing color and hopefully the temperatures start dropping wherever you are in the world (wish I could say the same here in Texas but unfortunately we suffer almost 100 degree weather until basically halfway through October,) I wanted to share with y'all some of my favorite style pieces that are staples in my wardrobe almost every fall, but with a few trendy styles that are in for this coming season. Let me know what some of your fall essentials are, I'd love to get some inspiration from y'all!
1.) Denim Shirt
Denim button-downs are honestly a staple for any time of year, not just fall! They're super easy to work with, and great for layering when the weather gets a little chillier. I find that a medium-wash denim tends to look a little more classic, but you could always get a light wash or dark wash. I love them all! Plus, super easy to dress down a more dressy outfit just by throwing it on and adding some accessories. Also looks so effortless with a pair of black jeans and throwing on sunglasses. So cute!
Denim button-down: TopShop (I couldn't find my exact one, but this one would work great!)
Sunglasses: Prada
Ring: Tiffany & Co.
Necklace: Kendra Scott
2.) Cold Shoulder Blouse
These are so trendy right now, and I'm the first to admit that I think cold shoulder/cutout tops are so modest yet sexy and I LOVE THEM. Perfect to throw on in the fall, when the temperature starts to drop but it's still in the 70s-80s and not quite sweater weather yet.
Cold Shoulder Blouse: Target – I love the embroidering along the top, and I found it at Target so it was super inexpensive! Y'all know I love shopping at Target! It also comes in 2 colors, but I thought the black looked a little better on me.
3. Bomber Jacket
I've honestly never been a huge fan of varsity-style bomber jackets, but I've seen a lot more this season that are so simple and chic. I'm a huge fan of layering, and bomber jackets are perfect for just that. If you get one in a neutral color, you can easily pair it with some of your more summery pieces and still look totally appropriate.
Bomber Jacket: Target
*Carli Bybel x Missguided also has one that's super cute!! And only $48, what a steal
Apple Watch
4.) Comfy Hoodie
I love comfort just as much as the next girl, so this hoodie is a must-have. They can look super effortless with just a pair of black denim jeans, or casual with a pair of athletic leggings. I wear mine a lot with just a pair of Lululemon leggings and my Adidas Superstars- super easy, cute, and SO comfortable! Find a nice, soft hoodie and I can guarantee you'll want to lounge in it every day. Mine is from Zara, but I don't think they sell it anymore, sorry!
5.) Neutral Tote
I love wearing tote bags because you can bring every single thing you could possibly need and have extra room for more. I got mine this summer and haven't stopped carrying it since!
Tote bag: Longchamp
You made it to the end!! Hopefully y'all enjoyed reading about my fall favorites as much as I enjoyed sharing them with you! I have a lot of fun stuff coming up that I'm so excited to share with y'all, so be sure to come back soon!