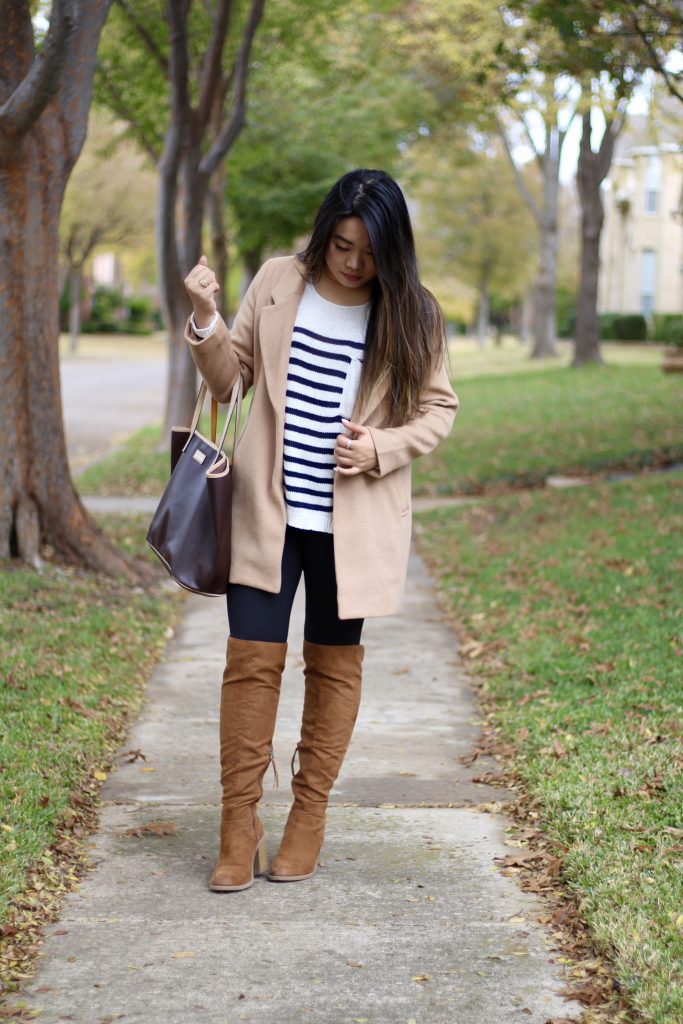 Outfit Details
Coat Old Navy (Exact color sold out, similar here & here) // Striped Sweater H&M (Last season, similar here) // Leggings Victoria's Secret Sport **These are my all-time favorite leggings!!** // Boots Target // Tote Coach (Sold out, similar here) // Ring Tiffany & Co.
Hello friends!!
I'm happy to report that I've been really loving my time back home. 🙂 Seriously feels so good to take a break from the craziness of school (and jump into the craziness of my family back home!)
The day I'm writing this post (y'all will see it in a few days!) it's oddly warm- we've been having 40 degree days the past few weeks but randomly it spiked up to 70 today. But hey, I'm definitely not complaining! My mom helped take these photos for me, & I think they actually turned out super well- thanks Momma! 🙂
We spent a few minutes just enjoying the weather & playing with the leaves. I never really got the chance to take cute fall pictures but I finally got my chance today!
I hope all of you are heading home to spend time with your families soon if not already. Even though I have to take a winter class and work a little bit over my month-long break, I definitely feel super blessed to spend some quality time back home. Trust me, it's much needed! I'm hoping to spend some of my Christmas break to explore some parts of Dallas that I haven't been to, and to really dedicate some time to perfect this blog. I find myself in a rut every once in a while, and I'm definitely in one now. Hopefully I'll be able to perfect all the little things to my heart's content. For those of you who are bloggers- after you find a theme or a style that you like, do you recommend just keeping it the same or do y'all tweak it little by little like me? Sometimes I can't decide whether it's just because I get bored of things easily that I always like to switch it up or if it's because I didn't have it right in the first place… Anyway let me know, I'm in dire need of some advice!
Have a good hump day, friends!! Of course I had to include these pictures of my dog & I after the shoot. He is so undeniably adorable, I can't even handle it!