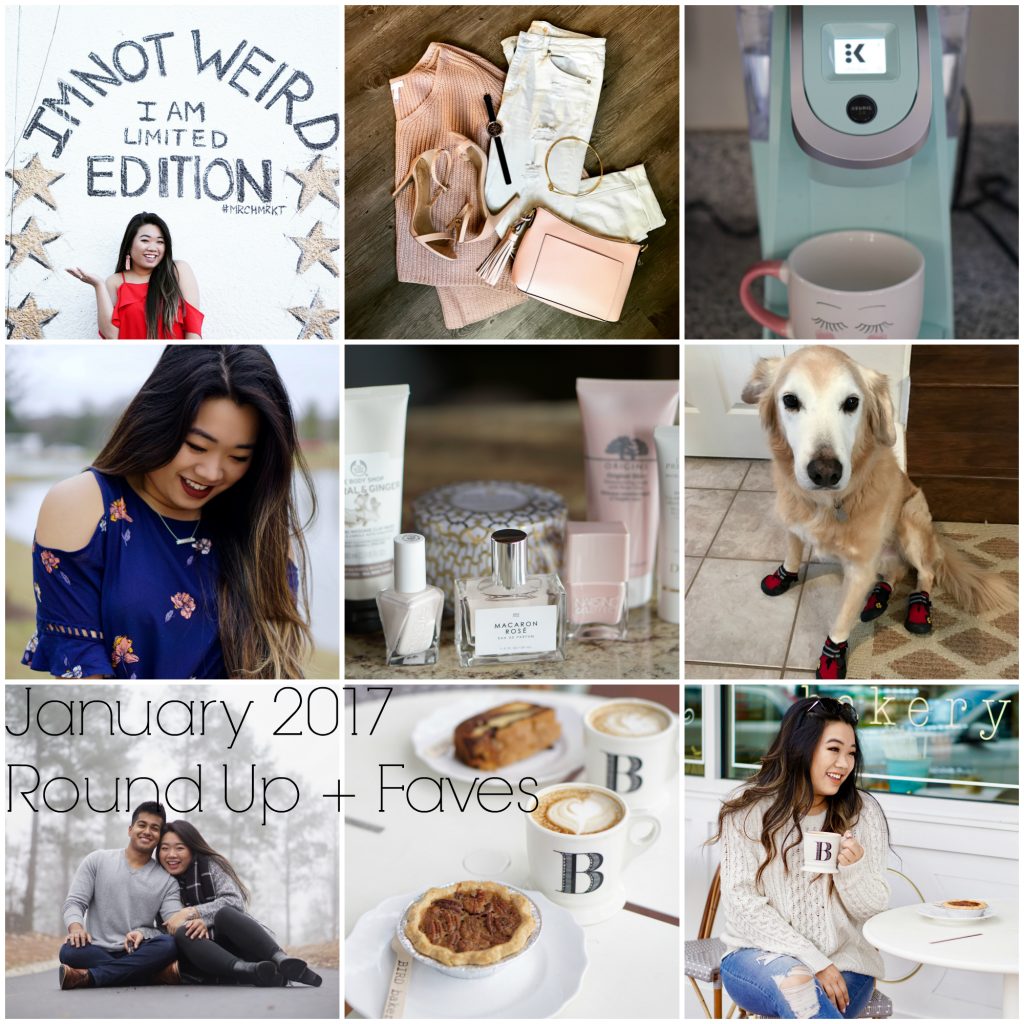 Happy Monday, friends!! I hope all of you had an awesome weekend, and an awesome month! This month's been pretty much just full of adjusting back to college life, but it's been a good month overall. I wanted to start this new series of recapping each month- my monthly roundups are where you'll find some recaps on what's happened in case you missed it, and just some life tidbits and updates.
Let's dive right in!
New Year's Eve was spent with a cozy night in, just cuddled up watching Friends (I don't care what anyone says, I'm the world's #1 Friends fan.)
Akash & I kicked off the year in his dad's cabins up in Oklahoma! I have a whole post on it here– it was so much fun, and a super relaxing getaway from the city for a few days. Definitely hoping we make it an annual thing!
My dad's been wanting to take me to the shooting range for the longest time, and we finally found a time to go! It was a little scary, I'm not going to lie, but it was a fun experience! At least I get to say that I've shot a gun now… 🙂
Akash & I spent one of our last days back in Dallas exploring the city & enjoying some brunch at Bird Bakery. I have a whole post on the day here, check it out!
I visited one of my very best friends Melody before we both had to head back to school. Her house is gorgeous, and she was so kind as to let me shoot at her house- isn't it beautiful?! This look went up last week, check it out here.
You can definitely say that blush is one of my new favorite colors! This whole month it seems like I can't get enough! Love love love.
A highlight of every trip I take back to Dallas is seeing this little cutie! He melts my heart! 🙂
As soon as I got back to College Station, the work caught up with me real quick. I've been spending a lot of time just doing some logistics for the blog, and a lot of homework assignments too. Our recreation center just got finished and it's huge- I found this spot above the rec that was the perfect study spot!
January was the year of the Keurig! I finally got myself one of these babies (it's about time!) so I've been drinking a ton of tea! I love waking up early in the morning and making myself a cup of tea while getting ready for the day. So relaxing 🙂
Akash and I took a day trip down to Houston this past Saturday & shot some really fun pictures while we were there! I always love going down to Houston- the food's amazing & their wall art game is off the hook- what else do I need? We shot this look just for funzies- it's located right next to the Merchant Market shop. Keep your eyes peeled for this look coming on Valentine's Day!
Now time for my favorite products of the month!
I've been going through the process of trying to repair my skin- the winter months have really made my skin super dry & just not cute. I've been loving these two face masks, this one by the Body Shop & the Origins Original Skin rose clay mask. I wrote a whole blog post on my favorite face masks here, check it out in case you missed it!
I've talked about this scent so much, but I seriously can't get enough! It smells so light & so feminine at the same time.
Like I mentioned earlier, I've been really trying to take good care of my skin lately, and that means using sunscreen more often! I'm really bad about using sunscreen, but I've been trying to incorporate it into my skincare routine every morning. This one from Dior was a gift from my mom a while ago, but I love it so much!
I've also been loving this candle by Voluspa. I found this one at Nordstrom, but there are a ton of different scents from this company that are awesome!
Last but not least, I've been getting back into doing my nails at home! I've definitely been spoiling myself for the last few months with biweekly mani/pedis… but it adds up! I usually always get gel nails whenever I go to the salon, because they last so long. I've found, though, that you can really get the exact same look & longevity with gel-style polishes! I've been loving the new Essie formula & the Nails Inc. one too! Baby pinks are my fave, I rarely have anything else on!
Shop these goodies here!