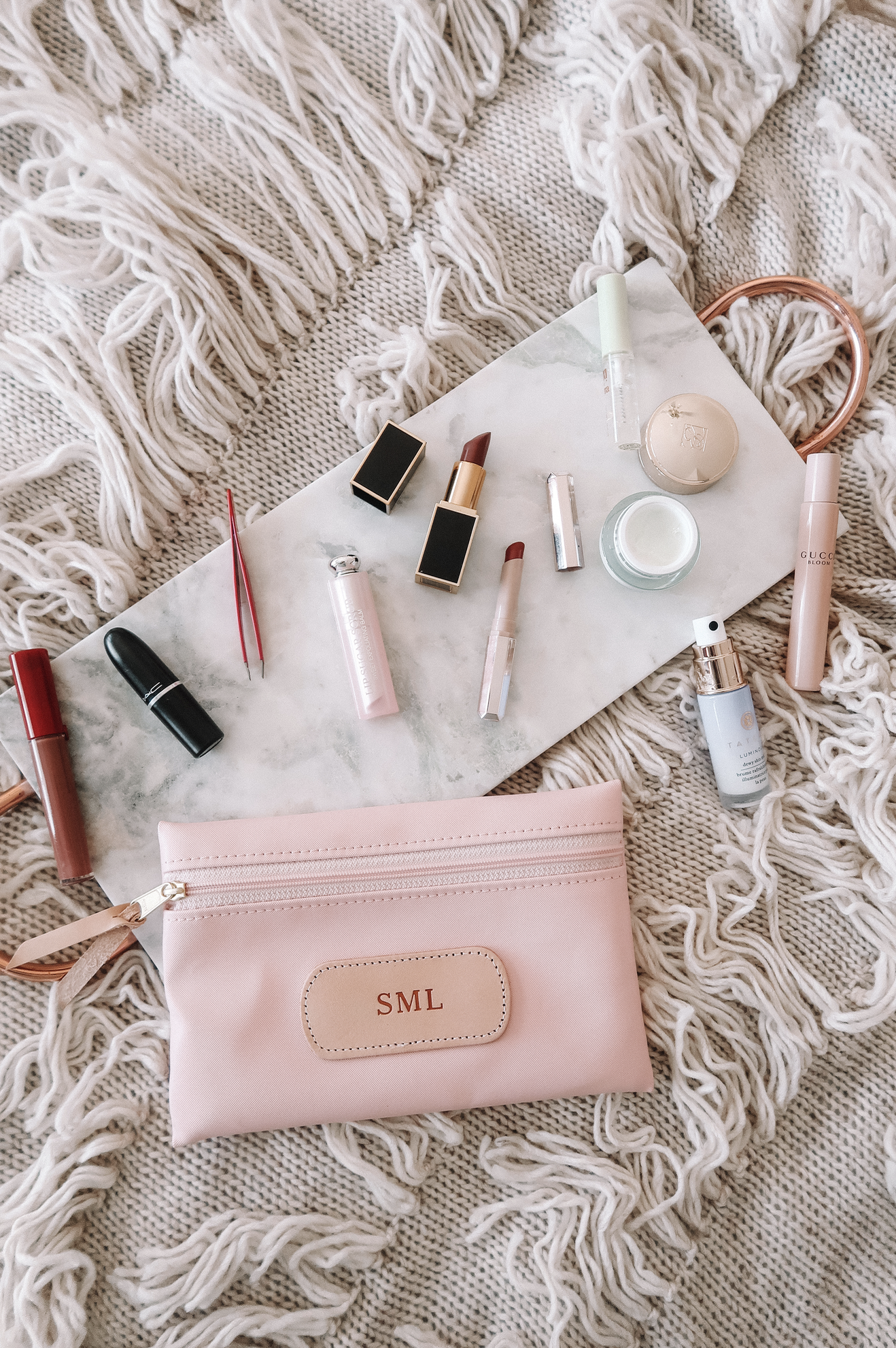 Happy Friday, chicas! Hope you've all had a wonderful week. This past week has been so crazy, and I'm just happy as a clam to be at my parents' home in Dallas writing to you all right nom. If you've followed my adventures, you know I've been in Austin for the past week or so for SXSW. It was my first time attending the conference, and it was definitely an experience! I'm going to put together a whole new post covering all the details of events I attended, so stay tuned for that, hopefully next week. ANYWAY… after I got such a good response after sharing what's in my purse, a ton of you asked for a what's in my makeup bag post. So here it is!
I definitely consider myself to be on the lower end of "high maintenance girls" spectrum, so I don't carry too much in my makeup bag with me. To be totally truthful, I don't usually carry a makeup bag with me unless I'm carrying my tote bag! Usually I just have a lipstick with me & I'm good to go. But for times I'm attending events or I'm planning to be out all day, I keep these goodies with me to stay fresh all day. Let's just jump into it!
PS I just realized I wrote a "What's in my makeup bag" post a little over a year ago! Turns out my essentials are still pretty much the same. 🙂 You can check it out
here
!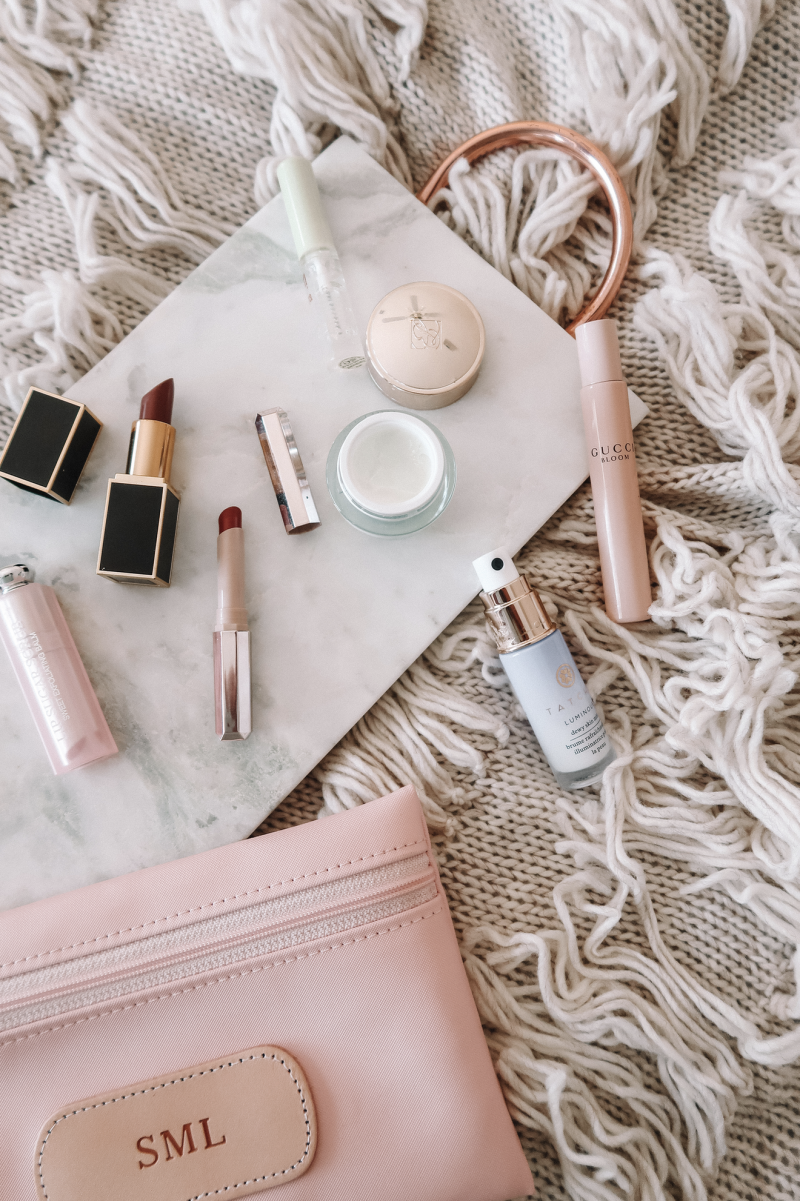 ALL THE LIP STUFF
I love to have options, what can I say? I usually always have 3 lip options with me: something vampy, nudes, and a fun rose color. I haven't gotten to experiment much with lip products lately because I've been so busy, so these three have been my ride or dies.
This Tom Ford lipstick in Wicked Ways is my FAVORITE, y'all. #NotSponsored #IWishItWasThough
I know it's a bit pricey, but I splurged when I got a gift card for graduation. It's a little on the darker side, but I've been wearing it year-round and love it!
TWEEZERS
I've spoken about these more than a few times. I bought these specific ones years and years ago, and honestly the drugstore ones just don't compare to Tweezerman tweezers. I know $30 is kind of a lot to shell out for tweezers, but they'll last you YEARS.
For anyone who knows me, you know that I have legit the hairiest face you'll ever see. It's such a struggle #TRANSPARENCY am I right? hahaha. I always have some tweezers on me in case those annoying little mustache hairs randomly sprout or if I have a misbehaving brow hair. Girl problems.
TATCHA DEWY SKIN MIST
A lifesaver when traveling! This one's a cult favorite, and I can see why. This little guy comes in a set that Akash gave me for Christmas, but I believe you can buy them separate too. A skin-saver!
GUCCI ROLLERBALL
My staple perfume is Gucci's Bloom, and I loved it so much I had to buy it in the set! Love this rollerball for quick touch-ups.
MOISTURIZER
I hate dry patches with a passion, y'all. They're so annoying, and the worst thing is being out in public and realizing your skin looks like it's flaking. Travel-sized moisturizer to the rescue! Love this stuff. Plus, when friends need some quick lotion I can always whip this out.
BROW GEL
Once again with the misbehaving eyebrows- do you see a trend yet? Always keep some clear brow gel on me for emergencies!
LIP BALM
This one's a given. Dry lips are the worst, so having a lip balm in your makeup bag is an essential!
And that's all! PS I know I'm going to get questions on it, so this makeup bag (my FAVE, btw) is from Jon Hart designs. At my college, everyone was obsessed with these, and with good reason. They have the cutest, simplest designs, and you can heat-stamp all of your goodies with your initials. I've been using this one for forever and LOVE IT! How cute is this color?