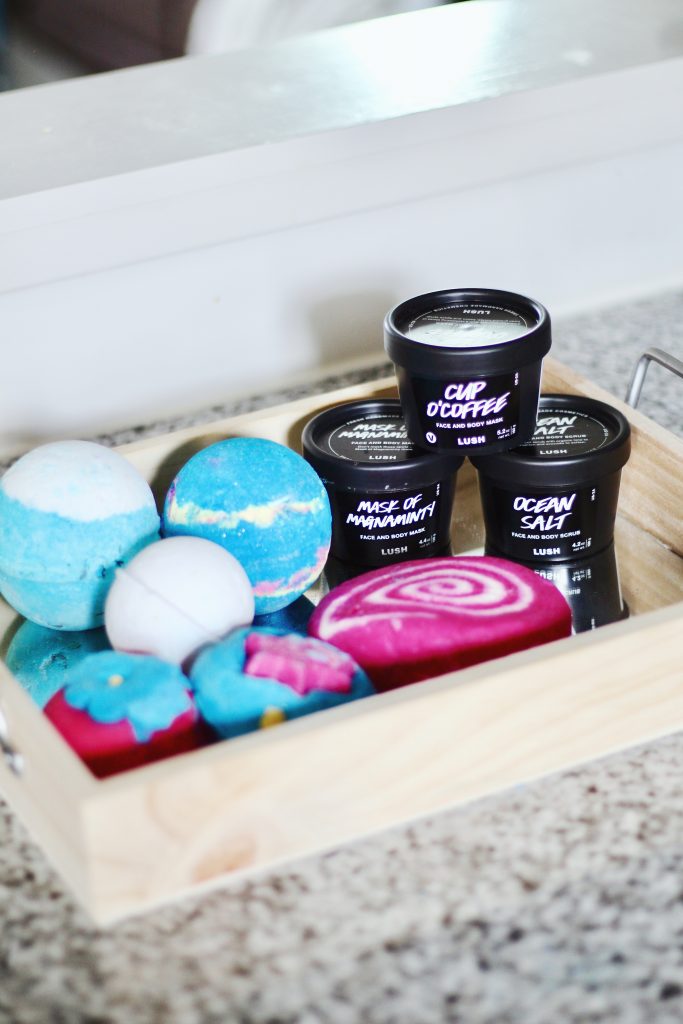 Lord knows I have way too many Lush products- I can't help myself! Lush has so many incredible products, but sometimes it can be super overwhelming because they have what seems like an endless amount of options. I've been shopping at Lush for a few years now, & I've tried a ton of their stuff- some have made it into my list of holy grail products, and some… not so much.
On my Insta stories I always share my favorite bath bombs, and I get a ton of questions on my favorites & other product recommendations from Lush.
With that said, I thought it'd be super fun to talk all about my favorite Lush products, & share things I still want to try from them! Being the huge beauty junkie that I am, I'm always looking to try new things, so please send me all your recommendations that I haven't included in here- I want to know what y'all are loving!
So let's jump in 🙂
Let's start with my favorite: bath bombs & bubble bars!!
Lush splits its store by product type- shampoo, conditioner, face products, bubble bars & bath bombs, soaps, etc. My favorite part of the store is definitely the bath bombs! I'm not going to lie- to be very honest, I don't know exactly what beneficial advantages bath bombs & bubble bars have for skin health, but they're freaking fun. Nothing is more satisfying than that initial contact that results in colorful swirly water! Lush scents are amazing, and bath bombs can totally change your bath experience.
In case you're not super familiar with Lush products, here's a little explanation: bubble bars are exactly what they sound like- a ton of pretty colorful bubbles! But if you're looking for more of a fizzy bath, go for a bath bomb. The bath bombs tend to have a little more color & pigment, if you're wanting to go for a really bright & colorful bath.
My favorite bath bombs are:
INTERGALACTIC: my ALL-TIME FAVORITE. Smells amazing, and I'd probably go so far as to say it's the most beautiful. If you're looking for the perfect Instagram pic, I'd say go for this one- it gives you beautiful swirls of bright yellow, green, blue, & pink.
BIG BLUE: This one's super relaxing & refreshing. If you're more sensitive to strong smells, this one's a good pick! It smells like lavender & a hint of lime.
METAMORPHOSIS: I'm dying to try this one!! One of my friends sent me a snapchat video of this one, and it's so pretty- after the grey fizzes out, it exposes gorgeous bright colors!
PINK: For anyone who's not trying to spend $10 on a bath, this one's awesome! I know bath bombs can get a little pricey, so if you're wanting to try out bath bombs for the first time without splurging on a bunch, this one's awesome to give you a little hint of the magic that is bath bombs. 🙂
Onto bubble bars!
BIG BANG: This one gives you gorgeous blue water with lots and lots of bubbles!
THE COMFORTER: This one's soooo creamy.
SUNNYSIDE: I'd go so far as to say this one's my fave bubble bar. It gives you a "liquid gold" bathing experience- so fun! The only bad thing I can say is that it leaves your tub super glittery, so make sure you rinse or scrub it all off afterwards!
Lush face masks are also some of the best in the market! I love how they're all natural and (don't quote me on this, but I'm pretty sure) vegan. They're pretty much all sensitive skin-friendly, which is awesome!
They have two types of face masks: self-preserving & fresh. The self-preserving ones can last for a few months, while the fresh face masks have an expiration date. I've tried the fresh masks before, but for me personally, I prefer to just go with the self-preserving. I love experimenting with face masks, so I hate that I only have 2 weeks to use up the fresh ones. If you're the type of person who uses a face mask start to finish, though, these are awesome!! Just be sure to keep them in your fridge when you're storing them.
Here are some of my faves:
MASK OF MAGNAMINTY: This one's a cult favorite, and the one I've been using for years and years. It leaves my skin feeling incredibly refreshed & smooth like a baby's butt.
CUP O COFFEE: This mask smells extremely potent, so if you're not crazy on strong scents stay away from this one! The caffeine in this one boosts your skin, and the coffee grounds help to scrub away dirt.
ROSY CHEEKS: I've tried this one before but don't currently have it on me. It's amazing for soothing your skin; it has calamine in it, which is super good if you have irritated skin!
Onto body products!
Lush also makes a ton of shower jellies, lotions, cleansers, shaving creams, & so much more! My favorite body products from Lush are:
DREAM CREAM: This one leaves my skin feeling incredibly moisturized, but not like an oil-slick. I hate super heavy moisturizers, and this one's perfect for my preferences.
OCEAN SALT: My FAVE scrub!!! You can use this on your face or your body, so it's super sensitive skin-friendly. It's not too harsh, either, so you don't have to use it super sparingly. Love love love.
LEMONY FLUTTER: This one's awesome for winter time if you get super dry skin in the winter months, like I do. I always keep one in my purse in case I need it while I'm out!
Hair favorites:
DAMAGED: I always use this one after I get my hair colored. If you have super dry, damaged hair, this one's perfect.
I LOVE JUICY: I personally am not a fan of Lush's shampoo bars, just because I prefer something easy peezy that I can squeeze out of a bottle. This one, though, comes out of a bottle, and it's perfect for the days when you haven't washed your hair in a week (girl, I know you know what I'm talking about.)
YAY- you made it to the end!! Hopefully this helped any of you who are overwhelmed by how many products Lush has! If any of you have specific questions about any of the products, please shoot me an e-mail or a comment- I would love to chat! Also send me all your recommendations for anything I didn't mention; like I said, I love trying out new stuff, so I would totally love to try out some of y'all's favorites. 🙂