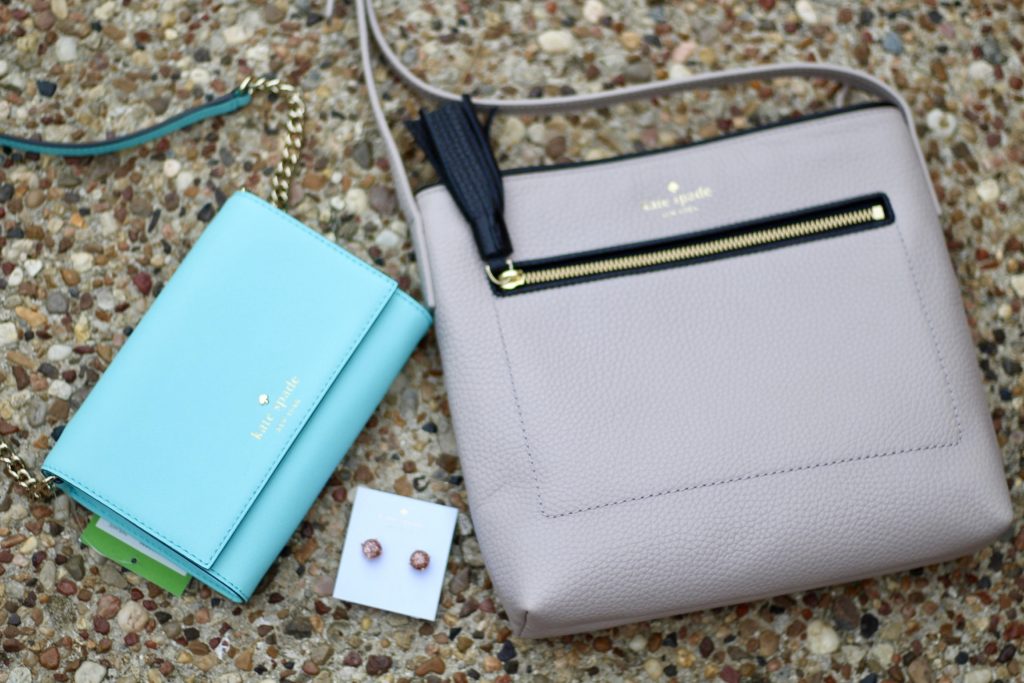 Hi friends!! So I know today's not going according to my posting schedule, but I did want to get this post up for you all ASAP- I'm sharing all of my Black Friday holiday shopping picks!! Most of these sales run all the way through until Monday, and some will go on for even after that- so if any of y'all see something you like, be sure to run out and grab it!!
I personally didn't end up doing TOO much damage this Black Friday- which, trust me, is a rare occurrence- but I did find some pretty sweet deals! Let's get into it!
We have an outlet mall here in Dallas that's actually super close to my house, around 15 minutes away. After stuffing myself full of yummy goodness on the night of Thanksgiving, we headed straight over to the outlets! It was insanely crowded, and I ran into about 75% of my high school (don't you love when that happens?) But I ended up leaving with some cute stuff!
**Note: I wasn't able to get photos of everything for y'all just because the lighting wasn't cooperating with me at the time, and the sun began to set before I could shoot pictures of everything! But I will do my best to include screenshots of the items with links in case y'all wanted to go get some for yourself 🙂
At the outlets I really only bought things from 2 stores- Kate Spade & the GAP.
I'm not a HUGE fan of Kate Spade, but I was need of a few new bags just for everyday use- I've been using my Longchamp like crazy since I got it, and I wanted to mix it up a little! I was looking for a more functional bag- something nice and roomy with easy access, and I found just that!
This purse came out to only $95 after tax- definitely a steal in my book! I know a lot of y'all may not have access to an outlet mall, so in case you're not able to run to the outlet, be sure to shop on their website or their regular in-line stores! They always run some pretty sweet deals, and if you're a student they always have their 15% off student discount, which you can stack on top of other discounts. At the outlet, Kate Spade was offering 70% off– so for those of you lucky ducks who have access to the outlets, definitely stop by!
I also grabbed these two bags while I was there- I seriously just couldn't pass them up! The one on the left was $30, and the one on the right was a little more- gift for my mommy! I also got a ton of little accessories for only $9 each. YES, $9 EACH. Insane, I know! They were so cute too, but since I wasn't able to shoot pictures of them all, I'll do my best to leave the links! You'll definitely be seeing them in my future outfit posts. 
Gap Factory is doing 50-70% the entire store. I've been searching for a trench coat for the longest time, but this is the first one that I've found for a decent price that fits me well. I found it at GAP, for only $28- CRAZY. FYI: if you're ordering online, they do run true to size! Get it here.
At Gap I also grabbed a few pajamas- all pajama pants are on sale for only $10, so I definitely had to take advantage. Gap is also doing additional 40% off clearance.
Then on actual Black Friday, I went to the Northpark Mall in Dallas & shopped for a good part of the day. Here are the best deals I found:
At H&M, they really weren't offering too many great deals, except for a few pieces of the Black Friday Collection spread throughout the store. All I ended up getting is this glittery bodysuit that I thought would be perfect for holiday parties, and a white blazer- you can never have too many blazers!
Unfortunately the bodysuit's sold out in the glittery color now, but they do have the black one for only $5!! It's a nice quality, and at that price heck yes I'll take it! They also don't have the white blazer I found in store for $15 anymore, but if you have an H&M where you live stop by and check!!
At Northpark we also stopped by Tory Burch, and they're doing 30% off all purchases over $250. Tory Burch rarely ever does sales, so of course I had to take advantage! Here's a few of my favorite picks from the store:
Keep in mind that you CAN stack the 30% on sale items… just saying… 😉 Get them here.
Banana Republic also has a ton of great deals right now! They're offering 50% off 5 items- keep in mind that this is the biggest discount they offer all year long, so if you love Banana definitely take advantage while you can. For those of y'all who aren't super familiar with Banana Republic, they have some really awesome classic pieces, and really great wardrobe staples. My boyfriend swears by their jeans. 
How cute is this coat?! 50% off 5 items with code "BRFIVE"- get it here.
Last but most definitely not least, Nordstrom! Nordstrom's offering 20% additional off of their sale items. It takes a little bit of digging, but they have some pretty awesome stuff on their site. Here are a few of my favorites!
Cheers to sweet deals, am I right?! I hope y'all find this useful & end up picking up some great steals- Black Friday shopping is and always has been one of my favorite times of the year. I'm definitely a bargain shopper, so I love a good deal. Happy Black Friday weekend & Cyber Monday, I can't wait to see everything y'all score!