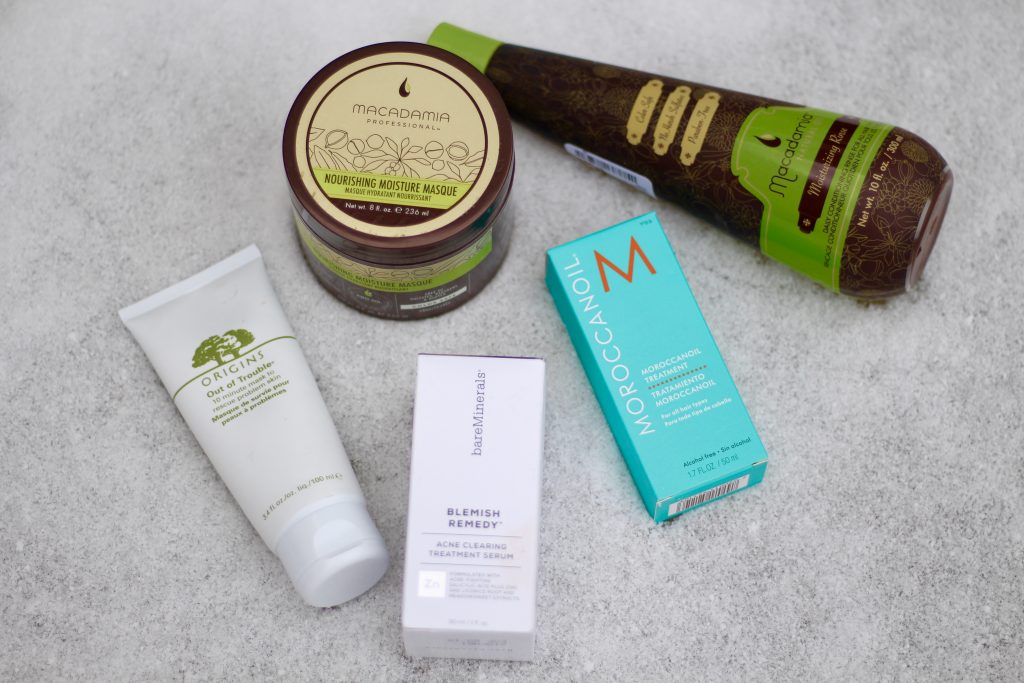 In honor of the first snow day of 2017 here in Texas, I'm bringing you all my winter time beauty essentials! These are some absolutely essential products for winter time, that I've seriously been using the heck out of. My skin gets crazy dry in the winter time- you can ask literally anyone around me. My face gets especially dry, so some of these products help me keep my skin in shape & my hair looking good. My #1 beauty mantra is definitely keeping my skin & hair looking healthy, so doing my makeup and styling my hair ends up looking 100x better!
Macadamia Professional Nourishing Moisture Masque
This mask is seriously a life saver! I used to be a huge fan of the Macadamia Oil Deep Rescue Masque, but I personally like the smell of this one so much better. After having a period of styling it a ton, I love using this mask to make my hair super soft & silky.
Origins Out of Trouble 10 Minute Mask
Like I mentioned earlier, my skin gets crazy dry in the winter time. I get a ton of dry patches around my mouth, and my cheeks get super dry too, so when I put on makeup sometimes you can see it and it looks super gross. This face mask keeps my skin clear & looking great, and prepares it for my moisturizer!
First Aid Beauty Ultra Repair Cream
This moisturizer is actually a pretty recent discovery! It's so rich and creamy, and glides on my skin super easily. Keeps it hydrated 24/7, and gets rid of all my dry patches. I love it so much because it's hydrating but not too oily.
Macadamia Natural Oil Moisturizing Rinse
This conditioner is in one of my favorite haircare lines. It works miracles as a de-tangler, and I use it every time I wash my hair. Pro tip: get it at places like TJ Maxx and Marshall's so you don't end up paying a fortune!
This hair oil is seriously one of my holy grail products. I put it on damp hair, and it leaves your hair shiny (but not too shiny) & smelling amazing.
Bare Minerals Blemish Remedy Serum
Last but not least! Even though I do get super dry skin in the winter time, I also get breakouts (so annoying, I know.) This new Bare Minerals Acne Serum works wonders for my skin, and helps to keep it looking bright & clear. I use this once every night before putting on the First Aid Beauty face cream. Definitely try this one out if you get blemishes at all!
Let me know what your favorite beauty essentials for the winter are! Those of you with dry skin- let me know what you use, I'm always open to suggestions! Have an amazing weekend, xoxo