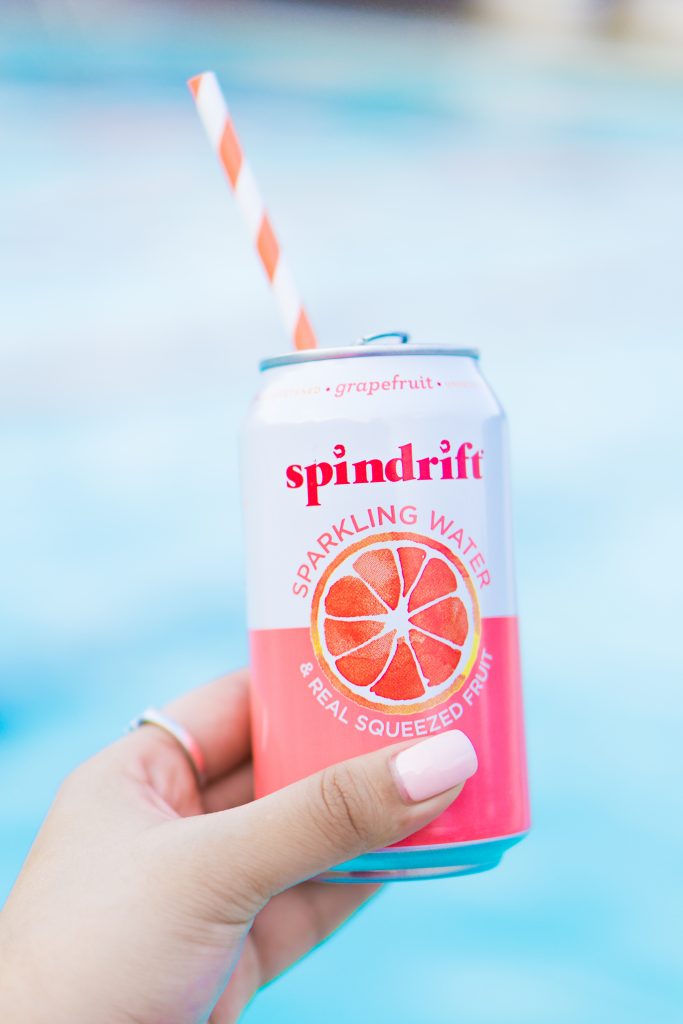 Happy hump day, babes! Hope you've all had a wonderful start to the week- I've missed you all dearly!! Today's post is a fun one- we're skipping the usual outfit post, and I'm sharing all my summertime essentials, including one super exciting one! If you know me in real life, you know I typically prefer to eat my calories rather than drink them. I'm so happy to have found a bubbly drink that I can enjoy without feeling guilty… say hello to Spindrift!!!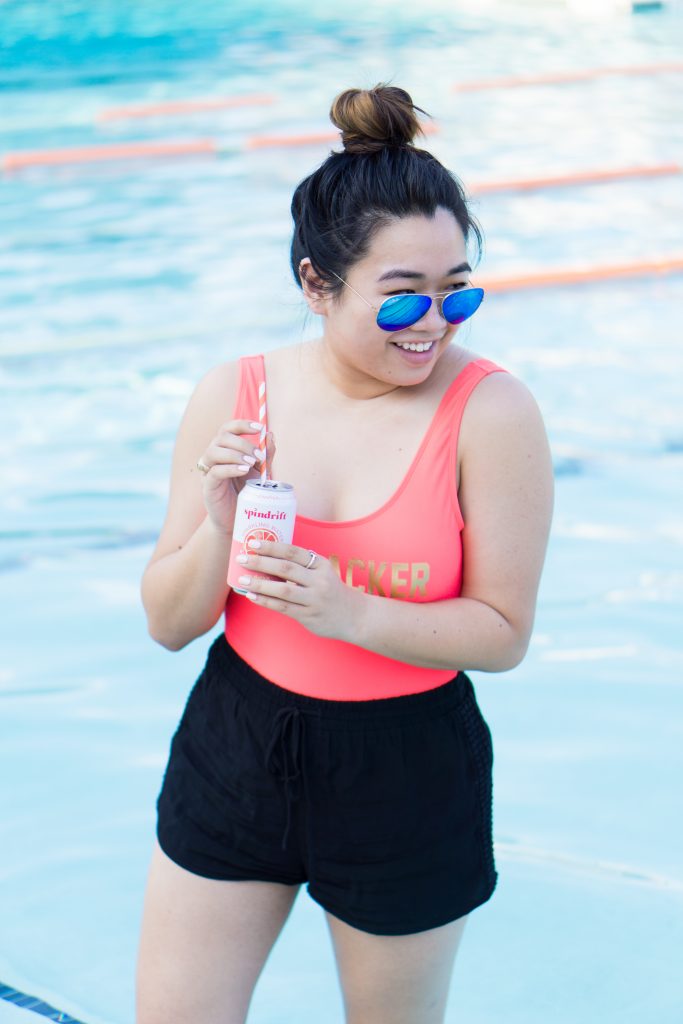 I first discovered Spindrift during Her Conference 2017 back in July- and I couldn't get enough! When the opportunity to work with them came up I hopped on it real quick, because I seriously have been drinking these nonstop since I got back to Dallas. Like I mentioned earlier, I've always been one to skip out on sodas or artificial juices because I'd honestly rather eat my calories than drink them. Enter: Spindrift! Spindrift is America's first and only sparkling water made with real, squeezed fruit. Spindrift = sparkling water + real fruit. Yup, that's it!!! So for any of you who are looking for a drink that's not as boring as water but isn't flooded with artificial flavors and sugars, you have to check Spindrift out.
My personal favorite flavor is the cucumber, but y'all know I had to shoot the grapefruit to go with this swimsuit!! 🙂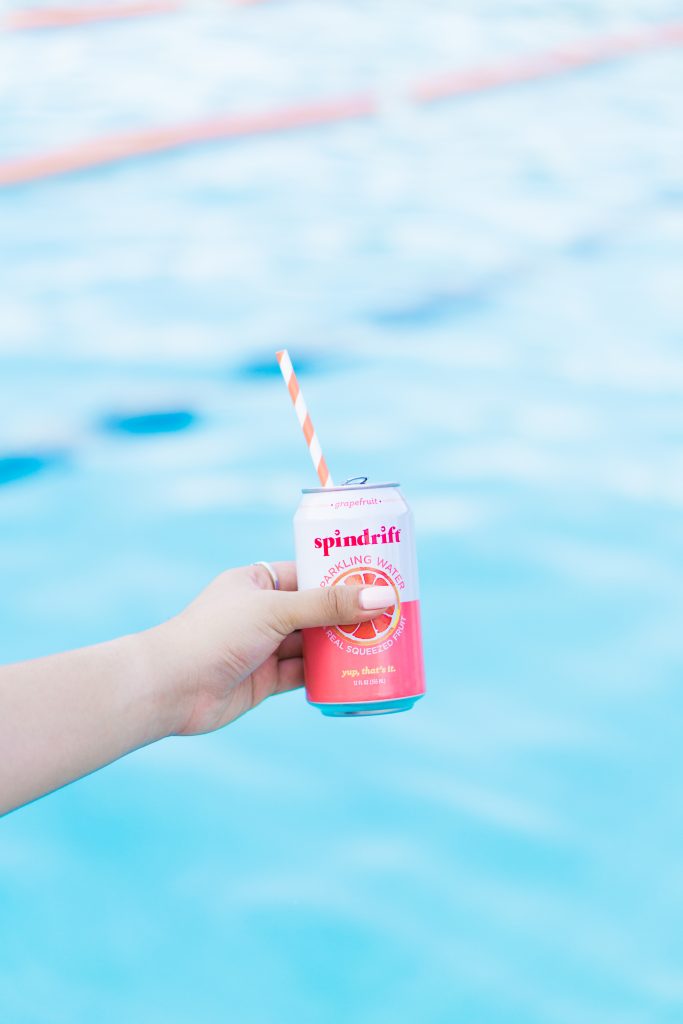 Also, how stinking cute is this bag that Spindrift sent over?! Stay tuned over on my Instagram, because one lucky winner will be receiving what you see above, plus some adorable glasses, the straws I'm using in this post, and some other goodies (including vouchers to try out Spindrift for yourself!!)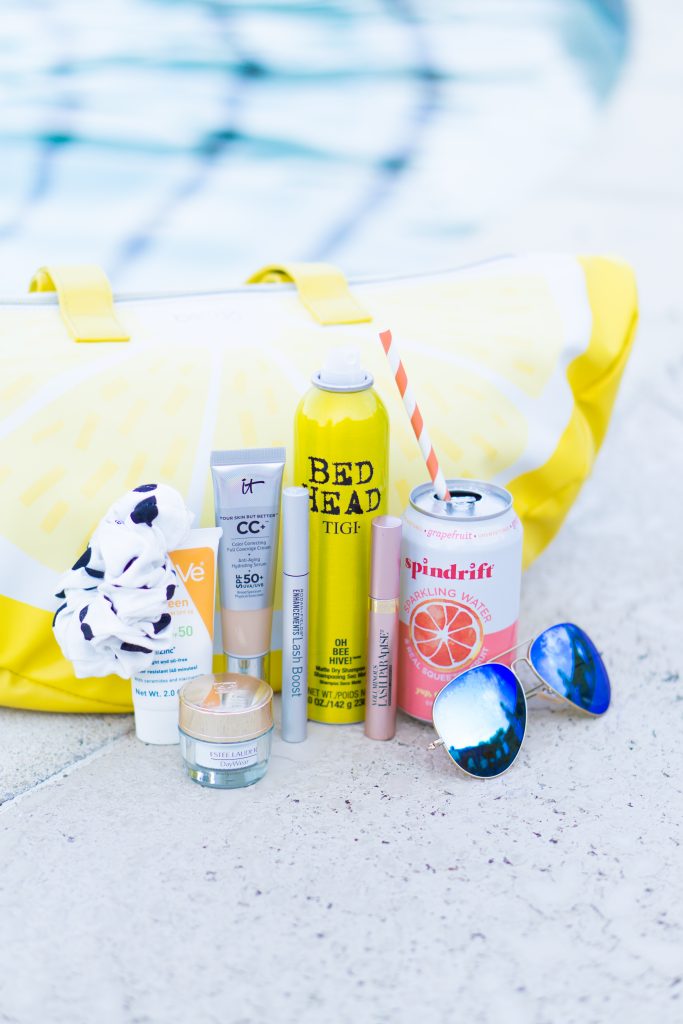 Now getting on to my summertime essentials….
Sunglasses
Duh. I need my sunnies year round- but especially in the summertime!
Waterproof Mascara
I found this mascara through one of my blogger friends, Rachel from All Things Blush, and I've completely fallen in love!! It stays up through everything- definitely a makeup bag staple now!
Dry Shampoo
As most of y'all know, I'm going on vacation next week! Whenever I'm on vacation I always always make sure to bring dry shampoo- not only for when my hair's greasy and I don't have time to wash it, but also for times when I need some extra volume!
Sunscreen
I burn SO quick, so of course I need sunscreen to protect my skin!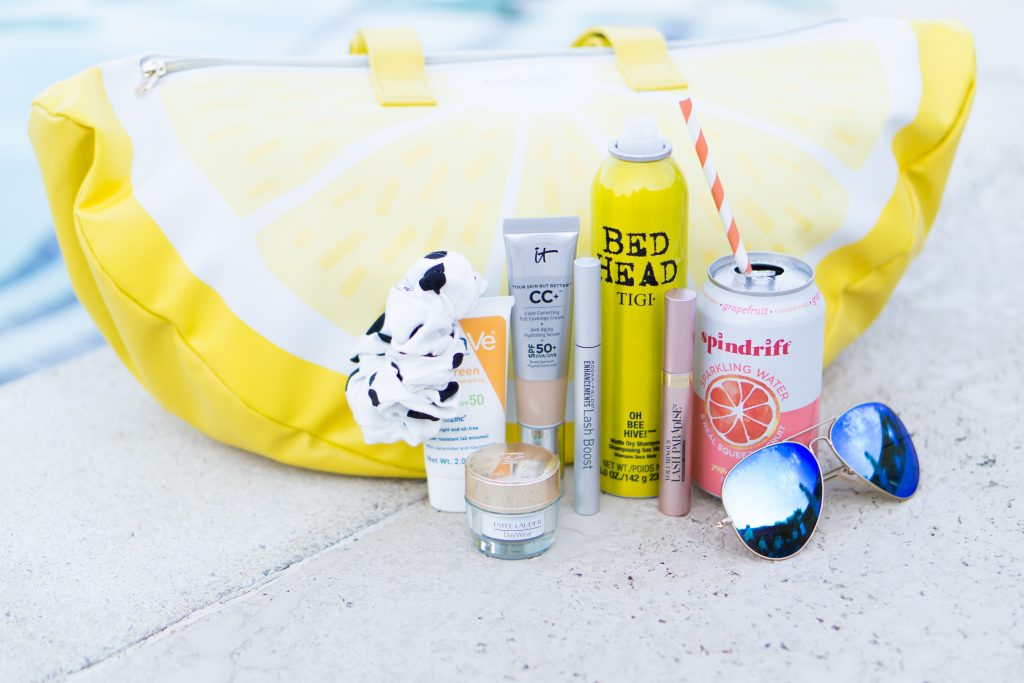 So hopefully y'all enjoyed reading all about Spindrift along with my pool essentials! Be sure to try some of this amazing sparkling water- it's so refreshing & I've been taking it with me to the pool every weekend! It's currently only available at Target & Trader Joe's, but this link can help y'all find where Spindrift is located near you!
This post is sponsored by Spindrift and Her Campus Media. All opinions are my own. Thank you for supporting the brands that make WLS possible!