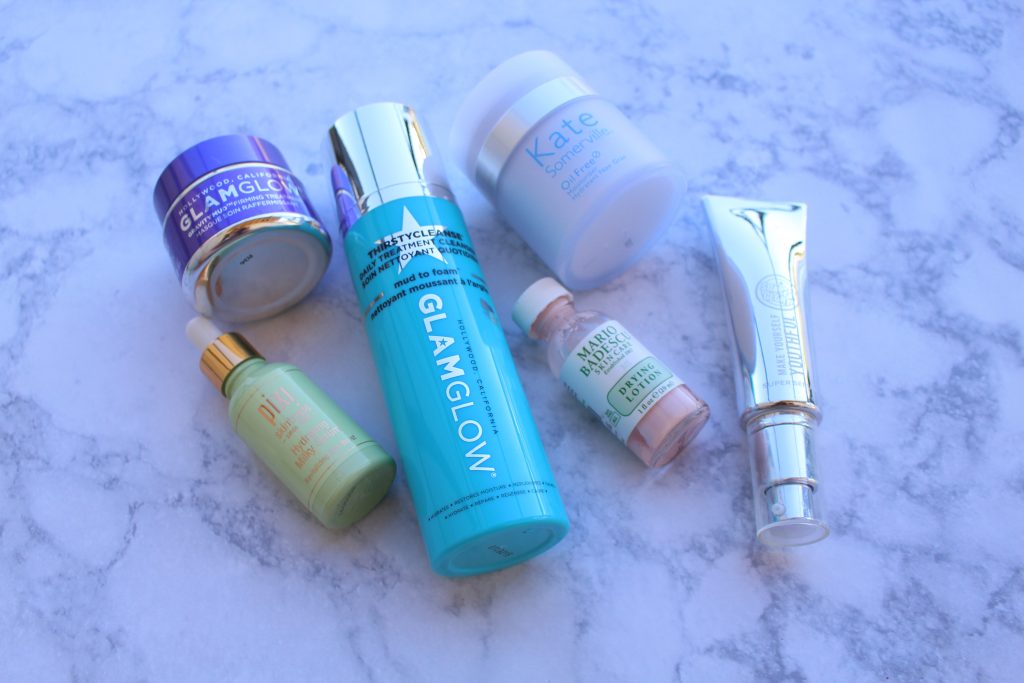 No, I'm not talking about the song… When it comes to beauty, my number one most important piece of advice is to take care of your skin. It only makes sense, considering if your skin isn't healthy, your makeup probably won't look too good, either. Finding a skincare regimen that works for your skin specifically can be a really difficult process, and most of the time it requires trying out every product under the sun to find what works for you.
I've finally gotten my routine down, so I thought I would share with all of you my favorite products! Keep in mind that what works for me may not work for you, so when you're searching for skincare products be sure to look at what the product is made to do, based on your own skin type. As a reference, I have normal/combination skin, and I do get the occasional blemish, but no severe acne. Quick disclaimer- I'm definitely in no way a dermatologist, these are just products I'd recommend to a friend because they've worked for me!
I am a big fan of GlamGlow, as you can probably see. I've tried out quite a few of their products, and I've definitely picked out my favorite of the bunch. Quick tip- GlamGlow sells their products in mini travel size versions. I'd recommend picking one of those up if you're not sure yet if you want to commit, and try it out before shelling out a ton of money on a product that may or may not work for you. That's what I did- I bought something at Nordstrom and it came with a gift with purchase, so I was able to try out a few of their products without paying anything out of pocket. They also have a set available that's just sample sizes! Also, don't forget that Sephora does take returns! I always take back products that don't work for me. I've had a lot of friends tell me they feel bad for taking it back because it's already used, but the products' prices already include the company's estimations for product returns. Moral of the story, if you're paying the money, make sure you get what you want!
I'm going to break down each product and what they do really quickly, + my opinion:
POWERMUD Dual Cleanse Treatment– I've only used the travel size version, but I love it! It's a quick mask that leaves your skin feeling clean and refreshed. Definitely worth a try, I'm definitely contemplating getting it in the full size!
THIRSTYMUD Daily Hydrating Cleanser– My favorite all time cleanser. You know you love a product when you have it in 3 different sizes. I use it with my Clarisonic, and it works great. It gets a nice, deep clean, but it's not too harsh. Plus it has a slight pleasant scent that's not too overpowering.
GRAVITYMUD Firming Treatment– The infamous silver facial mask.. this mask is definitely worth the hype plus more. I love the way my skin looks after I apply it, so a lot of times when I'm not rushed in the morning I'll put the mask on and afterwards apply my makeup. It creates a smooth canvas for your foundation, which I love.
I personally no longer use a toner, just because I find that I really don't need one. A lot of toners are basically 99% alcohol, and it can really dry out my skin. If you do prefer using a toner, I recommend the Mario Badescu Glycolic Acid Toner. To be completely honest, the only reason I stopped using it was because I ran out and didn't get a chance to go out and get a new one… but after a few weeks of not having it, I kind of realized I didn't really need it- my skin still looked and felt the same without it. But it's definitely a nice toner, it has a very slight scent, and takes care of any makeup residue you might have left.
On to serums!
Why do I have two serums, you might ask? Because I can! I like to switch things up every once in a while just so that my skin doesn't grow used to a product and it becomes ineffective. I typically use serums every night, and every morning, before my moisturizer. I like to think of it as my skin drinking up the serum before the moisturizer provides a shield from the makeup. Both of these are great, but my favorite is definitely the Soap & Glory Make Yourself Youthful Serum. I know I'm only 20, but it's never too early to prevent wrinkles!! I also really like the Pixi Hydrating Milky Serum– it basically does the same thing, and it's super accessible because it's sold at Target.
Next up is my moisturizer. I use the Kate Somerville Oil-Free Moisturizer- it's unscented, and super light, so it glides onto the skin like butter. I've recommended it to friends and they all love it to! It's also great because of the hygienic dispenser- you don't have to worry about dipping you finger and all the bacteria on it directly into the moisturizer. The only downside is that it can be pretty pricey.
Last but not least, something I like to call my miracle worker. Have your skin ever graciously surprised you with a zit the size of a planet the day before you had something important to attend? Yeah, been there done that. This little guy will save your life! All you have to do is use a Q-tip and dip directly into it, apply it to your pimple, and voila! the next morning you'll wake up flawless. Just kidding, but this treatment does significantly reduce the size of your blemishes, and helps to dry it up so you don't have a huge red honker on your face. I actually got this recommendation from the queen of beauty herself, Kylie Jenner.
Whew! That was a long one! I hope all of you enjoyed learning about my favorite skincare products, let me know what your recommendations are- I look forward to seeing y'all's comments!