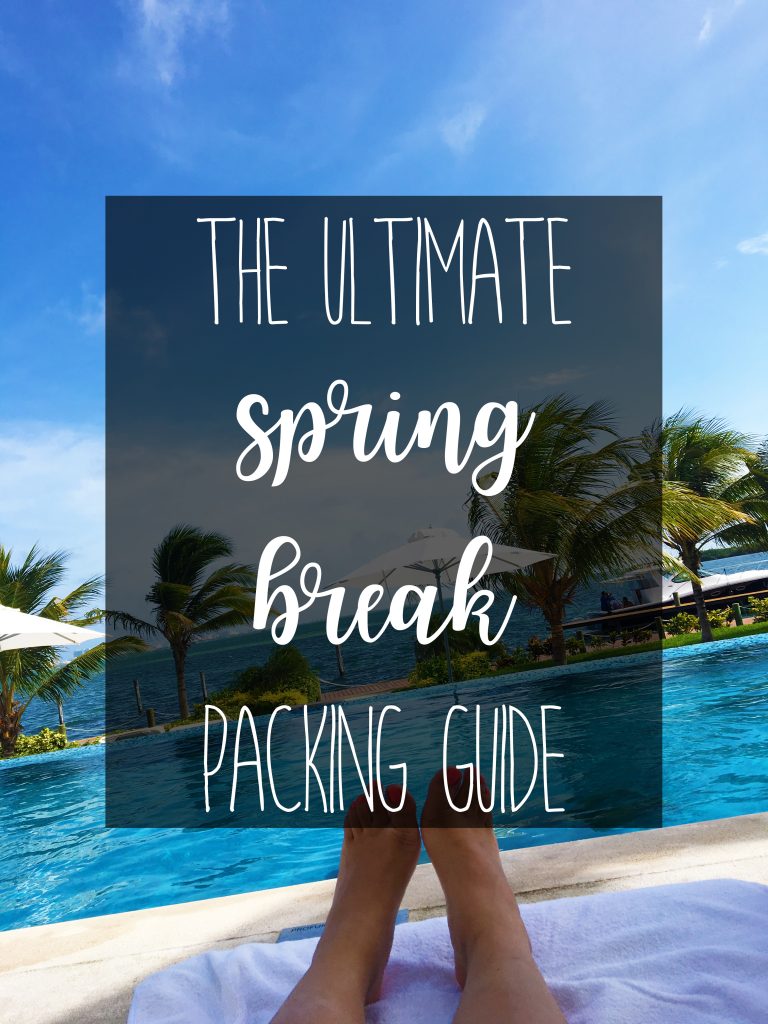 It's that time of year again- Spring Break is finally upon us! Time to break out the bikinis & head to the beach, YAY! This year I won't be partaking in typical spring break adventures- I'll be heading over to good old New Orleans, Louisiana! However, I did want to give all of you ladies who are planning to take a beach trip a comprehensive list of everything you'll need for the week.
I made sure to try and include everything you'd possibly need, without getting into the basics (underwear, everyday toiletries like toothpaste & toothbrushes, etc.) Hopefully this list will help y'all out! 🙂
For day 1, I styled a super simple but put-together look, featuring some pretty staple pieces. You'll notice that I tried to include some pieces that can be repeated without repeating a whole outfit. Even though looking cute is a huge priority when packing for your vacay, you also have to remember that you'll more than likely be spending a lot of time outside- which means comfort is key! My advice is to stick with pieces that will go with several looks, and will make your life easier. Carrying a cross-body satchel bag like this will make it super easy to keep all your necessities on hand, like your wallet & sunnies.
For day 2, I included some staple summer items- a comfy white top & some high waisted denim shorts. It makes for a compact cover up for when you and your friends go out to lunch & don't want to be walking around the beach in a bikini with a food baby. Don't worry, it happens to the best of us. 😉
Day 3! Another tip for looking cute on spring break is sticking with simple, inexpensive jewelry that you won't mind accidentally leaving behind. We all know sh*t happens during spring break, so be sure not to bring your nicest diamonds- stuff gets thrown around, stolen, etc., so your best bet is just bringing inexpensive stuff that you can live without.
Packing some cute tops like this is a major tip for keeping your outfit game strong over spring break. These types of tops take up barely any room in your suitcase, but make you look 90 times more put together. Plus, you can never go wrong with a white bikini! The white will make you look so tan, in case you haven't gotten tan enough so far in the week.
I put this one in just in case! Usually when I go on a trip, my friends & I always try to at least have one fancy dinner in the city, & get prettied up for a night out. You could totally re-wear a pair of wedges from earlier in the week, and just throw on a pretty dress. You'll look effortlessly cute & not have to worry about bringing a ton of extra heels- plus, you won't have to worry about damaging your favorite heels during your night out.
DO NOT FORGET SUNSCREEN. Last year, my boyfriend & I took a trip to Mexico, and all I had packed was aerosol sunscreen. Big mistake. We were stopped at airport security, and ended up forgetting to get sunscreen before going to the beach. Needless to say, we both came back looking like freshly cooked lobsters. Learn from my mistake and bring sunscreen! Don't forget sunscreen for your face & your lips too- a lot of people tend to forget these.
I'd also pack a few bold lip combos- just in case you decide to dress up a little on one of the days, and on your night out on the town. Always a good option to have in case you need it!
When I think of beach trips I always think glowy- which means bronzer & highlighter galore!
As much as we'd all like to go makeup-free for a week at the beach, spring break is the prime time for Insta pics- which means looking presentable with the least amount as possible! This is where BB Cream comes in. It gives you just enough coverage, but it prevents the cake-face look. I'd throw on a quick & easy coffee color in the crease & call it a day! This Sugar Lip Balm is also amazing since it doubles as sunscreen but gives you a little tint to your lips. Easy breezy beautiful!
I thought I'd go ahead and include these so that y'all don't forget them! A lot of times the nights will be cold, so be sure to bring a cardigan or a sweatshirt so that you're safe. Also remember to bring a set of pajamas- chances are your clothes during the day will be soaked, so pack some comfy clothes for night time. I'd also bring some light comfy tees in case you decide to stay an extra day or just in case of emergencies. Having an extra tee that goes with everything will come in handy at some point!
Last but not least, some of the miscellaneous items that you won't want to forget! I always forget my razor when I go on trips, and end up having to use the crappy disposable ones that the hotel gives out. Since you're going to be in the sun for the majority of your trip, it's a good idea to bring deodorant, some hair ties, and some aloe vera.
It may not be the cutest thing, but fanny packs are incredibly useful. Plus, I'm pretty sure they're making a comeback. My sorority includes them in our Bid Day baskets. Everyone on spring break has one!
Some other things that are always a good idea- an extra battery with a connecter to your phone, Advil, a first aid kit, a book to read on the beach, a beach towel, hair ties, and of course any cameras you're planning to use & a speaker for playing some tunes!
I hope this list was useful for some of you in one way or another! This post was focused on trips to the beach, but if y'all are going anywhere else for spring break let me know! I'm working on a packing list for New Orleans right now, so if you're interested in seeing that leave me a comment and I'll totally do that for you! Hope all of you have an unforgettable & most importantly  safe spring break!
Shop some of my spring break essentials!