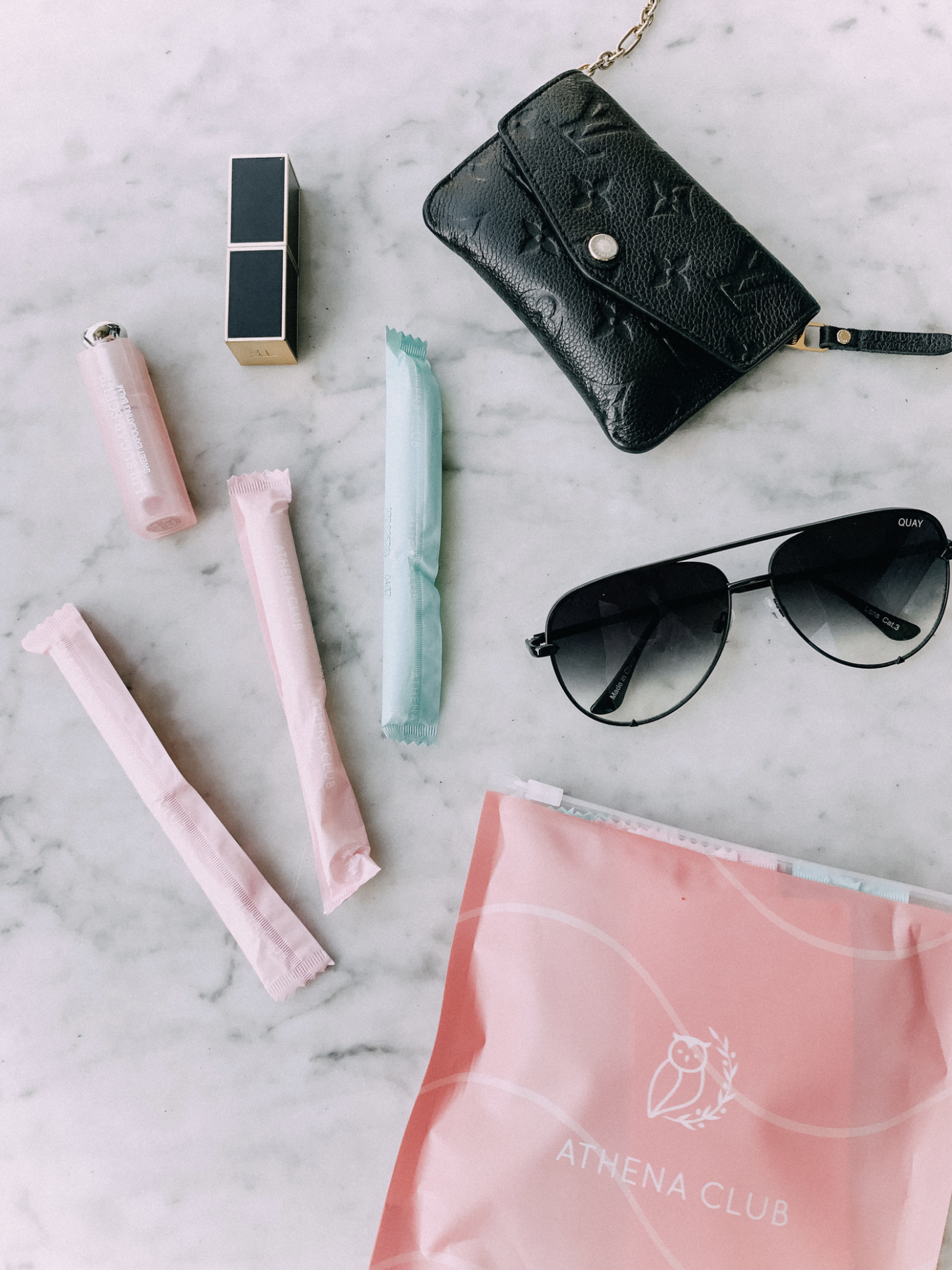 Are you any of you as nosy as I am, always curious what other girls carry in their bags? I always LOVE watching "What's in My Bag" videos on Youtube- it's like a little guilty pleasure of mine! Today's post is spilling all about what's in my bag.
Let's start with the bag itself! So many of you have been super curious about my latest designer purchase, and today I'm finally revealing it! After years of eyeing at this bag, I finally decided to pick up the Louis Vuitton Neverfull GM in the Damier Ebene print. I've had it for about a week now, and have been carrying it nonstop! Although this was definitely a splurge, this bag was actually a pretty practical purchase for me. Since I'm flying at least twice a month, I really needed a tote style bag to carry with me, that fits my laptop. This bag in the GM size fit the bill perfectly! The one thing, however, that I can say I don't like is that it doesn't have a zipper up top. At lunch the other day, my bag wasn't very full and tipped over. Because there was no zipper, everything fell out.
The secret to keeping a tote bag clean is with a bag organizer! I picked up this one right after I bought the bag and it's been such a lifesaver. I'm linking it below if you want to get one for yourself too.

Anyway, enough about the bag itself! Let's get into the good stuff… what's in my bag!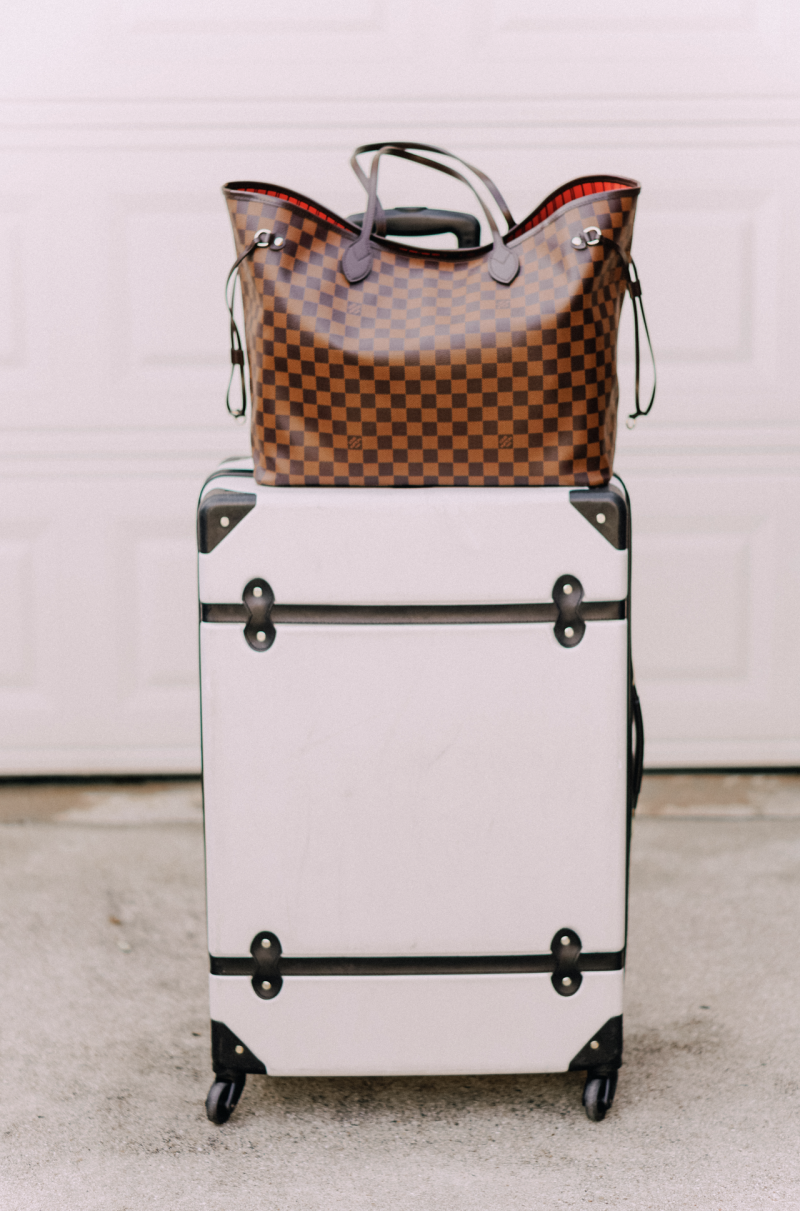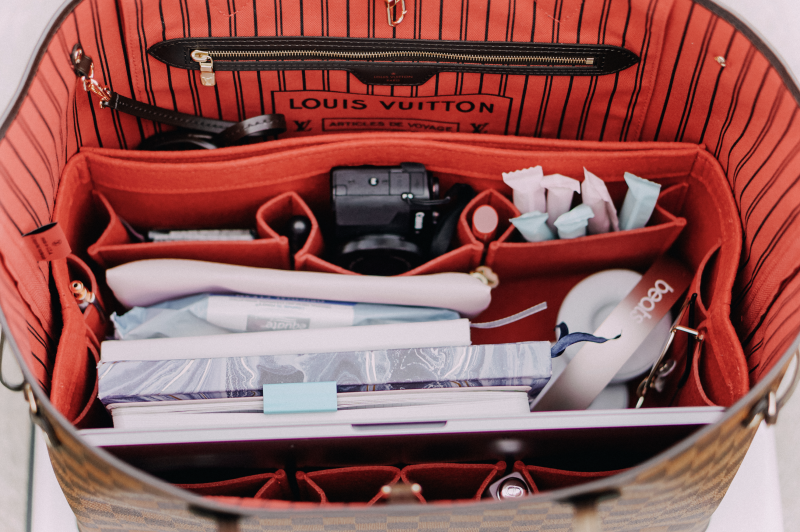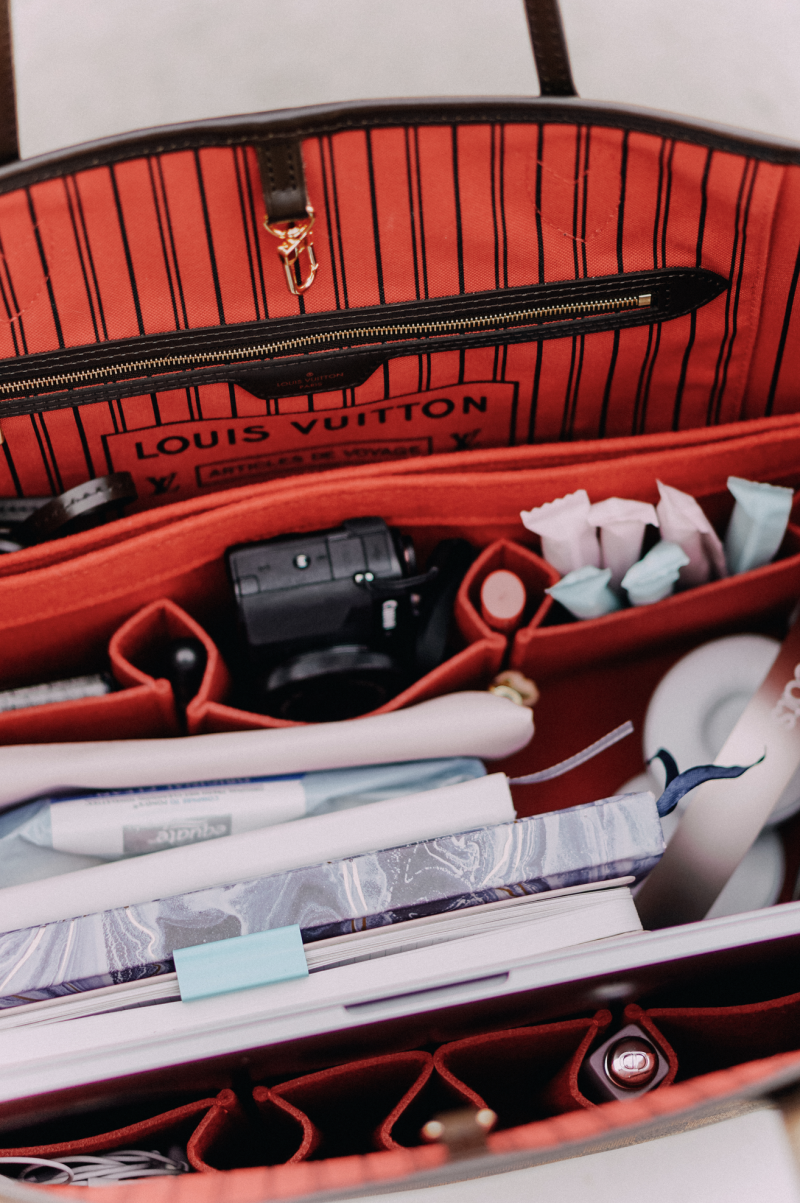 Tampons
I'm SO excited to share Athena Club with y'all, a feminine product subscription program that delivers to your door for just $4. Honestly, I'm so shocked I didn't know about this before! Their products are all super high quality, and they come packaged in a really discreet pouch so your tampons aren't just revealed by accident. The materials in the tampons are high quality, which is so important! We pay extra to eat organic, but doesn't it make sense that we should care about what's literally going in our bodies? Athena Club lets you pick from premium and organic tampons, both of which are amazing.
It's the absolute worst feeling when Mother Nature comes to visit and you realize you're not prepared. With Athena Club, you don't have to worry about sending your boyfriend out in the middle of the night for a tampon run! LOL. You can also customize your mix, so you can get whatever combo of light, regular, or super that you need. Easy peezy, right?
PS If you sign up I have a coupon code for you!! Use the code "SUMMER25" for 25% off. 🙂
Makeup Bag
I keep this makeup bag with me almost always, just in case of emergencies! If y'all are curious what I keep inside, let me know & I'll do a separate post for that. This one is by Jon Hart & I absolutely love it! How pretty is this color?
Sunglasses
My favorite ones at the moment are by Quay, but I'm such a sunglass lover that I always have a pair with me. I probably should take care of them with a case, but I'm terrible, oops.
Wallet
This one's a given! I actually don't keep a large wallet with me- I have this little Louis Vuitton card holder pouch I got in New York that I hook onto my keys! This makes it super easy to just run out the door when I don't carry a bag. When you carry a bag with so much stuff in it, I like to save on weight where I can! This pouch makes things way easier, especially since I can clip it into the loop inside and keep it in its place.
Lip Products
I usually like to keep a lip balm with me. I hate when when my lips are dry and I don't have one! Also, I pretty much always have at least a few lip colors, just in case I get somewhere and need a touch-up.
My current faves are the Dior Sugar Lip Balm, and this Tom Ford lipstick in Wicked Ways. Y'all know how much I love this lip balm, so I won't go deep into it!
Makeup Wipes
Does anyone else hate the feeling of cake-y makeup? I usually don't like to have foundation on, but the times that I do I always take it off ASAP. I'm not sure why I hate face makeup so much- I just keep thinking of how bad it is for my skin!
Notebooks
If you know me in real life, you know I always have a notebook around. I'm always jotting down ideas for blog posts while I'm out and about, or making lists of things I need to do, or things to remember for work.
I usually keep 3 with me: my planner, my work book, and my blog notebook. This helps me keep things organized!
Camera
Always gotta have my camera on me! You never know when an OOTD opportunity will pop up. 😉
Gum
Pretty self explanatory, but definitely a necessity. I always try to have a pack of mint gum on me, but I'll admit sometimes I forget!
Headphones
I always have headphones on me! I love listening to podcasts when I'm out and about by myself- it makes me feel like I have a friend with me. Also, I use tote bags as my work bag, so I'm always needing it when I go to coffee shops to do work. Unfortunately Apple changed their headphones to have a lightning port (ugh) so I have to carry my Beats with me to work with my laptop. Usually you can always catch me with both in my bag.
Hope y'all enjoyed getting a peek into what's in my bag in today's post. Be sure to check out Athena Club and sign up- I can't wait to hear how y'all love it!