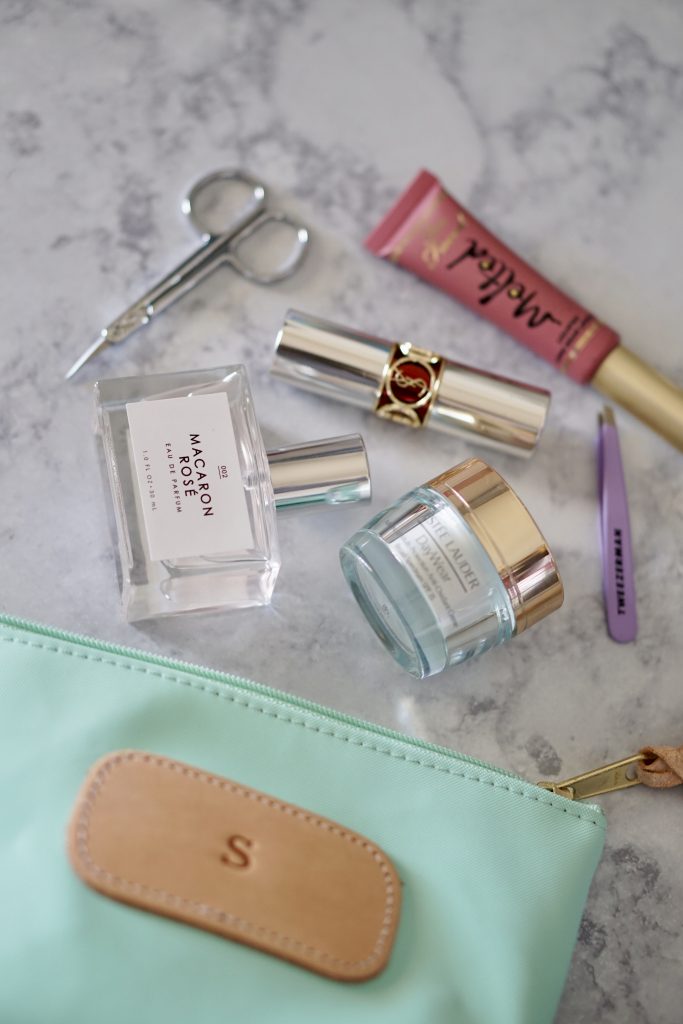 Happy Friday, ladies! Hope everyone had an awesome week! As for me, this week was full of my first round of exams (ew, I know.) Yesterday we talked all about wardrobe essentials, so we're sticking with the same theme and talking all about my beauty essentials that I keep with me all the time.
I got a this new makeup bag a little while ago and I thought this would be the perfect time to share with y'all what all I keep in here! I always get so curious what people keep in their makeup bags and purses- guess you could say I'm a little too curious, haha.
Let's get into it! First off, this cute little makeup bag is from Jon Hart Designs. It seems like everyone in Texas and their mothers all have Jon Hart stuff, but I really just couldn't pass up this gorgeous mint color! Plus- when things are personalized, I just can't say no. It's a bad habit! For any of you who are looking for last minute Valentine's Day gifts for a friend or a relative, Jon Hart's designs are perfect. You can personalize everything, down to the heat stamp. Check their stuff out here! The makeup bag I have is linked here.
I don't keep a ton of stuff in my makeup bag- just the things I absolutely need! I hate keeping way too much stuff packed in there, because I feel like the whole point of having a makeup bag with me in my purse is for convenience. This way, I don't have to dig in there for forever just to find something!
First off, I keep my favorite fragrance with me at all times. I'm not one to splurge a ton on perfume, unless I absolutely love the scent. A lot of times I end up switching this one out with Dolce's Light Blue– one of my faves too! This one I found at Urban Outfitters a few years back and it's just stuck with me! Keeping a perfume with me is seriously essential- you never know where you'll end up going and who you'll end up running into. Always good to be safe!
This YSL Volupte Sheer Lipstick has saved me so many times! I love it for whenever my lips are feeling a little dry and I want some color so I don't look like a corpse (lol.) I've had this bad boy for so long & he's still going strong! Plus, the packaging is gorgeous, so can't complain.
This Too Faced Melted Lipstick is awesome just to throw on without having to use a lipliner, lip scrub, and all that fun stuff. Easy, peezy, lemon squeezy!
Especially around winter time, my skin can get crazy dry. The worst feeling is getting in your car to go somewhere and seeing a dry patch peeking out. This Estee Lauder moisturizer has been my A1 since day 1! It's awesome for any dry skin emergencies.
Last but not least- my beauty tools! Every girl should always have these on you at all times- makeup bag or not! You never know when a pair of tweezers and some scissors will come in handy. I can't even tell you how many times these little guys have saved me! If you've never tried a pair of Tweezerman tweezers, I highly recommend it. I used to just use regular drugstore tweezers, but it's safe to say Tweezerman tweezers have changed my life. Don't believe me? Try it for yourself. You never know when you're going to get a splinter, or have a loose thread in your clothes- trust me, these two are absolutely necessary!
Hope you guys enjoyed this little peek into my makeup bag. Have an amazing weekend, I'll see all of your pretty faces on Monday! xoxo
Shop my makeup bag!