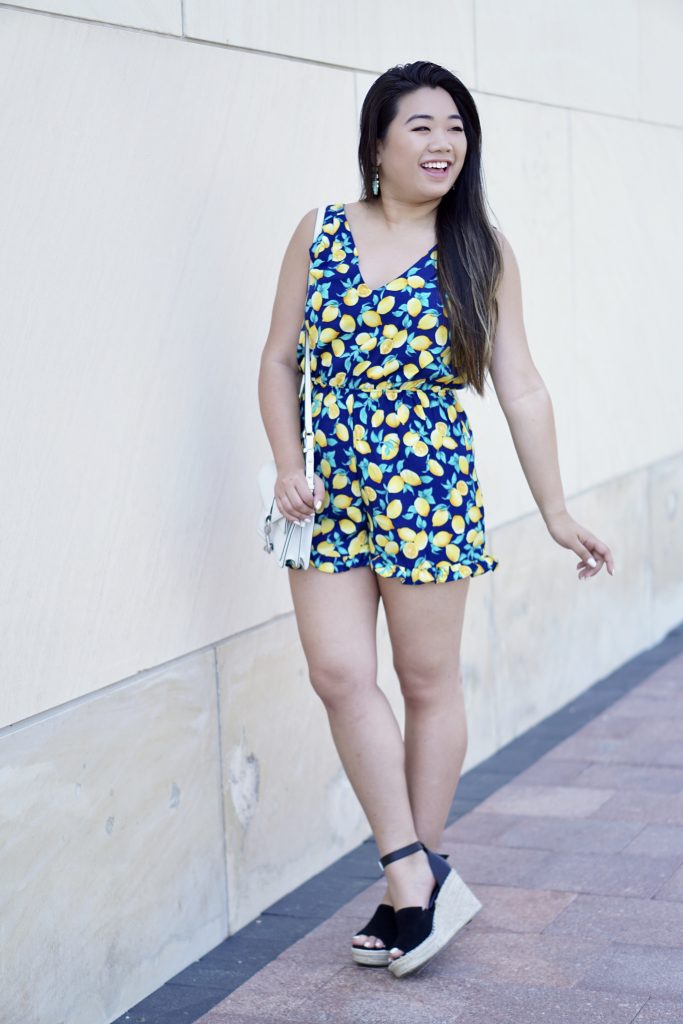 Wear a lemon printed romper! When I saw this adorable romper at Francesca's I knew I had to have it- can we just take a moment and talk about how fun it is?! I'm in love! This outfit's giving me serious summer time vibes, and I just want to plan a beach trip so I can have an excuse to break this romper out- even though let's be honest, I'll more than likely be wearing it nonstop anyway. Y'all know I'm a huge fan of color; I've never been one of those girls whose closets are 90% black, with a little mix of grey & white. I love color year round, so obviously spring & summer are my favorite seasons for fashion!
One of my fave outfit combos for spring and summer are a romper with my favorite (comfortable) wedges. As much as I love getting dolled up, I live for being comfortable! Y'all Texas girls know how unbearable the Texas heat can get, so even though I would love to be wearing jeans in the summer, I'm definitely not trying to sweat buckets after spending just 10 minutes outside!
This outfit would be perfect for dinner out with your gal pals, or any casual events you have going on this spring. Unfortunately Shop Style doesn't support Francesca's on their platform, so I've linked this romper here! I have, however, linked a similar style below with everything else from this look!
Have a great rest of your week, friends!!