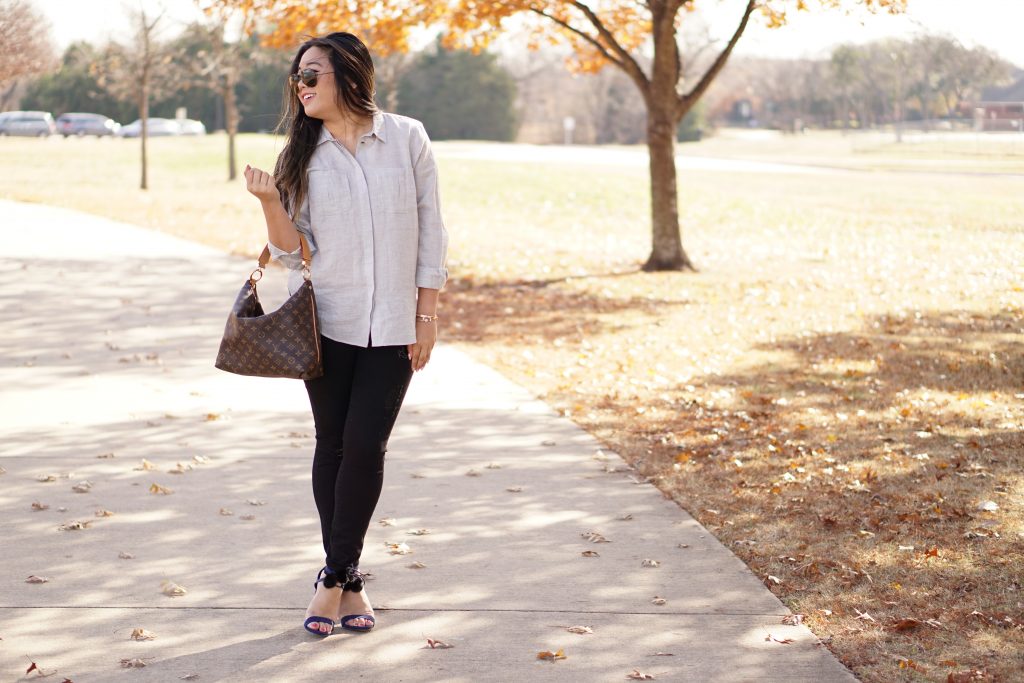 Hello ladies!!
I hope everyone's had a fabulous week before Christmas- and of course staying bundled up in this sudden temperature drop! Maybe this year we can all wish for a little Christmas morning snow..? 😉
It's been a busy week of school + work, but of course I had to bring y'all an outfit post. The inspiration behind this one is actually pretty funny! For those of you who don't already know, I work retail seasonally- every time I come home from college, I work a part-time job. It's fun, easy, and obviously I make some money (hey, I gotta fulfill my need to shop somehow.) My job is pretty chill, but we have a somewhat strict dress code. The guys basically all wear button down shirts & chinos or nice pants, and girls wear dresses or cute tops + boots, wedges, booties, etc… basically just some kind of heel usually! I got to thinking the other day- and I totally was inspired to pull out my favorite button down shirts from back in the day. Unfortunately, they all seemed to have shrunk… but that could just be because I haven't worn them since my early high school days. Y'all can ask my mom- I used to love button-down shirts!! I felt so preppy & I thought they were so cute to wear with my True Religion jeans and Sperry's… oh, high school. So glad those days are over- who's with me?
Anyway, before work the other day I decided to run by and check out what sales were going on, and I found a ton of super cute stuff! This shirt is actually a men's shirt in a small that I decided to dress up a little. This outfit is super cute to wear out running errands, or out to lunch with a friend. It's always fun to dress like a boy from time to time, right? Granted, I did wear heels & skinny jeans with this look- but I think it's awesome getting some style inspiration from others and incorporating it into your own style!
Is it just me or does it seem like nobody wears button-down shirts anymore except for guys? Let's bring back button-downs please!! #TeamButtonDown
P.S. HOW CUTE ARE THESE HEELS?! I found them at Express, and they're half off right now!
Outfit Details
Shirt Cotton On // Black Jeans Articles of Society // Pom-Pom Heels Express // Purse Louis Vuitton Style: Delightful MM // Sunglasses Ray-Ban // Arm Candy Francesca's & Target