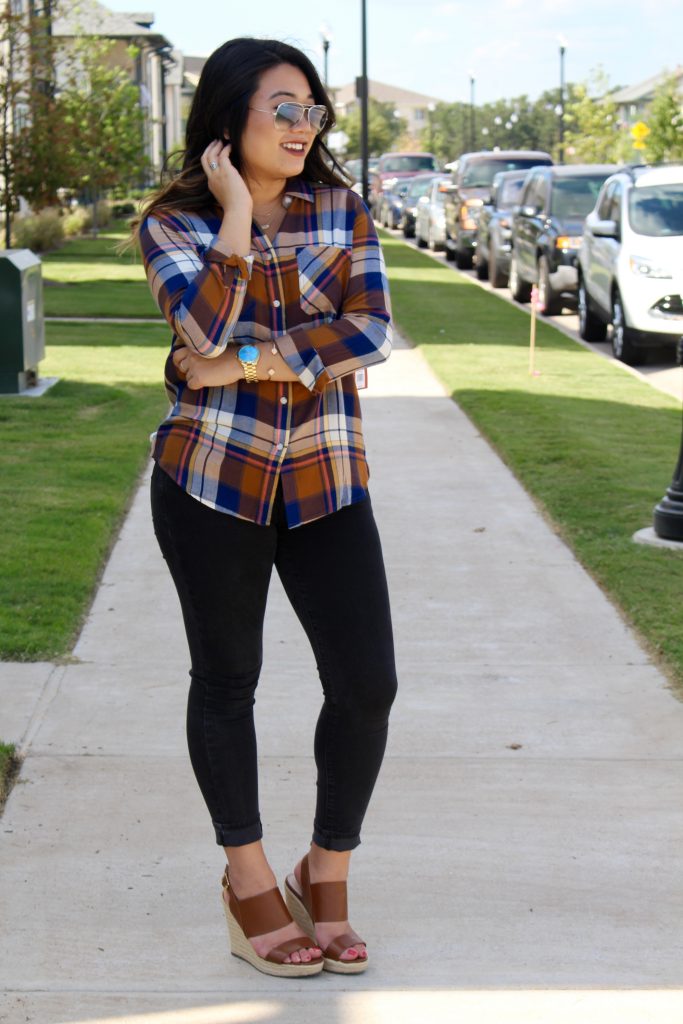 Happy Wednesday, y'all!
I hope all of you are having a great week so far, I'm so happy you stopped by! So lately I've been focusing on scouting out good basic pieces that every wardrobe should have in every season. I think one of the best tips for money-savvy shoppers is keeping in mind some essentials that are versatile and can be worn in so many different ways. Hence, my new series, Back to Basics!
Basically what this series is going to consist of is me taking a style staple, and creating several different looks. Let me know if you have any suggestions of pieces I should incorporate!
Today's post is going to be all about black denim. The pair that I'm sharing with y'all today has been in my closet for probably 4 years now. I wear them religiously, just because I think they can be so easily dressed up or dressed down. I wear them on casual days just running errands, but I've definitely also worn them to work before with a pair of heels thrown on. If you find yourself a comfortable, well-fitting pair of black denim jeans, I promise you'll never want to let them go! But as a tip of advice, be sure to find a pair that fits your body, and that you're comfortable in. If you have to splurge a little, I'd definitely say go for it. A great pair of black jeans will last you years and years, and are so classic they'll never go out of style.
The pair that I have are by Rag & Bone, but since I've had them for so long, I couldn't find the exact same pair but they have one that's really similar, so go check it out! I've also left all of the links to the exact pieces I feature or something super similar.
So without further ado, let's get down to the outfits!
This first outfit I really think is the embodiment of the summer-to-fall transition. It's not quite cold enough to break out the boots yet, but you can be comfortable in a long sleeve, breezy flannel. This combination would go perfectly for a casual date night, or even just a day out. It's such a simple combo, but I really think the accessories help pull the outfit together, and make it look a little more put together.
Outfit Details
Flannel Target | Watch Michael Kors | Necklace Kendra Scott | Sunglasses Ray Ban | Bangle Express | Wedges (Similar) Nordstrom | Ring James Avery
This next outfit is one of my favorites. I have to admit, I wear this combo more than I'd like to admit! Throwing on a graphic tee with a flannel tied around the waist just looks extremely effortless, but definitely cute. I also like wearing graphic tees with bralettes, especially when the neckline is a little wider, so that the bralette straps slightly peek through. I've had my Adidas Originals for the longest time now, but I had kind of a hard time figuring out how to style them. I thought they'd be perfect with this outfit because it gives you kind of the school girl look. Perfect for running errands or going for a walk!
Outfit Details
Graphic Tee Nordstrom |  Flannel (Similar) American Eagle | Bralette Free People | Watch Michael Kors | Necklace Kendra Scott | Sunglasses Ray Ban | Bangle Express | Sneakers Adidas | Ring James Avery
So this one is slightly more dressy, so depending what your workplace dress code is, it could be suitable to wear to work! This past summer and the summer before, I've worked retail, where the dress code was described as "classy clubbing dress," so this was perfect. In my personal opinion, a rule that I typically go by as far as showing a little skin is you either get to pick your top or your bottoms to show some skin, and it's better to cover up the rest- keep 'em guessing, right? Obviously sometimes it gets hot so I'll definitely throw on a cute tank and some shorts or a skirt, but I typically like to follow this rule.
These heels are my absolute favorite pair in my closet- aren't they stunning!? I'm so sad I couldn't find the exact pair, but I found a pair pretty similar! I just think they're like a classic style with a bit of pizzazz- so pretty. I wanted to keep the focus on the shoes, so I went a little more subtle with the accessories. Definitely wearing this one out soon!
Outfit Details
Halter Top (Similar) Free People | Bralette Free People | Necklace Kendra Scott | Bangle (Similar) Kate Spade | Heels (Similar) Nordstrom Rack | Ring James Avery
On to the last one! So if you're in an area where it's really starting to cool down, this one would be perfect to break out on those 60 degree days. It's another one of those somewhat effortless, easy, comfy outfits. And plus, if you get hot, just throw the cardigan around your waist, and voila! Perfect for going to class, lunch dates, any casual occasion.
Outfit Details
Cardigan (Similar) Nordstrom | Lace-Up Top (Similar) Topshop | Sunglasses Prada | Necklace Kendra Scott | Watch (Similar) Charming Charlie | Espadrilles (Similar) Tory Burch | Brown Crossbody (Similar) Rebecca Minkoff | Ring James Avery
So I hope y'all enjoyed today's post! If y'all like this kind of series, please let me know and I'll be sure to do more in this similar style. Be sure to let me know if you prefer single OOTD-style posts or lookbook-style posts; I want to know!!
As always, thank you so much for stopping by and reading, be sure to check back on Friday & see what's new! Hope the rest of your week is even better than the first half!