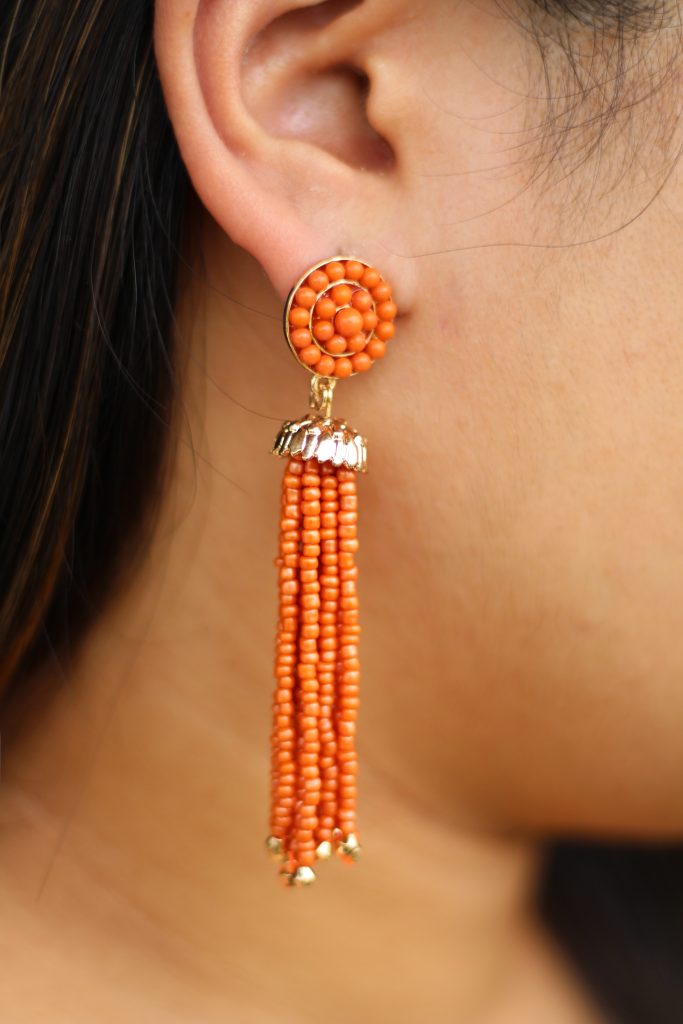 After all, it's all about the bling, right? I'm sure we all know and appreciate the value that accessories can bring to an outfit, and how naked an outfit can seem without the proper jewelry to match it.
I've picked up a lot of new affordable jewelry pieces lately, and I thought it would be fun (and hopefully helpful) to share with y'all! Keep reading to find out about my current favorite accessories. Let me know if you end up buying them yourself!
Kendra Scott Silver Long Bar Necklace
I love how elegant this necklace is! I wear it more than I'd like to admit, but I think it adds a perfect touch to any outfit that needs a little more "oomph" if you know what I mean. I often pair it with t-shirt dresses and throw on a pair of Converse and head out the door- it screams effortless but chic!
Statement Necklace
I love statement necklaces paired with super simple neutral outfits. I love wearing them as the focus piece- they always catch your eye first.
Tassel Earrings
Tassel earrings have become a HUGE trend since this past spring, and I'm definitely loving them for fall too. My favorite way to wear them is with a top knot or a low pony- I love having the earrings as a pop of color with an otherwise mediocre outfit- it can help dress it up & make the whole look appear more put together.
Long Beaded Necklace
I've seen these EVERYWHERE this football season! This one I found at a boutique here in College Station, but to be completely honest with you I think this would be so easy to make! It could be a fun afternoon activity & a super cute necklace you could style a billion different ways.
Geode Stud Earrings
I love a good pair of studs! Fuss-free, and you don't have to worry about them catching in your hair 🙂 Perfect for a super casual, minimal makeup day.
Jewel Pendant Necklace
This one's from Kendra Scott, but you definitely don't have to get one that's pricey. I typically like to go for more inexpensive alternatives when buying trendy jewelry, but for pieces like this that I know will be classic for a long time I don't mind spending a little extra. I believe this one retails for $50, but with the Kendra birthday discount you could get it for just $25! I wear necklaces like these most often- even on my T-shirt & norts days!
Hope y'all enjoyed seeing my favorite jewelry pieces at the moment! Tell me what you've been loving lately!