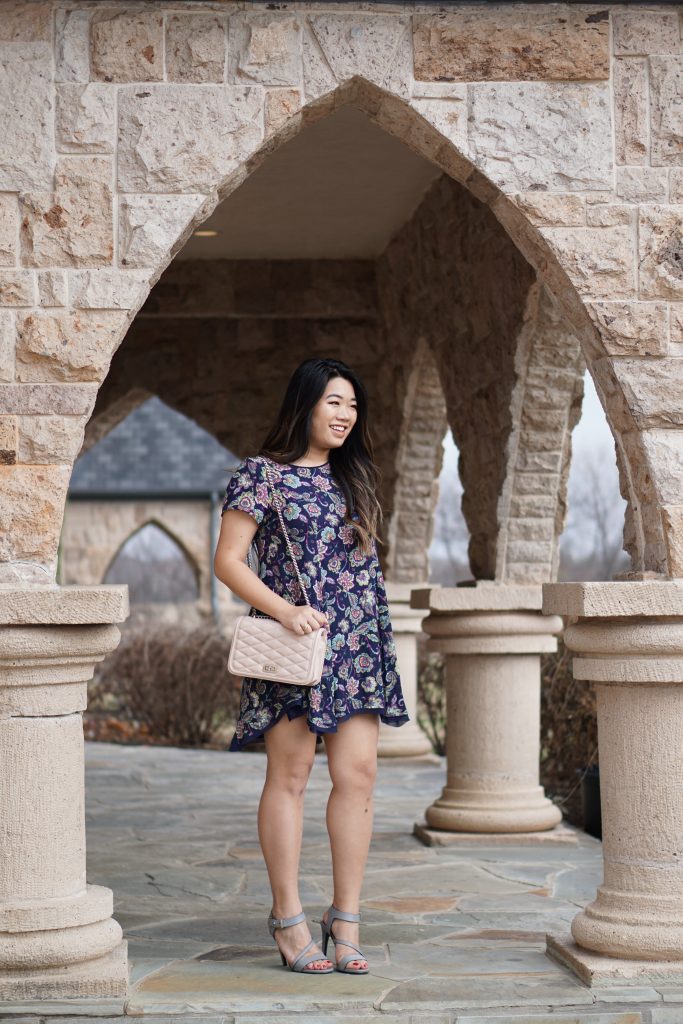 Valentine's Day is just 3 weeks away!! Valentine's Day has always been one of my very favorite holidays- even before I had a boyfriend! There's just something about teddy bears, roses, and chocolates that makes me blush. 🙂
I'm not sure what Akash & I have planned for this upcoming Valentine's Day- probably just a dinner date (and hopefully some pretty roses!) Last year we had this amazing romantic dinner at Christopher's World Grille in College Station. The food was so good & the dessert- don't even get me started on the dessert!
This outfit is inspired by Valentine's Day- it's a super cute outfit idea for a date with your boyfriend or hubby! I'm usually not a fan of paisley, but I really like how it's worked in with the floral print of the dress. I found this dress at Altar'd State for 60% off- they're having their Semi Annual sale right now, and all sale items are an additional 60% off!
I tried to keep it simple, with just a quilted bag and some pretty grey strappy heels. I actually snagged these heels from Aldo on a super crazy sale about a year ago, and I finally got to break them out. I'm not going to lie, they're surprisingly kind of hard to walk in… and I had to poke an extra hole so that the button could fit on the strap. But for only $18? I'll take it!
I know it's still a bit early, but I want to know what all of you have planned for the upcoming holiday. I have a couple more Valentine's Day-themed posts coming up, so keep your eyes peeled for those!
OUTFIT DETAILS
Dress Altar'd State // Heels Aldo // Quilted Purse Express // Bracelet Kendra Scott