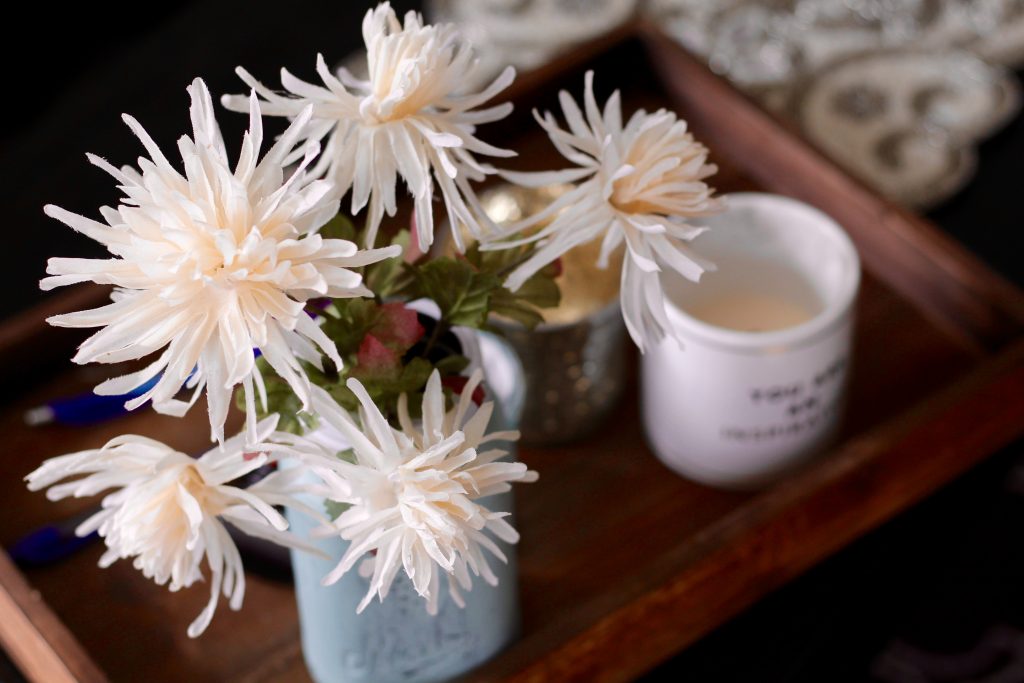 Today we're taking a little break from all the OOTDs, and switching over to home decor- YAY!
It's been about 3 months since I've moved into my house, and it's finally all starting to come together! Today's post is all about sharing with y'all how I went about decorating a functional and practical space during my junior year of college. Hopefully you can get some inspiration from simple things my roommates and I did to make the place a little more homey if you're in need of a home makeover!
Warning: This post is super picture-heavy so get ready!! Also, almost everything from my room is from Target. What can I say, I just love Target so much!!! Cute + affordable = my best friend.
Fake Flowers Hobby Lobby | Candle TJ Maxx | Pumpkin H.E.B. | Painted Mason Jar DIY | Accent Pillows Anthropologie | Table Runner World Market | Furry Blanket Home Goods
Starting with the living room, all of our furniture actually came in the house, so we had the huge burden lifted off of our shoulders of having to worry about that. A common theme throughout the whole house has been focusing on little details that all tie together to make our house more homey. It can be kind of hard decorating with the styles and tastes of 4 people, but I think it all came together pretty nicely.
On to the kitchen!
Our kitchen doesn't have a ton of decor or anything, but one of my roommates bought a few plants to go in the kitchen for a little pop of green. We're always so bad about watering them though, I'm honestly surprised they're still alive!
One of my roommates also got these chargers and placemats to go on our counter/dining table. We don't have an actual dining table, but the apartment comes with some seats by the counter area, where we eat and occasionally do homework.
Welcome to my bedroom! Going along with the relatively simplistic theme of my house, my bedroom is pretty basic too. I hung up my two diamond boards from my sorority, and I have these lights strung on my walls. They're from Target and I believe they were only around $10. We're not supposed to nail holes into the walls, so I hung up almost everything with just Command strips- these babies seriously work miracles.
As with a lot of college dorms/apartments, we definitely don't have too much counter space in the bathroom, so for the first time ever I had to move my makeup station over to my desk. It makes it a little more crowded than I'd like, but you gotta do what you gotta do! The letter sorter that I use for my palettes is from Target, and the brush organizer is from Ulta, I believe. I bought it so long ago, but I know they sell these almost everywhere now. I've seen them at places like TJ Maxx and Marshall's for just around $10. Home Goods is definitely a great place for inexpensive decor too!
This Pumpkin Gingerbread candle smells absolutely amazing. Thank you Allie & Alexa!! 🙂
This tiny little area of my dresser right by my TV is just for my smaller studs and fine jewelry that I tend to wear more often. Keeping a little dish for my jewelry just makes it a lot more accessible, plus it's a cute way of leaving it out without having random earrings everywhere! The little sign is a gift from my friend Tiffany from a few years back! I'm not exactly sure where it's from, but Francesca's has a ton of cute stuff like this as does Altar'd State.
I organize my jewelry with this little organizer I found at Michael's. With a 50% coupon, I think it came out to around $10. They have a ton of options for jewelry organization, so I definitely recommend checking it out there since they have so many sales and coupons available.
Picture Frame Target | Pillows Target
My closet's relatively simple. I have it organized by color, with all my basic tees and t-shirts stacked on the top shelf, with my boots lined up against the wall. Nothing special, but if y'all want a closet organization video just say the word and I'll do it!
We don't have a ton of decorations outside, but I snapped a few pictures of the fall decorations we have up still. I can't wait for Christmas though! Christmas decorating is my absolute favorite thing. We've already finished all our Christmas decorations back home in Dallas and we haven't even celebrated Thanksgiving yet…. oops!
I hope you guys enjoyed seeing how I decorated my place for this year! I know it's definitely not much, but if you're in a similar situation where you don't have a ton of real estate to work with you can get some inspiration from this. One big tip that I have for holiday decorations is buying more inexpensive decorations from places like Home Goods, TJ Maxx, and even the Dollar Tree. Every dollar store always has a ton of decor for every holiday, and it makes it easy to decorate without breaking the bank. Plus, if you have too much stuff like I do, you don't feel too bad about tossing it after the holiday's over and done with!
Thanks so much for stopping by, see you all very soon!