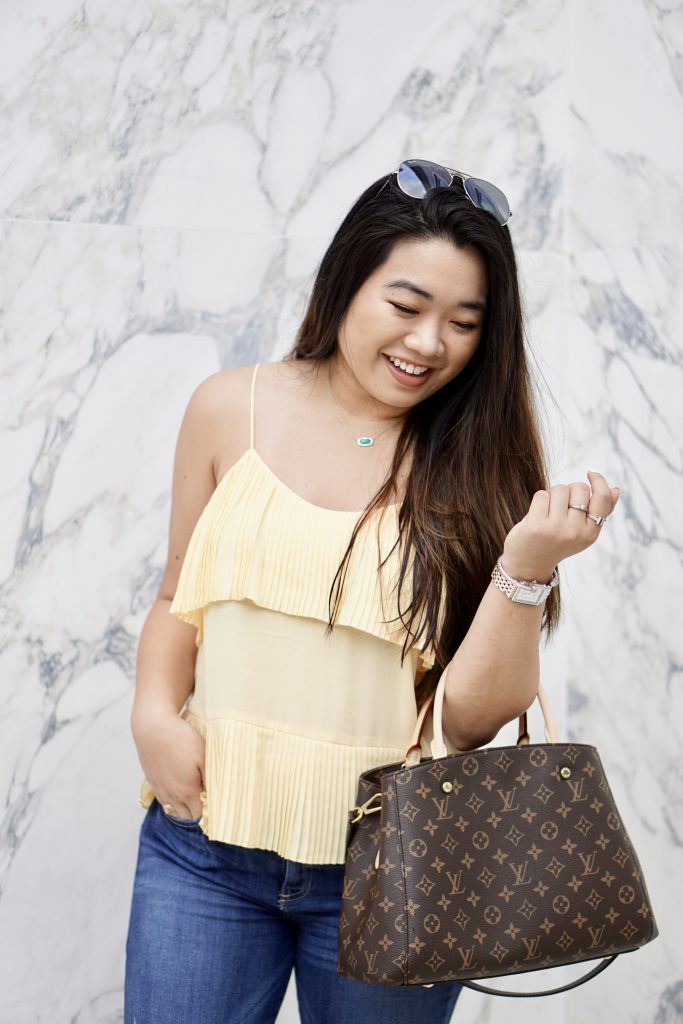 Happy Monday babes! Ohhhh, how I have missed all of you! It's been an insane couple of weeks, and I haven't gotten to pour as much time into blogging as I'd like, so I'm SO happy to have gotten a chance to sit down for a little while and write to y'all. Today's post is all about what I've been up to lately + outfit deets on this adorable yellow chiffon top!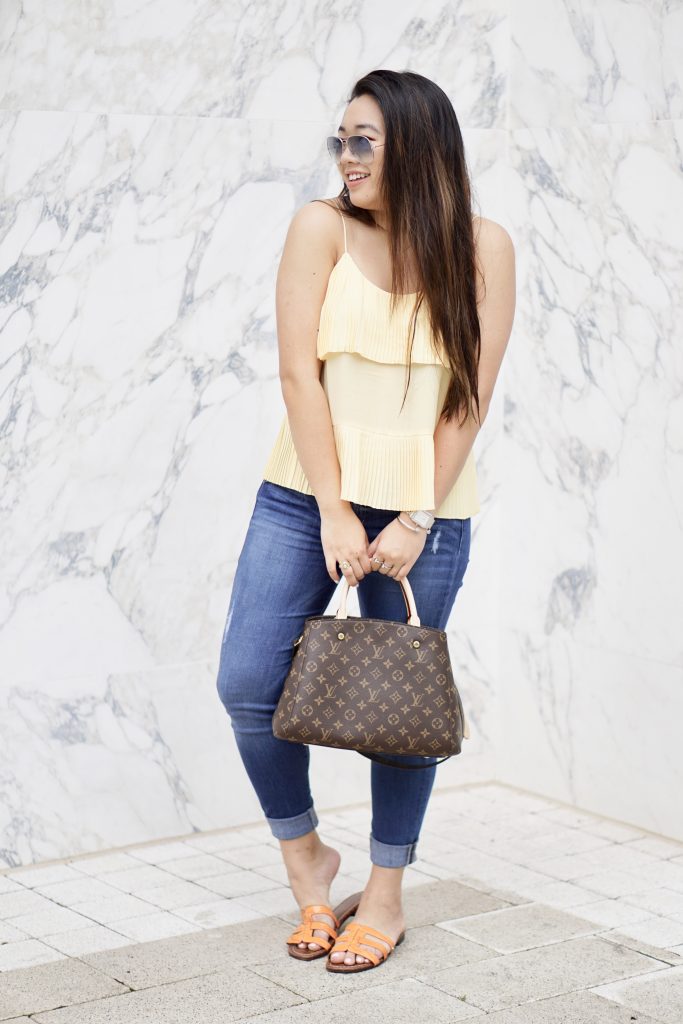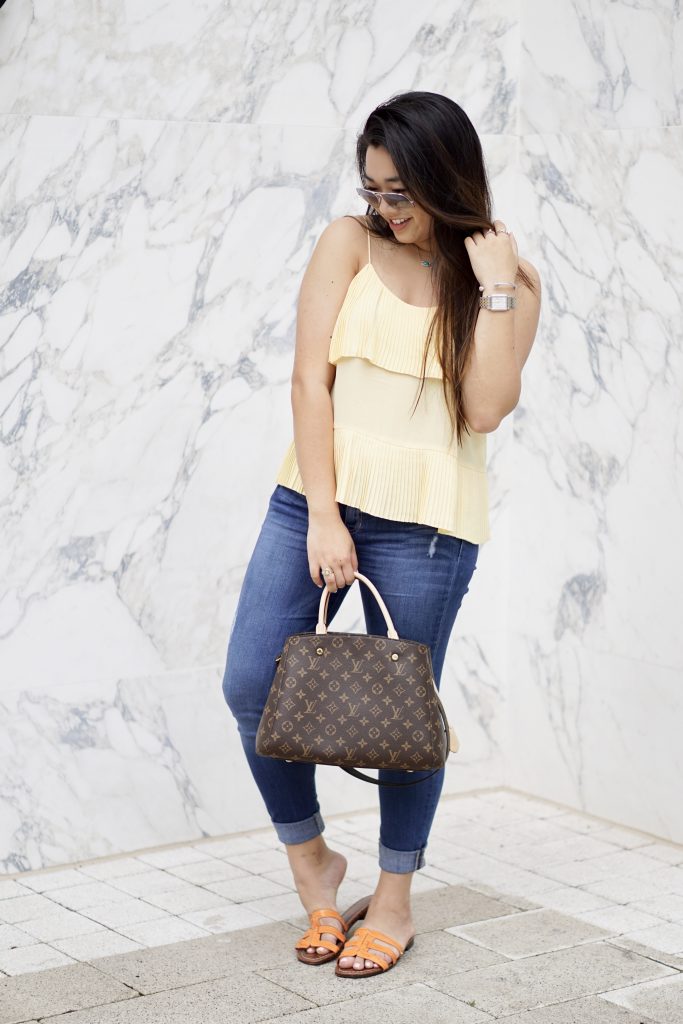 So as most of you know, I've been interning this summer doing fashion marketing for a company here in Dallas. It's been a crazy few weeks, but I'm happy to report that I'm learning SO much professionally and about myself personally too. I've found that I love the structure of an 8-5, 40 hour/week job, but sometimes it feels like I have literally 0 free time! Hence, the lack of blog posts I've been able to get out… oops! This is something I'm really trying to work on- figuring out a schedule that works for me so that I'm able to balance a full time job and staying connected with y'all at the same time. It's definitely a learning process, but hopefully I'll be getting better at it soon.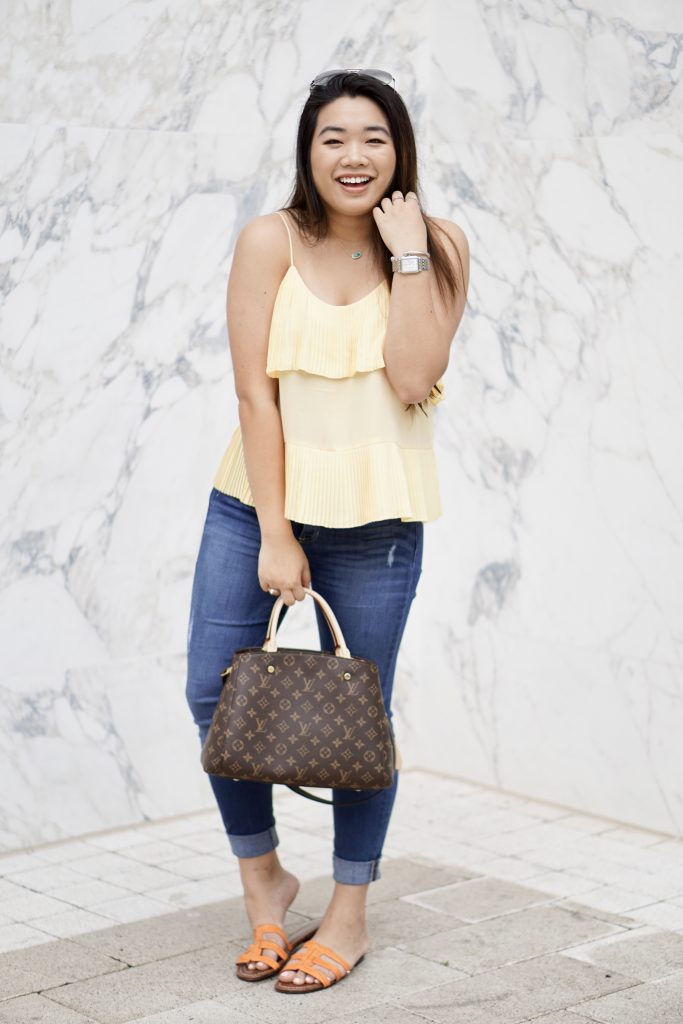 As far as life updates go, this coming weekend Akash & I are doing a little staycation in Downtown, EEK! I'm sooo ready for a weekend of R&R, and the hotel we're staying at is gorgeous, so I can't wait to shoot some looks for y'all, plus all our adventures downtown! I'm always getting questions for recommendations of things to do in the city, but I honestly haven't explored much of the Downtown area- so I'm excited to have a little adventure in my own city!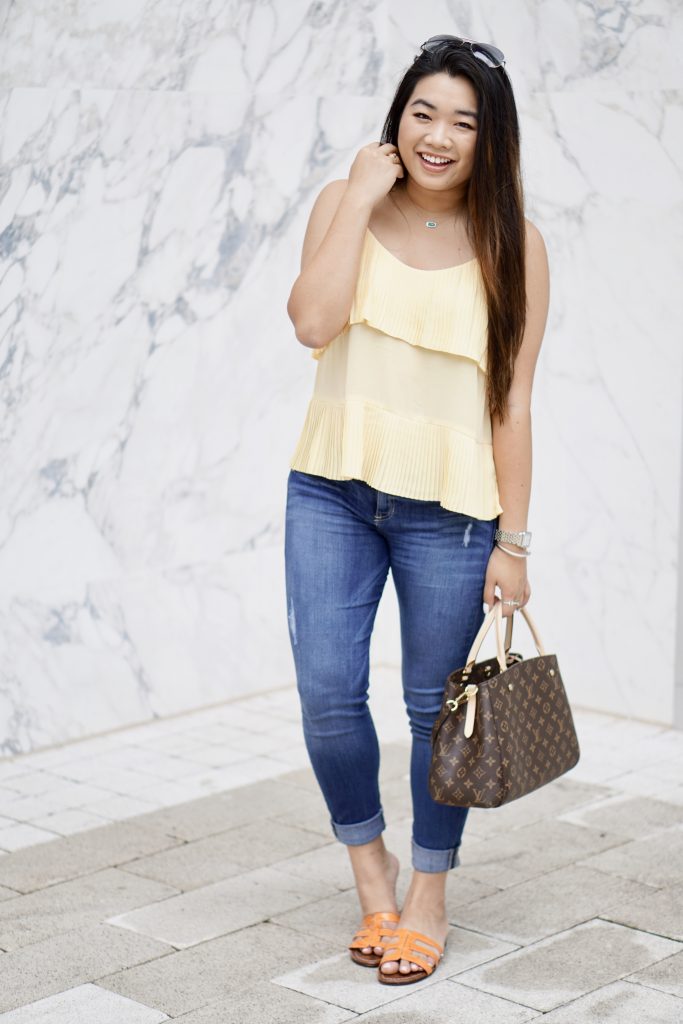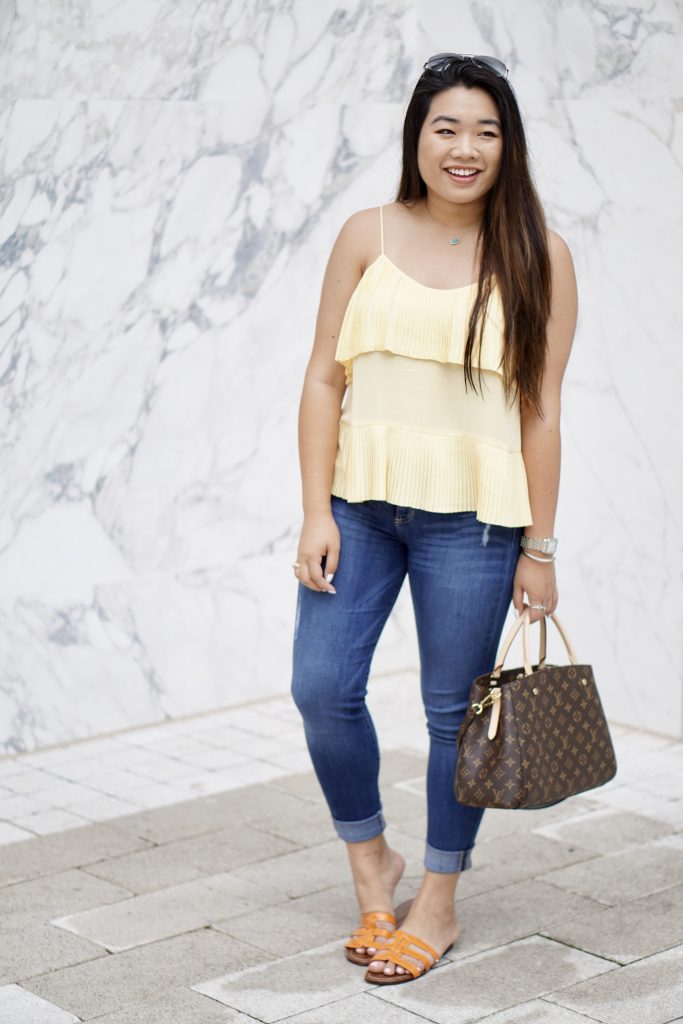 Now onto the best part: the outfit deets! I've never been a big yellow person, but lately I've been absolutely loving incorporating yellow into my wardrobe. It's just so fun & bright for summer! I'm obsessed with the accordion pleats on this top, and I've been wearing it under a blazer to work all the time. I love how easily it can be dressed up or down. I paired it with these super fun Sam Edelman slides that I found for UNDER $50- as y'all know, I'm definitely a huge fan of color so whenever I can splash in a fun bright shade I always go for it! 🙂
I've had some people ask about how to incorporate color into your wardrobe, without going overboard. Since color-blocking has been a major trend in the past few years, I love how bright shades are a huge hitter in summer wardrobes. My favorite way to incorporate colors into my closet without overdoing it is with little splashes of colors of the same color family, or that complement each other. For example, the yellow & orange pair so well, so I incorporated some neutrals into the look to keep it from getting too busy. (Yes, I count denim as a neutral!) I also threw on this little Kendra necklace with a turquoise stone to keep it fun, but you could totally throw on some simple layered necklaces for a little bit of a different look.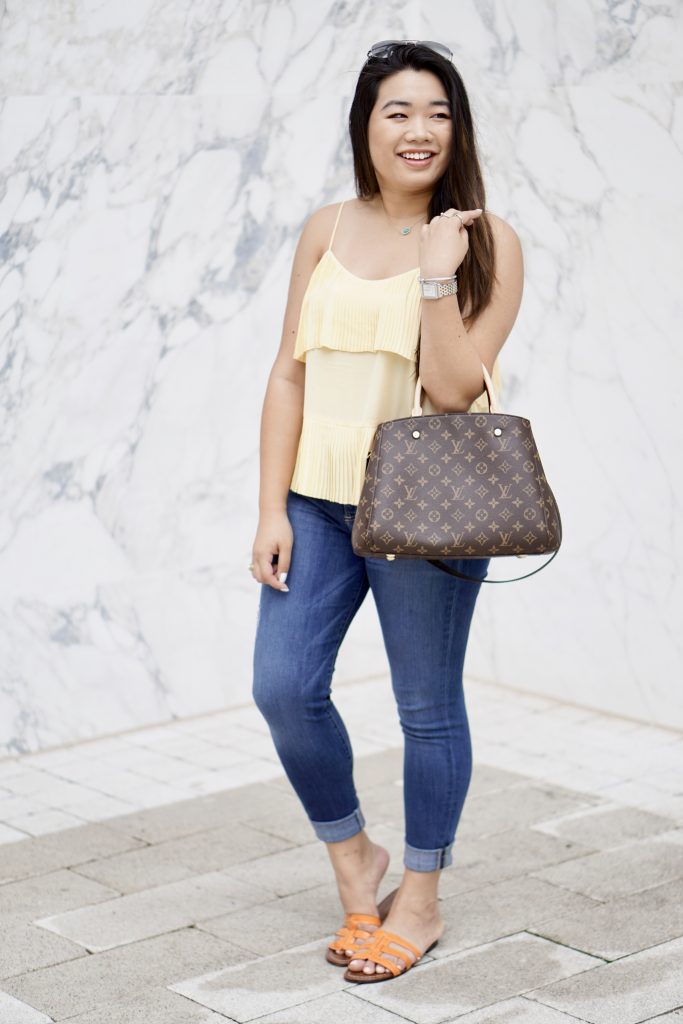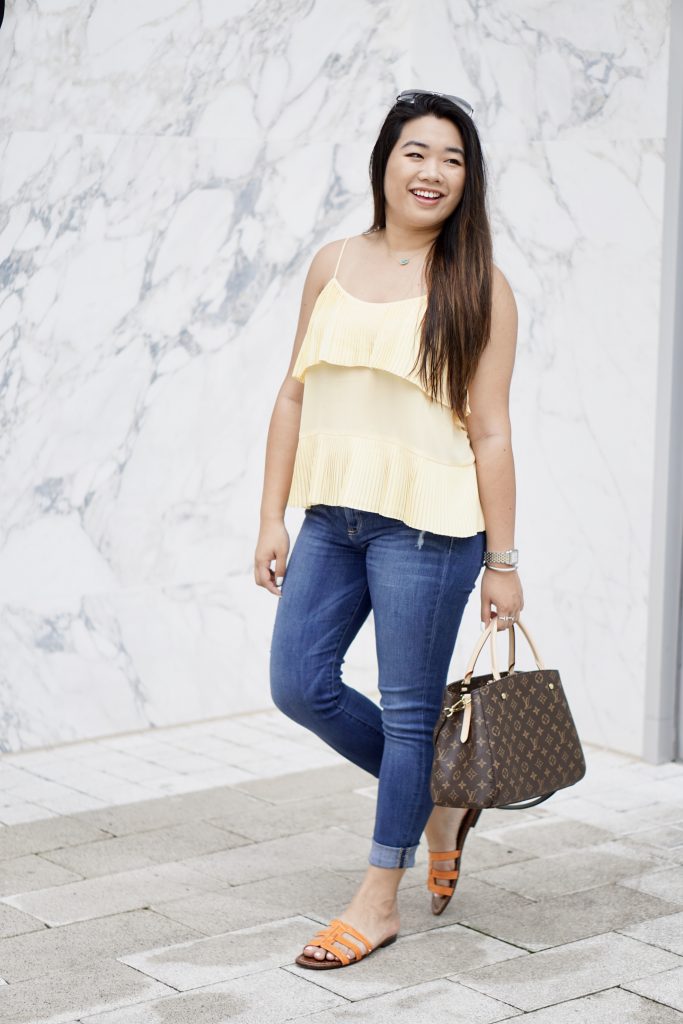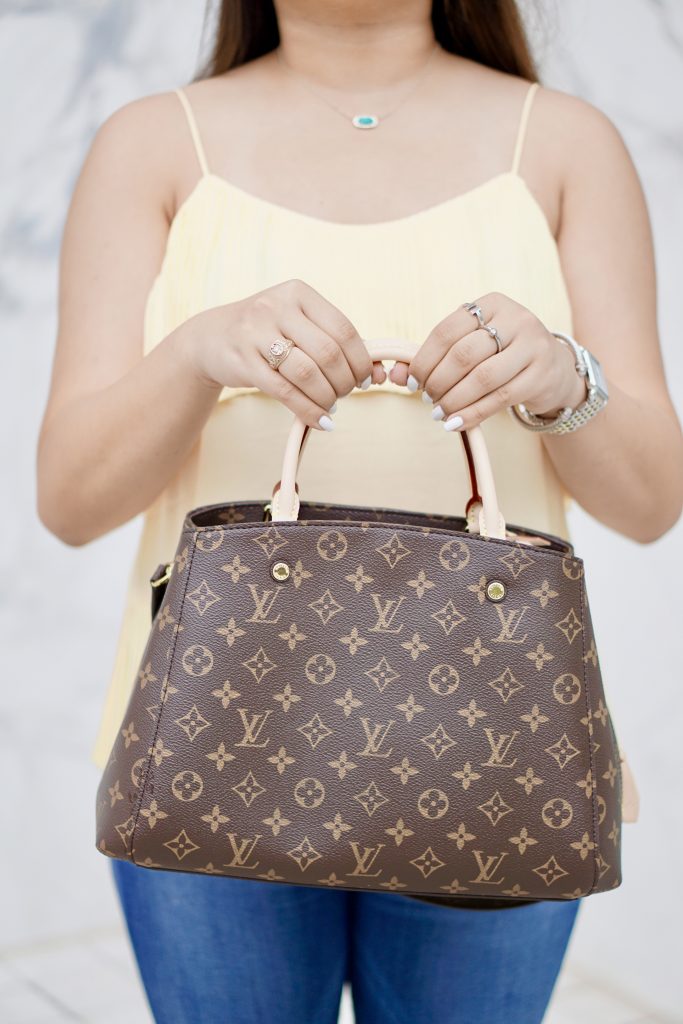 After I showed this bag on my Insta stories, I got flooded with questions asking about which style it was! I'd been eyeing this bag for the longesttttt time, and I finally pulled the plug this past weekend. The style is the Louis Vuitton Montaigne MM. I originally was wanting to go with the BB, but I personally felt like the larger size would be more functional for me personally. I'm warning y'all, you're about to see a lot more of this bag in my future posts, haha!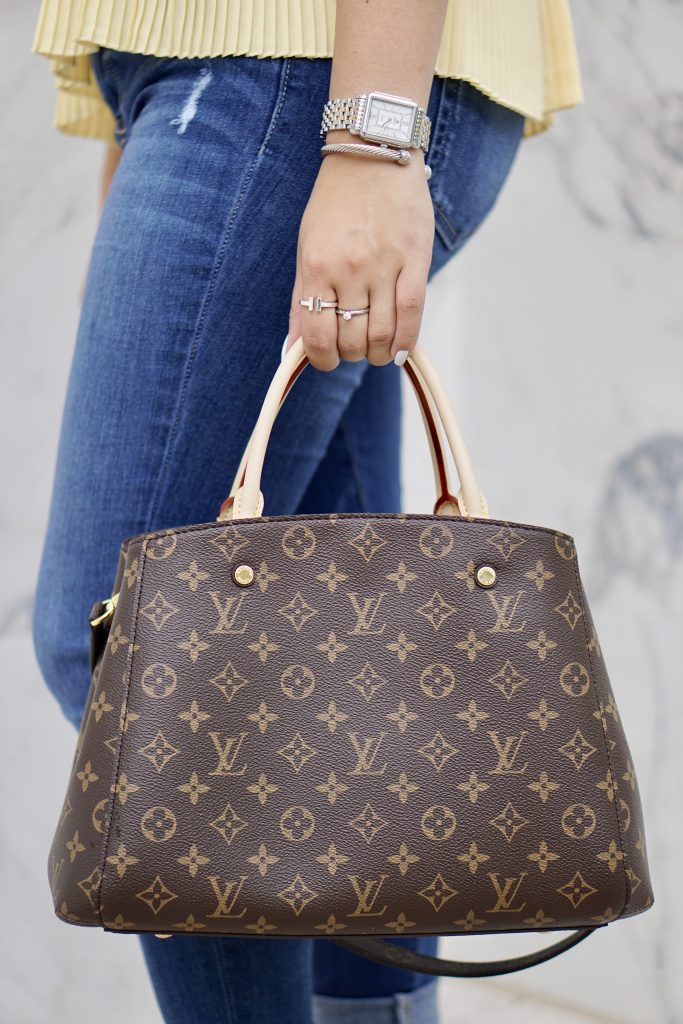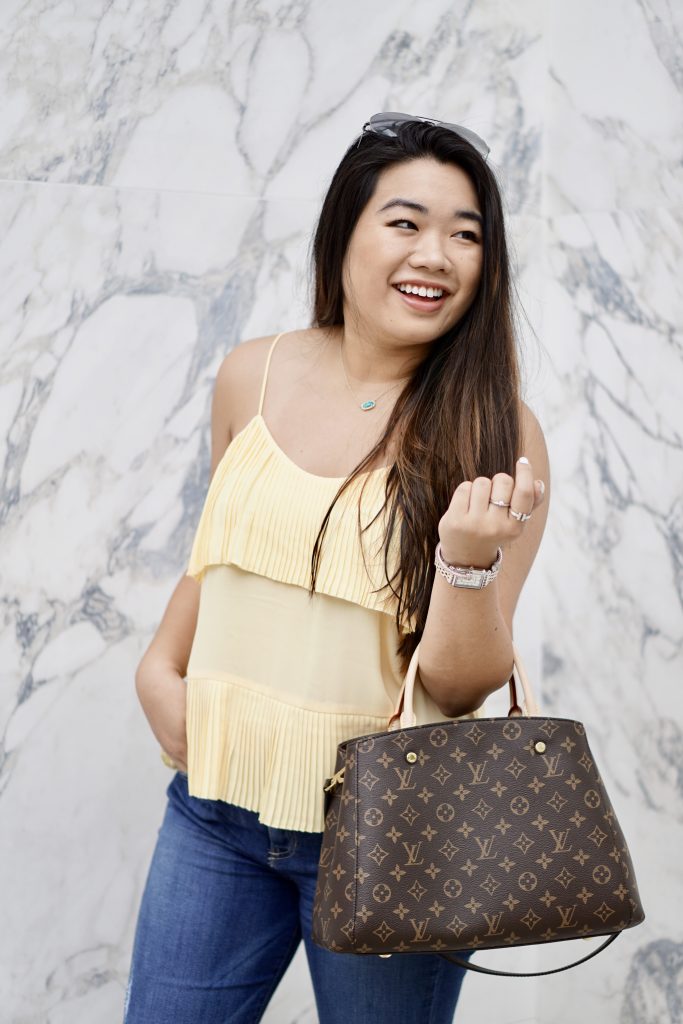 Well, that concludes today's post! I hope you all kick major butt this week- I'm hoping to get back to my normal MWF posting schedule, so hopefully I'll be seeing you guys on Wednesday!! xoxo