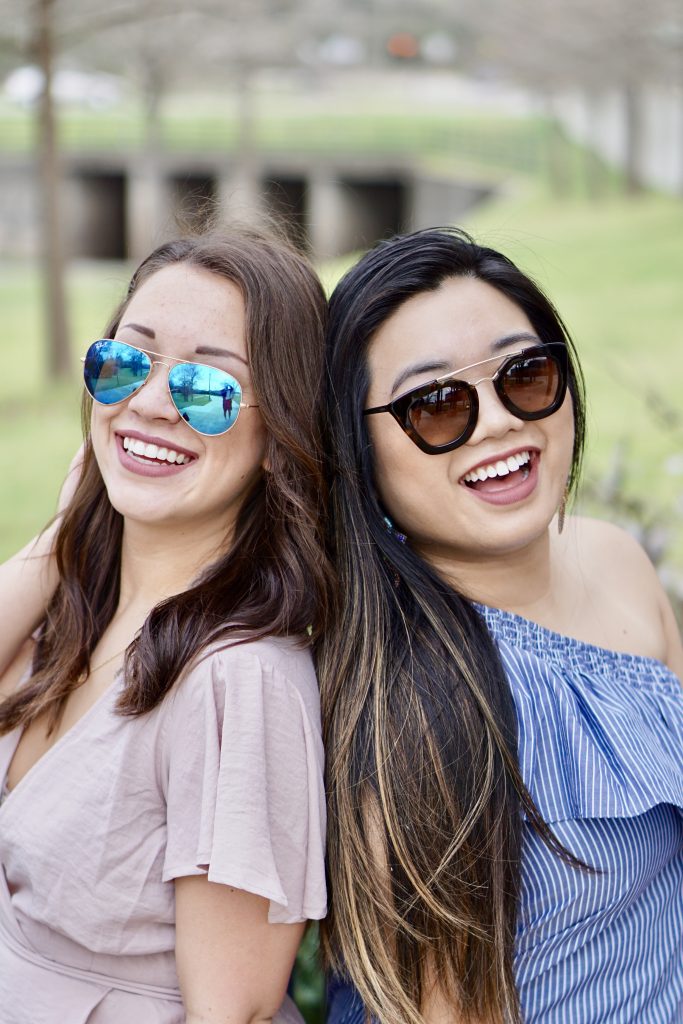 Happy Monday, friends!! The day has finally come, and I finally get to share this little project I've been working on with all of you! It's been about a month in the works, but I'm so excited to introduce you guys to my sweet friend Morgan from The Vixen Blog. Stay tuned until the end for a super fun spring giveaway!
I've been reading Morgan's blog since she the day it launched, and it's been awesome watching it bloom. Her content's always super fun to read, and her style is adorable. Be sure to check out her blog and all her socials, and let her know I sent you!
We put together a little Q&A for you guys a the end of this post, so scroll on down to read all about Morgan!
Meet Morgan!
Tell us a little about yourself!
I grew up in a small town called Port Neches, TX but now I live in College Station where I go to Texas A&M University. I am a junior studying Business Management with a concentration in Entrepreneurial Leadership and I'm pursuing a Certificate in Retailing. I enjoy getting creative in the kitchen, working out, watching my favorite Netflix shows, hanging out with family and friends, and being a social butterfly! I love to meet new people and to travel and see new places. Going out to eat and shopping is my favorite pastime!
How did you start blogging?
Fashion has always been apart of my life… whether it just be shopping, online shopping, window shopping, or looking for inspiration on Pinterest, I have always loved the industry. I have always wanted to get into blogging because I just think it's so neat how each blogger can personalize their blog and share their own style with the world. I used to have a fashion blog in high school but I couldn't keep up with it when I went to college. After a few years in college, I became more settled in my routine so I decided to completely start fresh with a new name and everything. I just kind of sat down and thought about my style and what I wanted my blog to portray and the rest is history!
Where are your favorite places to shop?
I like to shop at so many different places but to name a few: Nordstrom, Urban Outfitters, Anthropologie, Zara, Free People, Loft, Kate Spade, Target, Old Navy, & Madewell. My mother actually owns a boutique called Mollie's Boutique so I love to shop boutiques because I know how much work goes into being unique!
Where do you get your style inspiration?
PINTEREST!!! Some styles icons I love are Blake Lively, Lauren Conrad, and Vanessa Hudgens. For fashion blogs, I have been following Hello Fashion Blog, Thrifts and Threads, Champagne and Chanel, Blank Itinerary, and Take Aim – Michelle Madsen for a long time. They all have very different styles but all inspire me in different ways!
Any style tips you live by?
I think it's important to buy for quality not for quantity! I think every girl should have those staple pieces in her closet that are high-quality and comfortable. I think it is worth spending a few extra dollars if I am going to have it forever and it won't go out of style. Also, if something makes you feel incredible and it is your style… I say go for it. You only live once! 🙂
Where are the top 3 places on your travel bucket list?
Rio de Janeiro, London, and Bora Bora!
What are your top 3 favorite TV shows?
Gilmore Girls, Grey's Anatomy, and Friends! I relate to Rory and Lorelai on so many levels (especially the ridiculous amount of coffee consumption). Grey's is just so easy to fall in love with. The episodes are so crazy… there is romance, comedy, surgeries to follow up on…. it's just all around addicting! And Friends is just a classic! It's always the show I go back to and always have on my TV whether I'm watching or not. It just doesn't get old!
OUTFIT DETAILS
Morgan: Blouse Lulu's | Jeans Old Navy | Shoes Steve Madden | Purse: Tory Burch | Sunnies: Ray Ban
Summer: Dress Sabi Boutique | Shoes (Similar) Revolve | Bracelet Alex & Ani | Sunnies Prada
Morgan's Socials:
Pinterest: @morganemclain
Instagram: @thevixenblog
Facebook: @morganmclainblog
Shop our looks!
Now time for the giveaway!!
Lo and behold, Styled by Summer's first EVER giveaway!! Y'all, you don't even understand how excited I am about this. Morgan & I teamed up to gift one lucky follower this adorable backpack, Kate Spade tumbler, and Kate Spade pen set in celebration of our collab! To enter:
1: Like this photo on Instagram
2. Follow me @styledbysummerblog & @thevixenblog on Instagram
3. Tag a friend in the comments of the Instagram picture
This giveaway will end one week from today, February 27, 2017 at 8am CST. Good luck!!
Thank you so much for stopping by! I hope all of y'all enjoyed this collaboration project; I had so much fun putting it together with Morgan, so I'm definitely hoping to do more in the future! Be sure to leave me a comment letting me know what you thought. 🙂 Until next time!