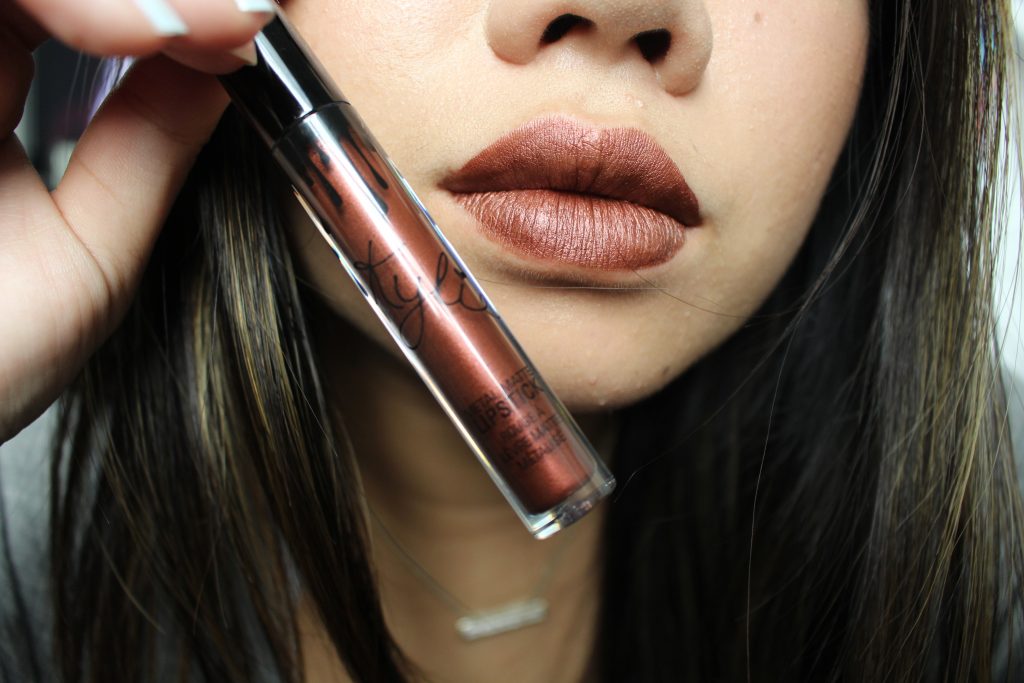 The post you've all been waiting for… FINALLY, my Kylie Cosmetics Liquid Lip review!!!
If you've kept up with me from Style Searcher, you know that I had to wait almost 3 weeks for this bad boy to arrive, and even longer contemplating whether they were worth the splurge. After a ton of back-and-forth and reading reviews on the lip kits, I finally decided to try some out! I ended up only picking two, so I could make sure I loved the formula before going back to get more.
By the way, it actually took my package super long to arrive, and I emailed Kylie's customer service team to get it figured out, and they were super sweet and helpful. I just thought I'd mention that because I've heard people having a rough time with the company's customer service, but I actually had a good experience.
Now onto the products!
I picked up two different shades, Reign (metallic deep red with gold undertones) and Dolce (brown slightly pink-toned nude.) I'm a fan of the packaging, as well- it definitely has some substance to it, and doesn't feel like it was $5 at the drugstore. I swatched them before actually getting to try them out, and I personally wasn't too impressed with Reign at first sight. It swatched slightly patchy and not completely opaque, so immediately I was like "well that was a waste of $20."
HOWEVER…. after giving them both a try, I have to say, hats off to Kylie, you (or whoever actually created the formula) made some bomb liquid lipsticks. I seriously love the formula- it's thin, applies evenly, and stayed on for a good 4 hours without having to be retouched. I know the scent is either love-it-or-hate-it, but I actually don't mind it. I didn't even find it to be extremely strong either, which I've heard from other people's reviews; and I'm typically pretty turned off by super strong smells.
I definitely want to pick up a few more- I've got my eyes on Maliboo, Kourtney K, King K, and Heir. I think Heir could be used as the perfect lip highlight, maybe blended with Reign. For those of y'all who know me, though, know that I absolute despise paying for shipping. I totally don't mind paying $20 for a lipstick, but when you ask me to shell out $10 on shipping, I'd rather ditch the whole purchase altogether.
I was able to purchase mine when Kylie Cosmetics did a free shipping promotion, so be sure to follow them on Instagram or subscribe to their mailing list so you can be updated when they do flash promotions.
Have any of you tried her makeup line yet? Let me know what you think! The eye products she's put out honestly hasn't really appealed to me, but now that I've really tried a few of her products I'm a little more interested to see if the rest of the line is worth the hype.
I hope y'all enjoyed reading my thoughts on the lip kits made by the lip kit queen. If you've tried them, let me know your thoughts and colors y'all think I should try! See you next time!