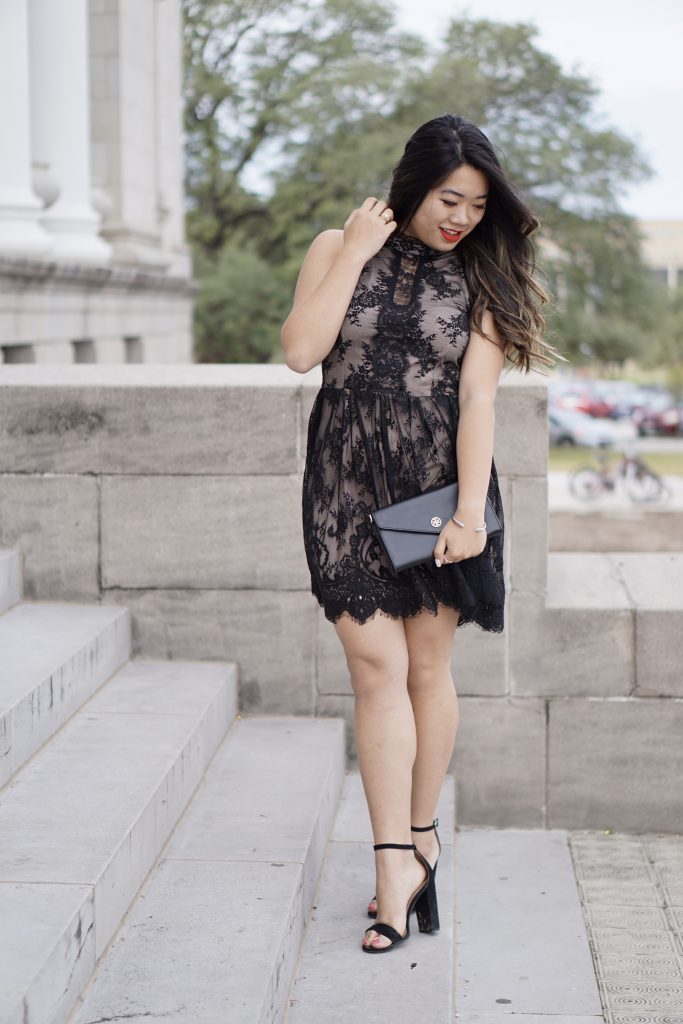 'Tis the season for holiday looks! December is definitely one of my favorite months of the year (behind my birthday month of course ;)). I mean, who doesn't love Christmas? I'm beyond excited to go home a week from today and spend an entire month back home with my family. I'm seriously counting down the days already! One more final exam & then I'm headed back to Dallas- I can't wait.
With the holidays come holiday parties- Thanksgiving, Christmas, New Year's… so many fun events coming up! So what else am I here for besides to give y'all some style inspo? 🙂
Outfit Details
Dress Willa Boutique | Shoes (Similar) Steve Madden | Clutch (Similar) Tory Burch | Bracelet (Similar) David Yurman | Lip Color Anastasia Beverly Hills Spicy | Nails Essie Fiji (Gel)
I love the slightly gothic vibes I get from this dress. I definitely wouldn't consider myself to have a dark style- I definitely go for more bright colors + pretty things, but I love pulling out my favorite LBDs when it comes to holiday parties. Plus, it's under $80- Willa Boutique's also offering BOGO on the entire store, so if you snag this dress, you can get something else for free too! Y'all see me wear these heels so often- and the only reason is because I seriously can't get enough! They're so comfortable to wear, and go with every outfit, casual or dressy. If it's a little colder wherever y'all are, I would totally throw on a neutral long coat to keep you warm.
Are any of you hosting your own Christmas party this year? I think I'll probably wear this one to my family's Christmas dinner, but I haven't decided yet. I'm hoping to find some more cute options to share with you guys so then I'll have a few other contenders for Christmas dinner.
Stay warm! xoxo, Summer