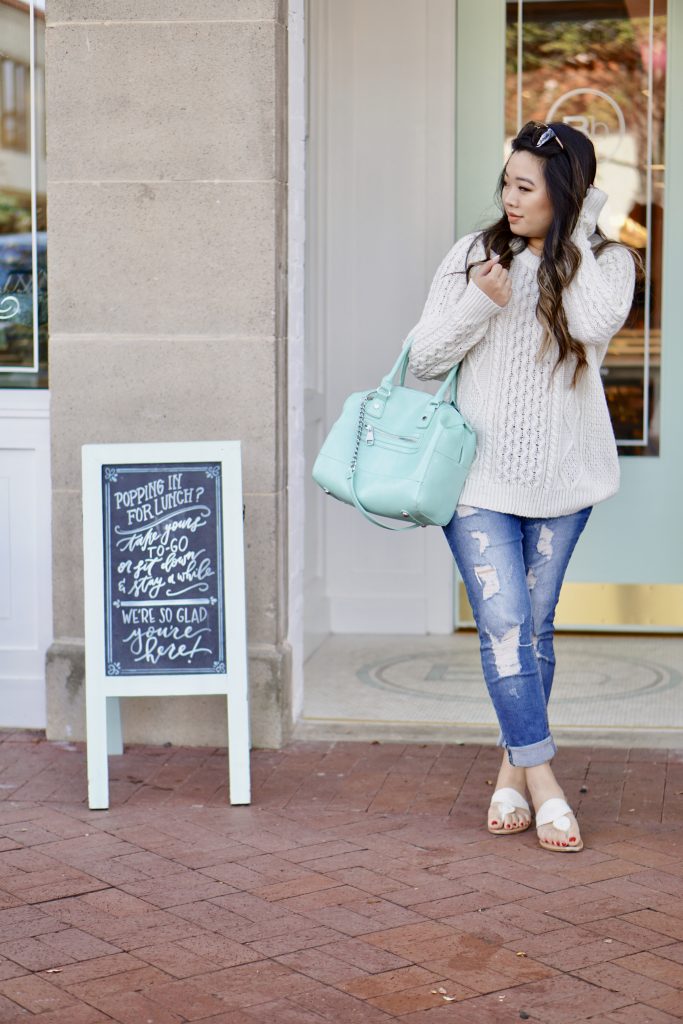 Mornings spent at the cutest bakery in Dallas are morning well spent in my book! 😉 Akash & I spent the day shooting pictures for the blog (which, by the way, I'm SO EXCITED FOR!! stay tuned) & we found this little bakery nested in between Royal Blue Grocery & Alice + Olivia. Highland Park Village is one of my favorite places to shop- everyone's so nice & it's always so quaint. Go on a weekday and it's so calm & peaceful!
Anyway, back to the bakery- we stopped in for some coffee & breakfast, and everyone there was so nice. To be completely honest, I didn't totally love the food, but the coffee & decor totally made up for it. Akash had the pecan pie, though, and loved it. The place is decorated so cute, too- so Pinterest!!
Texas has actually been on a crazy rollercoaster as far as weather- a week ago it was snowing at 10 degrees, and today it was a high of 80. I wore this super cozy sweater & paired it with some ripped boyfriend jeans, Jack Rogers, and this pretty mint purse. I recently got these sunglasses & I'm been wearing them like crazy.
I hope everyone's been having an awesome week so far!! I'm so sorry for not having a blog post up this past Monday- this is the first time I've ever skipped a day 🙁 Sometimes life catches up to you, and things happen- but I have a lot of awesome content coming up soon. Get excited!!!
Outfit Details
White Sweater (Similar)  J. Crew // Ripped Boyfriend Jeans Altar'd State // Sandals Jack Rogers // Purse Steve Madden