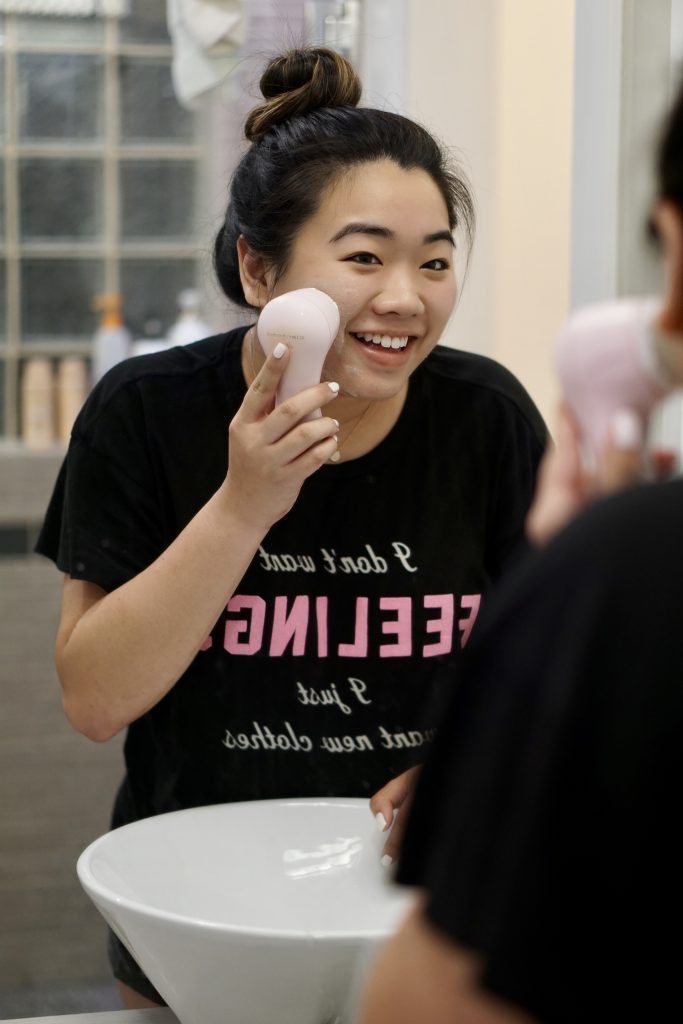 Happy Monday, guys!! Hope you're all doing well 🙂 I just got back into College Station, and it feels incredibly good to be back. This past week was definitely much needed & appreciated- I feel 30x more refreshed and ready finish off this semester with a bang!
I love sharing my favorite skincare products in my Instagram stories, & I get questions all the time on my favorite products for dealing with problematic skin flare-ups. Hopefully today's post will answer any and all questions you may have about my skincare routine + give you guys some recommendations for my all time favorite products to try out for yourselves!
A little bit of background before we dive completely in- I have pretty normal/combination skin, but I'm definitely acne-prone. I also have quite a bit of redness & acne scarring on my cheeks, so I'm always on the hunt for products to help me with my problem areas. I love trying out new skincare, so I've basically tried almost every cult favorite there is out there! Today I'm sharing my top favorites for my everyday skin routine, but if you're looking for my favorite masks, I shared my fave masks here & my favorite Lush products here!
Kicking it off with my cleanser- I've used this cleanser alone for the past year or so, and I've repurchased this baby so many times! I love it for just an easy clean- it leaves my skin feeling extremely refreshed & clean!
Next up: toner. I've tried every toner under the sun, and this one is my favorite one! It's affordable but does an awesome job. If you don't use toner, start now!! Toner helps to even out your skin's pH & also takes off any residue that's left on your face.
**Night time: For my nighttime serum, I love this one from Sunday Riley. Sunday Riley products can get a little pricey, but they're definitely worth the splurge. I'd definitely say that this product has made the biggest different in my skin, in combination with the next one I'm about to share!
I first heard about Good Genes in one of Sazan Hendrix's skincare videos, and she raved about it. After I first watched her video, I suddenly started seeing it everywhere- I feel like this happens to me so often haha! But this treatment leaves my skin feeling SO refreshed & moisturized the next morning. Definitely a game changer!!
For the morning, though, I like to use a little bit thicker of a moisturizer so my skin is nice and prepped for makeup. The It Cosmetics Confidence in a Cream works incredibly on my skin. It glides super nicely, and creates a great base for my makeup. Love love love it! Feels so luxurious, too!
As far as tools go, this Clarisonic is my ride or die. I've been using this bad boy for so many years, and I still love it! I switch out the heads about once a month, and he's still going strong. Leaves my skin so fresh & clean.
My favorite makeup wipes are actually these from Costco! My mom & I buy them in bulk (and by bulk I mean a literal pack of like 20 lol) and we split them. Way cheaper, and these are actually my favorite ones that I've tried! I love how they're not too wet, but wet enough to be effective in taking off my makeup before I get a chance to deep clean. I always keep a pack of these in my purse, too, for on the way home from school or work to take off my makeup.
I know I've said this SO many times, but taking off your makeup before bed is probably one of the best things you can do for your skin! Even if I have a late night out and all I want to do is sleep, I ALWAYS take the time to at least wipe my face with one of these. Better than nothing!
I hope you guys enjoyed seeing my favorite skincare products today! These products have made a huge difference in the appearance of my skin, so I'm hoping they'll help some of you guys out too. It's so incredibly important to take care of your skin, so treat your skincare as an investment in yourself!
See you all on Wednesday!! Muah!
Shop this post: