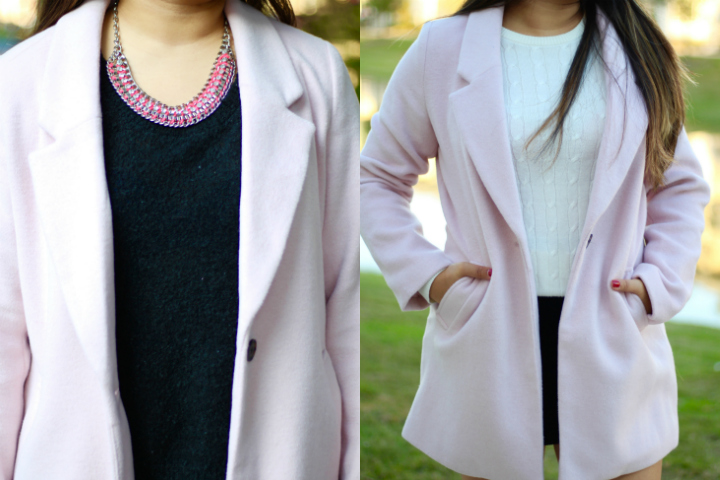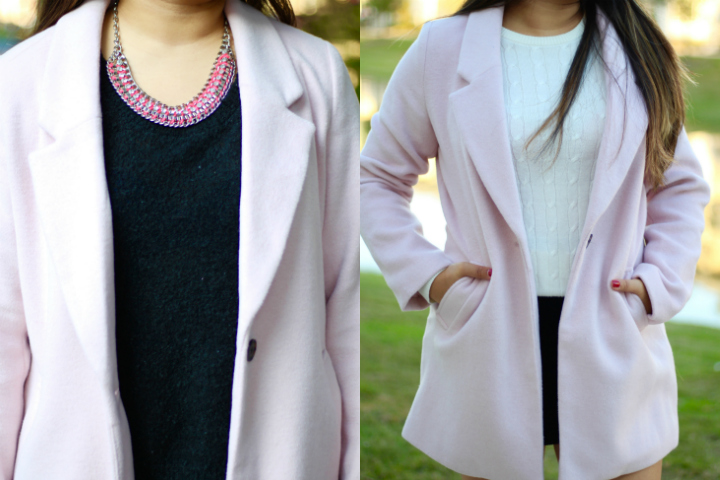 Hope everyone had a wonderful turkey day yesterday!! Today I decided to put a little spin on my typical outfit posts and show you guys how I styled this pretty pink coat two different ways! Not only do they vary by style, but they're also catered towards different climate temperatures. Play around with them, and make them your own! Both are super simple and extremely easy to recreate.
The coat that I featured in this post is actually from Old Navy! Crazy, right? It's actually a decent-quality coat, and it was only $30. CRAZY, I KNOW. I have it linked here so you can go grab yourself one! Original retail price is $60 I believe, but with their sale it was half off. The sale is over for now, but on Black Friday Old Navy's doing half off the entire store- so go get yourself one! They also have it in a few different colors as well! I snagged another one in the tan color.
Look #1
For look number one I played into the pink of the coat a little bit, by adding this weaved statement necklace from H&M. I threw on a fluffy black sweater and some black denim jeans, with some black booties to keep the focus on the pink. With this brown Birkin-style bag, I didn't want to keep the outfit 80% black, so I played around with the tones in this bag to match the outfit. It's all about preference! A white handbag would go super cute too. This outfit's definitely super easy and comfortable for a cold winter day spend running errands. If you get cold, just throw on a few more layers and you'll be good to go.
Look #2
The second outfit is a little more for those warmer winter days, when the sun's out and it's not super windy. You could definitely switch out the booties for a pair of thigh high boots if it's a little colder where you are, too! I played with textures in this combination, with the wool coat, cable-knit sweater, corduroy skirt, and suede booties. I kept it pretty bare with the accessories, with the exception of this pretty accent earring. Pretty much all neutrals in this one, with a pop of color from the coat!
Let me know what you think of this style of post! See y'all soon!
P.S. Happy black Friday!! Hope y'all get all the deals 🙂 I'll be showing y'all soon a post of everything I got, so keep your eyes peeled for that coming soon!
<a href="https://www.bloglovin.com/blog/18353767/?claim=fzvj95qdj7r">Follow my blog with Bloglovin</a>