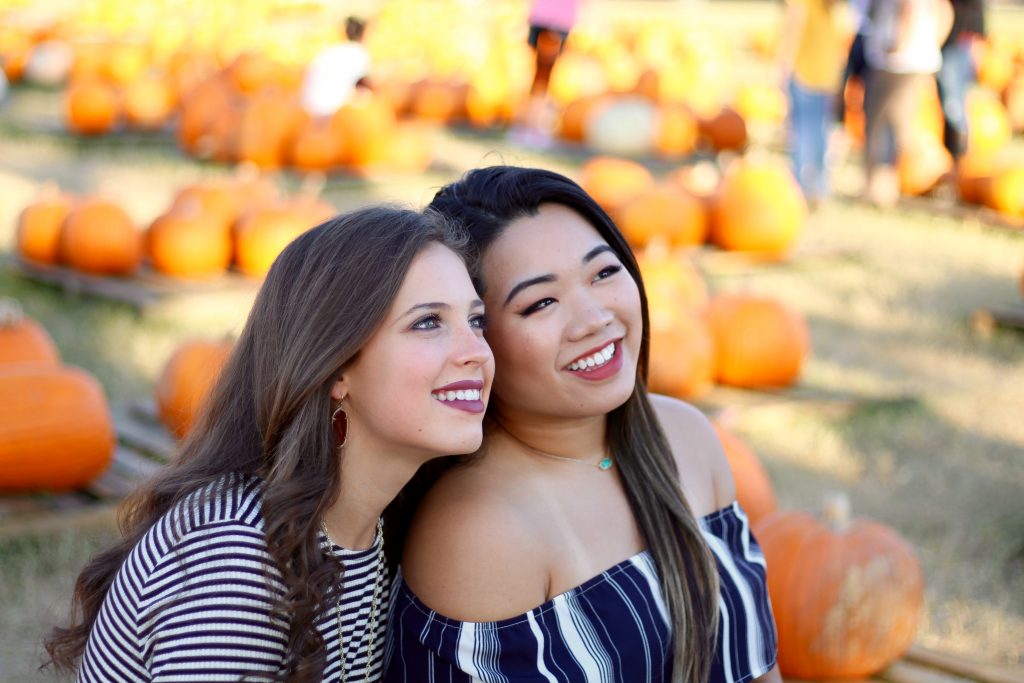 Happy Halloween everyone!!! Hope your holiday's full of candy & spooky fun 🙂
This past Friday my roommates and I made a little visit to one of the pumpkin patches here in College Station, and made a little shoot out of it! (Shoutout to Akash for taking all of our pictures- check out all his photos on his blog!)
I'm seriously obsessed with pumpkin as a color, and after seeing it accentuated in all of our photos, I feel so inspired to get out and pick up some pumpkin accents to feature in more neutral outfits. Here are the outfit shots!
I love the look vertical stripes give- it gives a little bit of an elongating effect, and the contrast between the navy and white stripes on this top really make it pop. I threw on some black jeans, flat Chanel-inspired espadrilles, and some gold accessories to make for a super cute & actually comfortable outfit. I'm obsessed with this necklace right now, too! Not going to lie, I thought I was totally over the whole Kendra Scott trend, but I saw this necklace this past weekend at Nordstrom and the stone just caught my eye. I couldn't stop staring at it, so I took it as a sign that I needed it in my life. Isn't it funny how that happens? Get yourself one here!
Now for the fun part!! Check out some of the pictures we took today- we had so much fun & they turned out so so cute.
The wonders a camera can do, am I right? Have a great week!!