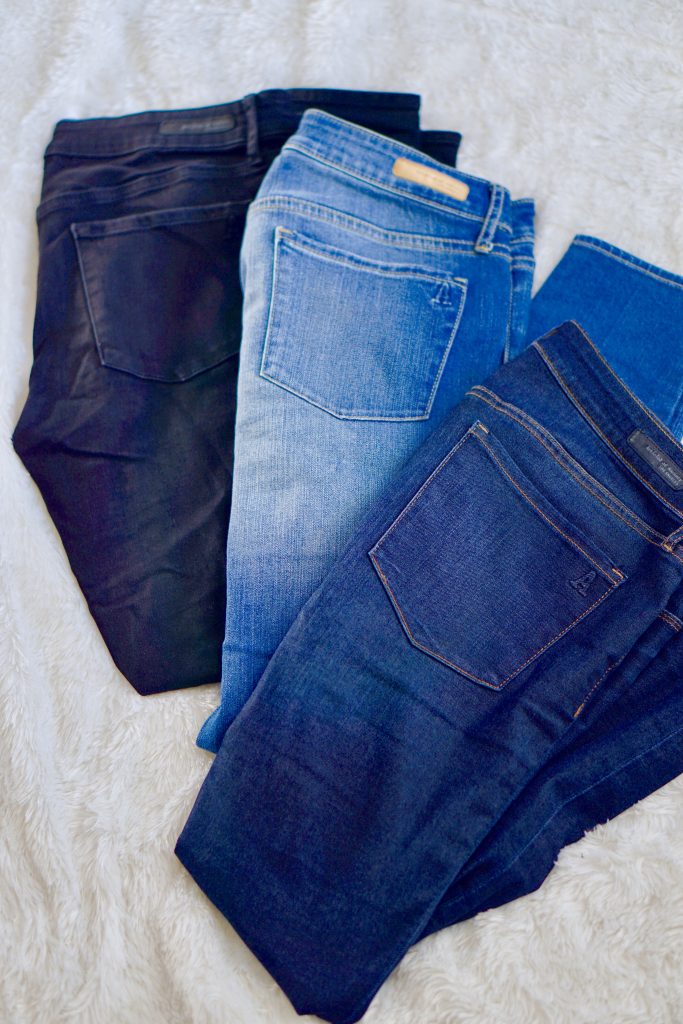 Happy Monday!! I'm so excited to be sharing this post with all of you today- I've been working on it for so long, and I finally get to share it! Today we're going to be talking all about jeans, and how to find the perfect pair. Plus, I'm also going to show you guys my favorite jeans & where I shop for jeans.
If you've been reading my blog for a while, you know I'm definitely a jeans girl. For the longest time, I was super used to wearing uncomfortable jeans, so jeans were never really my favorite. I tried jeggings, and those didn't work for me either- they were either too thin or too "stretched-looking." It's definitely taken a lot of trial and error, but I'm so happy to finally be able to say I've found my perfect pair- jeans that I wear all the time, and that are crazy comfortable.
I talk about the importance of basics all the time, and finding your perfect pair of jeans is at the very top of that list. A pair of jeans will bring you endless outfit options, without sacrificing comfort. On top of that, you can wear jeans in basically any weather (unless you live in somewhere like Texas- then you can wear it for basically 9/12 months of the year.)
I know it may seem like a little much, but finding your perfect pair can be a real process, and a little bit of a pain in the butt. Depending on your luck, you may have to try on a billion pairs before finding a match, but trust me- it's worth it!
Buckle up, this one's going to be a long one.
So let's dive in!
There are a few crucial things to look at when you're jean shopping: fit, style, wash, material, and price.
It's up to you to prioritize what's most important to you, but in my opinion, fit should be at the top of everyone's list, so we'll start with that. Get ready, this one's going to be a long one!
Finding the perfect fit.
Fit may seem like a relatively easy thing. As long as they're good around the waist & not too long or too short, we're good right? Wrong! There's so much more to it. When looking at the fit of a pair of jeans, there's a few things we need to pay attention to: length, width, and elasticity.
When it comes to length, you have to go in knowing exactly what it is that you're looking for. Are you wanting cropped jeans? Or maybe jeans that you can cuff? Or even jeans that fit just right, and you can wear with every shoe combination? I personally recommend going for a pair of jeans that hit just a centimeter below your ankle. This way, you can find a pair that's long enough to cuff, but also short enough to wear with shoes that maybe you want to accentuate.
Here's an example of one of my favorites:
Try to avoid ankle-bunches at all costs. If it bunches up at your ankles, it's a good sign that your jeans are too long!
Now let's talk width. This one's pretty easy, but you'd be surprised how many people buy ill-fitting jeans. One thing to note- sizes can be extremely inconsistent, even if you're buying within a brand. I definitely feel for you ladies who get lazy and don't like trying things on in the fitting room- trust me, I get it! But when it comes to jeans, it's unavoidable. That's one of the most basic tips (that you would think is standard)- try them on. I've had too many girlfriends tell me that they're a certain size in all jeans, but that's so far from the truth! Even within a certain brand sizes can be inconsistent, so it's better to be safe than sorry!
When trying on a pair of jeans, you want to make sure to sit down & see how they feel when you're in the dressing room. I spend a large majority of my day sitting, and nothing's worse than the waistband of my pants digging into my stomach the whole day (particularly sometimes after eating a large meal- admit it, girls, it happens to the best of us.)
One last thing to check when it comes to the width of your jeans- do you see a bunched-up crotch area? If you do, that's a surefire sign of ill-fitting jeans. Your perfect pair will hug your curves in all the right places.
With elasticity, this is something that most people don't always look at when trying on jeans. You want them to be stretchy, but not too stretchy. Finding a pair that's nice and stretchy means you will be comfortable, even after wearing them for hours. However, you do want to make sure that they're not too stretchy, to the point where at the end of a long day they don't fit as well as they did that morning. Was anyone else obsessed with American Eagle jeans back in the day? Remember how at the end of your school day your pants never fit as well as they did that morning? I used to think that this was normal, and how all jeans fit- I was so wrong!
Finding the perfect style.
This one's a little easier than the last. Typically, I recommend girls go for a skinny jean style- they're simply just the most versatile. Some girls don't love how tight-fitting skinny jeans can be, so straight jeans are perfect. Flare jeans are so in right now, and so fun. But if you're just looking for a good, staple pair, I'd definitely say go for the skinny.
Boyfriend jeans have been super trendy in the last few years, but you have to figure out what looks best for your body type. I've tried on endless pairs of boyfriend jeans and have only found one that fits me (shown below.) Why? I have thicker legs and a bigger butt- because of this, a lot of boyfriend jeans make me look extremely frumpy. But just because one specific pair of a certain style doesn't look good on you doesn't mean all jeans in that style don't look good on you. Keep experimenting & find something that works! With this pair below from Altar'd State, I tried to find a pair that fits my calves better, and helps to slim out my legs to prevent the "chunky-leg" look.
Another thing to consider is if you want any sort of details on your jeans. I like jeans that have a little bit of a textured/ripped effect, but depending on your personal style, that may not be for you.
Finding the perfect wash.
This one's pretty much just up to your personal preferences. My favorite wash is definitely darker denim- I love how it's more flattering and doesn't necessarily highlight all of my flaws. I'm also a huge fan of light wash denim especially for spring. Depending on what look you're going for, pick your wash accordingly. A good tip is to look at the colors you typically wear, and decide what wash would be best for you.
Black & white denim are also some of my absolute faves. Black denim is incredibly versatile, and white denim looks super crisp. One of my favorite combinations is wearing white denim with a white or off-white top during spring time. So clean!
Finding the perfect material.
Like I mentioned earlier, comfort is extremely important to me when picking out a pair of jeans, simply because I have long days, and I spend a lot of my days going from class to class, or from meeting to meeting. Us girls suffer enough with wearing itchy materials & tight clothes- you shouldn't have to sacrifice comfort when you're wearing your favorite jeans! Pick the material that's comfortable for you, and you'll never want to take them off. Some people like their jeans a little more stiff, and some like them softer. I'm definitely a soft denim gal, but pick what you like!
Finding the perfect price.
A big misconception that a lot of people have is that nice denim is expensive. I mean, sure, you're probably not going to find the highest quality pair of jeans for $15 at Forever 21, but you definitely can find an amazing pair for under $100. You just have to know where to look!
One of my favorite places to find jeans is Nordstrom Rack. They have endless options of some amazing brands, at a huge discount- Joe's Jeans, 7 for All Mankind, Lucky Brand, & Hudson Jeans. Some of these brands retail for $300+, but you can find them at Nordstrom Rack for under $100. The cool thing about jeans is that most of them don't go out of season; so buying a pair from seasons back won't even be noticeable. Bargain shopping is key!
Another place that I love for jean-shopping is TJ Maxx. Just like Nordstrom Rack, they have a ton of options that are high-end but for much more inexpensive. A lot of people always ask me how I can afford to have so many clothes with a college student budget. The key is knowing where to shop!
If you shop online, there's an app called Honey that I use for all my online-shopping. It basically comes in super handy when you're at check-out to search the entire web for the best coupon codes, and automatically applies it. Free, easy, and so useful. I can't even tell you how much money I've saved using Honey! Let me know in the comments if y'all want some more in-depth explanations on my tips for budget-friendly shopping. I've gathered a ton of tips under my belt over the past few years!
Now for the part that I'm MOST excited about- I'm sharing with all of you my all-time favorite line of jeans. Articles of Society jeans are a huge blogger-favorite, and I can definitely understand why! Each of these are priced at around $60, which is more than reasonable for a pair of quality jeans. I find them to be one of the most comfy jeans I've ever worn, and mine are always on repeat!
Articles of Society jeans are sold at Nordstrom in the junior section, as well as in independent boutiques. For all of you College Station-area girls, Anything Bling Boutique has them! **Edit: Download the Pocket Points App and get 50% off all jeans right now at ABB- you're welcome 😉 **
My personal faves are the Karen Ripped Crop, Mya, and the white wash Sarah. If any of you haven't tried out AOS jeans, try them on and let me know what you think!
You can also shop them here:
Whew, you made it to the end! Wrapping up- I'd go so far as to say that a good, durable pair of jeans are the most important basic to have in your wardrobe. Finding the perfect pair may entail trying on 9,000 different jeans to find the right one, but hopefully these tips helps the process along! Feel free to shoot me a comment below if you have any questions for me, and thank you so much for stopping by!!
Happy shopping!